Why The Outsiders' Sunset Scene Looks So Funky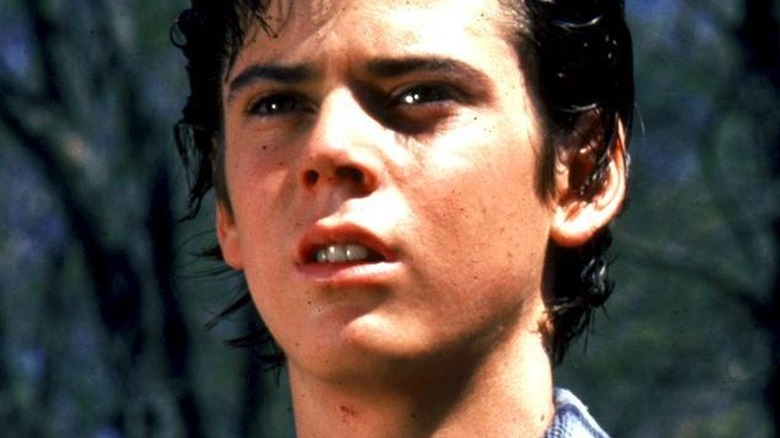 Warner Bros. Pictures
There's no argument that "The Outsiders" helped pioneer young adult fiction, even if it wasn't technically the first in the genre (via Smithsonian Magazine). Francis Ford Coppola's film adaptation has proven just as enduring too. It has all the hallmarks of a coming-of-age story: relatable teenage characters, protagonists who are, well, outsiders, and a reminder that the emotional turmoil that comes from losing friends and loved ones isn't the end. Rather, it's all a part of growing up.
There is also a healthy dose of symbolism, in particular those Oklahoma sunsets. According to the page about "The Outsiders" on the website of Coppola's American Zoetrope, "The Oklahoma sunsets are a leitmotif in both the book and the film. Brilliant and variegated in hue, and seeming to hang in the sky a little longer than elsewhere, they are, to Coppola, the perfect metaphor for his film."
And for sure, one of Ponyboy (C. Thomas Howell) and Johnny's (Ralph Macchio) last conversations while they are on the run is against a backdrop of a magnificent sunset. It reminds us, as Ponyboy quotes from Robert Frost, that "nothing gold can stay." The film's final shot sees Ponyboy looking up at a sunset in the present, realizing that loss and heartache are a part of life, and writing the first words of the film in his composition notebook.
The sunset in the 'stay gold' scene isn't real
It's very touching, and the two scenes provide the audience with some sense of satisfying symmetry. Still, today, when nearly everything on screen is judged in relation to how realistic it looks, it is difficult to ignore that the sunset looks ... off. Why is that?
According to the DVD commentary on "The Outsiders – The Complete Novel," that sunset wasn't in fact real. Rather, it was a slowed-down recording of a sunset, projected onto a screen at the Tulsa State Fairgrounds while Howell and Macchio acted in front of it (via Tulsa World).
All things considered, the scene still works, if only because the pinks and golds are so vibrant that they almost look exaggerated. After filming was completed, distributor Warner Bros. demanded a large number of cuts from Coppola, winnowing the film down from more than two hours to an hour and a half (via The Guardian). Though the sunsets made it into the initial theatrical release, Coppola later felt that far too much had been cut. It was one reason that he released "The Complete Novel" on DVD in 2021.