The Outsiders Star Who Went On To Play A Villain In Criminal Minds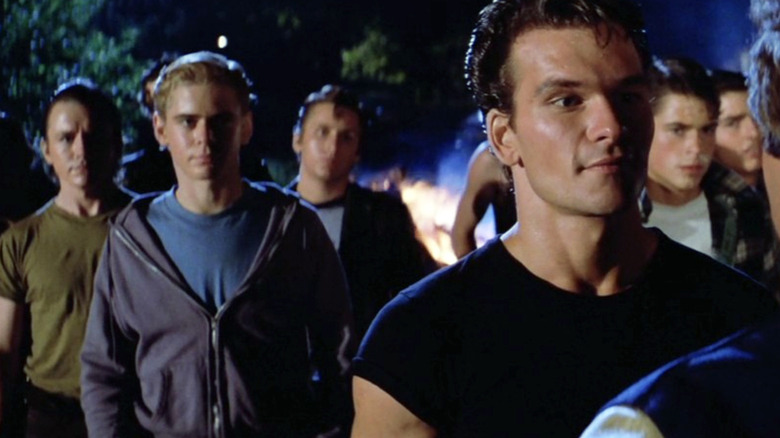 Warner Bros. Pictures
1983's "The Outsiders" is arguably one of the most star-studded classics from its era. Based on the book from S.E. Hinton and imagined on the silver screen through the legendary Francis Ford Coppola, fans saw some of Hollywood's most popular young male actors duke it out in a gang war. The story, of course, centers around Ponyboy Curtis (C. Thomas Howell) as he navigates life as part of the Greasers gang. The Socs are their rival gang of boys, and both misunderstand each other. The Greasers feature actors like Patrick Swayze's Darrel Curtis, Rob Lowe's Sodapop Curtis, Matt Dillon's Dallas Winston, Ralph Macchio's Johnny Cade, Emilio Estevez's Two-Bit Matthews, and even Tom Cruise's Steve Randle. Sadly, the misunderstandings, disagreements, and tension between the two groups of boys lead to repeated tragedies throughout the story.
The movie catapulted the careers of nearly all of the Greasers, no matter how far along they already were as actors. Swayze became a heartthrob and action star, Estevez made cinematic history in "The Breakfast Club," Macchio became the face of "The Karate Kid" franchise, and Tom Cruise became Tom Cruise. Needless to say, it worked out pretty well for the actors involved, and the movie received decent critical reviews overall (via Rotten Tomatoes).
However, you might not know that one of the Greasers played a famous villain on the CBS series "Criminal Minds" years later.
C. Thomas Howell went on to play the Boston Reaper in Criminal Minds
In "The Outsiders," C. Thomas Howell's Ponyboy is a thoughtful young man caught up in gang altercations. For that reason, it surely must have been strange for viewers who grew up with that character to see Howell as the evil serial killer George Foyet in "Criminal Minds." There were over two decades between Howell's roles, but Foyet is arguably his darkest to date. Howell's Foyet is an iconic villain from the series and arguably the killer that gave the Behavioral Analysis Unit the most challenging time, according to some fans (via Reddit). 
Not only did Foyet have a fairly rough upbringing as a child in "Criminal Minds," which led him to kill both of his parents at the age of 9, but he personally takes an interest in the life of Agent Aaron 'Hotch' Hotchner (Thomas Gibson). This leads him to ultimately murder Hotch's wife in the Season 5 episode, "100." However, Howell's Foyet wouldn't live to see another day after the episode, as Hotch beat him to death out of vengeance.
Foyet's willingness to harm himself in order to achieve his goals is one of the character's most notable traits. In fact, Howell himself has explained that he finds this even more disturbing than the character's methodical way of killing (via WeTV). Interestingly, Howell also said that Foyet stays with him more than any other character because of the chilling way the serial killer thinks.