The Fresh Prince Of Bel-Air Cast Member Who Will Smith Had Beef With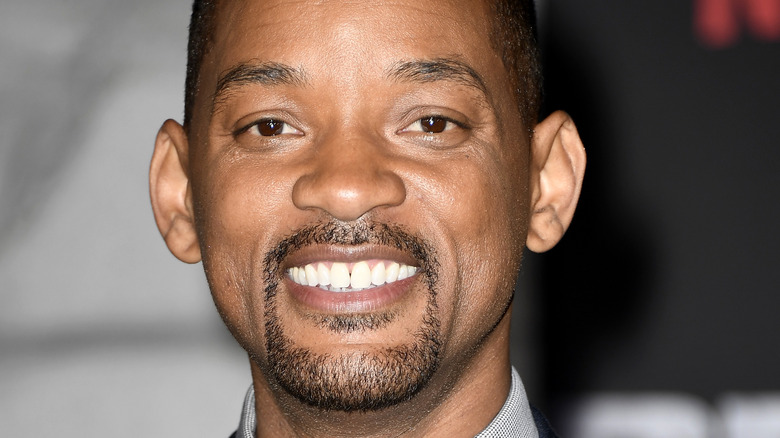 Frazer Harrison/Getty Images
Will Smith gave up the playgrounds of Philly for the sun-soaked warmth of the Los Angeles neighborhood of Bel-Air, and the rap star's appearance on "The Fresh Prince of Bel-Air" propelled the then-inexperienced actor toward superstardom. Smith won the Oscar for Best Actor in "King Richard," and the multi-talented artist garnered four Grammys. However, while success followed Smith after "Bel-Air," a decades-long feud also made the trip.
Sure, everyone knows Smith slapped Chris Rock in the face at the Oscars, and that fiasco certainly won't foster the men's friendship moving forward. But did you know the "Fresh Prince of Bel-Air" star had an even more public and volatile relationship? Believe it or not, the embittered relationship in question was with a cast member from his old television series, and it resulted in a feud that lasted for decades after "The Fresh Prince of Bel-Air" completed its final season. Who is this actor, and why did they end up beefing with Smith for so long?
Smith quarrelled with actress Janet Hubert
Janet Hubert portrayed the original Aunt Vivian for three years on "The Fresh Prince of Bel-Air," and while her working relationship with Will Smith was amicable during Seasons 1 and 2, the rapport deteriorated thereafter. Following Season 3, Hubert quit the show, and Daphne Reid took her place as Mrs. Banks.
The two stars' clashing egos seemed to be the principal problem in their he said-she said feud, but neither was willing to relent over the years. "I can say straight up that Janet Hubert wanted the show to be 'The Aunt Viv of Bel Air' show because I know she is going to dog me in the press," Smith said in an interview when the rivalry began, according to E!
Hubert contended that the friction started when, unbeknownst to the cast, Smith became a producer on the show, and his new position enabled him to give his colleagues acting notes. And some were more hurtful than helpful. "'You were telling me how a Black woman acts, but I happen to be a Black woman,'" Hubert recounted a discussion with Smith during an interview with Eyewitness News ABC7NY.
Hubert claimed she was stonewalled from working elsewhere while shooting Season 3, and she needed additional acting opportunities because her "Fresh Prince of Bel-Air" contract drastically reduced both her hours and salary. Other variables plagued the actress, so it wasn't all ego, and her abusive marriage obviously didn't help the unbearable tension building with Smith.
It's never too late to do the right thing
Frazer Harrison/Getty Images
The actor who played the Banks' butler, Geoffrey (Joseph Marcell), recalled speaking with both Will Smith and Janet Hubert when the decision was being made to either fire the actress or not. "The show is called 'The Fresh Prince of Bel-Air,'" Marcell said during an interview with Hip Hop News Uncensored. "And the leading actor in the show, the name that comes first [in the credits] is Will Smith. That's how it is, and that's how it should be. And I feel that, perhaps, Janet was not able to deal with that."
Marcell added that he encouraged Smith to sit down with Hubert and work their differences out. It didn't happen back then, but never say never. Nearly three decades after the bad blood began, Smith and Hubert seemed to have finally ironed out their differences.
The duo met for an on-camera heart-to-heart while doing press for HBO Max's "The Fresh Prince of Bel-Air Reunion," and Hubert was amazed such a moment of reconciliation actually happened between them. "I don't know if it's real," Hubert said during the interview. "I feel like this is a dream. I didn't come here to have animosity. I came here to resolve, 'cause it's time." And the actors did just that. They hugged it out and put an end to their troubled past.