Who Plays Frank Cosgrove's Daughter Lily In Law & Order?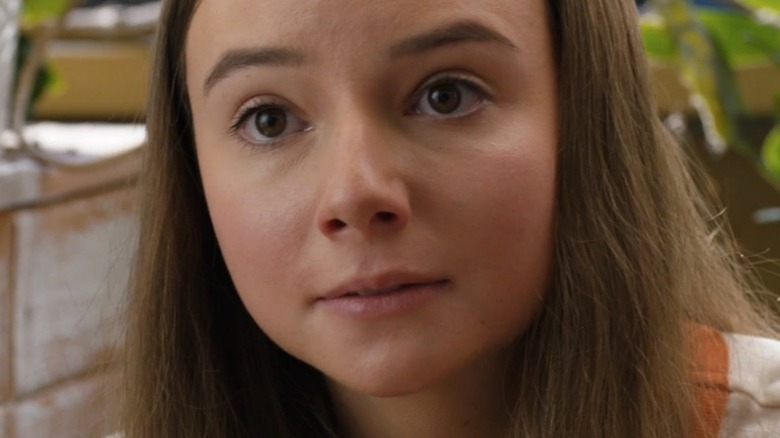 NBC
It was a long time in the making, but the epic "Law & Order" franchise crossover event has finally premiered. And those who've already caught up to the sprawling, three-hour saga can no doubt attest it's every bit as explosive as franchise fans could've hoped for. That's a little bit of a literal statement, too, as the three-episode event found the main players from "Law & Order," "L&O: Organized Crime," and "L&O: Special Victims Unit" dealing with drug dealers, sex traffickers, and yes, even mad bombers in the interwoven, back-to-back-to-back narrative. 
While it was beyond satisfying to see franchise staples Elliot Stabler (Christopher Meloni), Olivia Benson (Mariska Hargitay), and Jack McCoy (Sam Waterston) all working a single case together, the thrilling tale was essentially bookended by a pair of scenes fronting franchise newcomer Frank Cosgrove (Jeffrey Donavan). Cosgrove, of course, joined the franchise for the flagship "L&O" series' 2022 revival and spent the bulk of his first season working cases alongside Detective Kevin Bernard (Anthony Anderson). Along the way, he made a handful of mentions about his teenage daughter, though we never got to meet her.
That changed in the early moments of the "Law & Order" crossover, which found Frank having lunch with Lily Cosgrove as she implores him to let her begin homeschooling. It's a wonderfully humanizing moment for Cosgrove — one that hits a little harder thanks to the brilliant work of Donavan's young co-star. Here's who played Lily Cosgrove in the "Law & Order" crossover. 
Alayna Hester is a young actor very much on the rise
Jeffrey Donavan's co-star in those bookending scenes in the "Law & Order" crossover is Alayna Hester. You should probably go ahead and commit that name to memory because Hester is very much a rising star in showbiz circles, and you'll likely be hearing a lot of it in the very near future. In fact, it wouldn't be all that surprising if you'd already taken note of the young actor as "Law & Order" is far from her first gig.
That fact alone is something to celebrate, as Hester's ascension to "rising star" status is a harrowing story in and of itself. It's a story that found the young actor surviving a pair of major early life health scares — including a severe case of pectus excavatum that resulted in a collapsed lung, and a bout with Thyroid Cancer, according to Bladen Online — only to follow her dream of becoming an actor. Of her health struggles, the actor told Bladeonline they indeed drove her to make an honest go at acting, claiming, "I realized life is too short... you must do what you really want to do."
Fast forward a couple of years, and Hester was booking gigs on high-profile series like Amazon's "Tell Me Your Secrets." Soon enough, she found herself trading lines with the great Michael Keaton via a multi-episode arc as a troubled young woman in Hulu's star-studded opioid addiction drama "Dopesick." Keaton even used one of their scenes to promote the show during an appearance on "Jimmy Kimmel Live." She followed that profile-raising role with a spot on another lauded Hulu show "Tell Me Lies." And from what we've seen of Alayna Hester so far, we're beyond excited to see where she goes from here.