Law & Order's 2022 Crossover Event Finally Showed Fans An Unseen Part Of Cosgrove's Character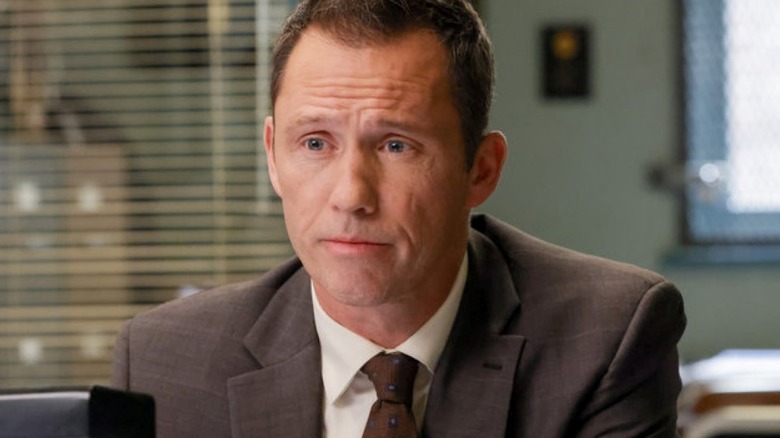 Will Hart/NBC
Warning: This article contains spoilers for the "Law & Order" crossover event
Traditionally we see a lot of personal stories surrounding the main characters on "Law & Order: SVU" and "Law & Order: Organized Crime." We know all about Olivia Benson's (Mariska Hargitay) backstory, Elliot Stabler's (Christopher Meloni) children, and Amanda Rollins' (Kelli Giddish) troubled mother and sister. But we don't do as much of a deep dive on the main characters when it comes to the original "Law & Order," which just kicked off its second season since its reboot.
That changed, at least a little bit, in the "Law & Order" three-hour crossover event. The opening scene had fans chatting up a storm on Twitter as it depicted the real-life war between Russia and Ukraine. After that bloody scene ended, we cut to Detective Cosgrove (Jeffrey Donovan) having lunch with a character we've never seen before. Fans on Twitter were excited to see another side to the tough cop, and we have to agree.
Meet Lily Cosgrove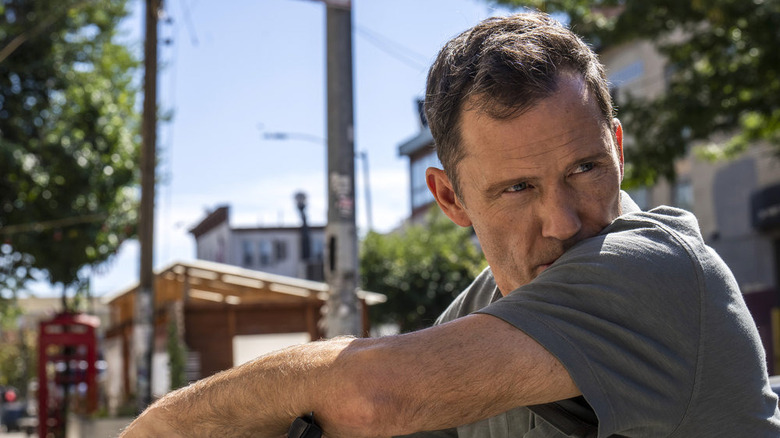 Zach Dilgard/NBC
We meet Detective Cosgrove's daughter, Lily, in the second scene of the night. Before the crossover, we only knew Cosgrove had a wife and children, but we never saw them or knew their names. We learn that Lily is 15 years old, and she is begging her father to let her be homeschooled. She expresses she's terrified of going to school because of the increasing number of shootings. Cosgrove tells Lily she can't leave school and that the likelihood of that happening to her is slim. She's unhappy with his decision, but their conversation gets interrupted when a young girl runs by in distress.
Fans were so excited to see another side of Cosgrove and expressed their elation on Twitter. "Jeffrey Donovan's Cosgrove got more character development in 15 minutes than he did all last season," @WilsonFrontier tweeted. We saw so little about Cosgrove's personal life in Season 21 that the news of him having a daughter flat out shocked some viewers. "Cosgrove's got a kid?!!" @phyllismagg asked in surprise.
The crossover event quickly pivoted from Cosgrove's family lunch to the death of a teenage girl. We're hoping to dive deeper into the character later in Season 22 of "Law & Order."