Law & Order's 2022 Crossover Presents A Big Problem That The Creators Didn't Foresee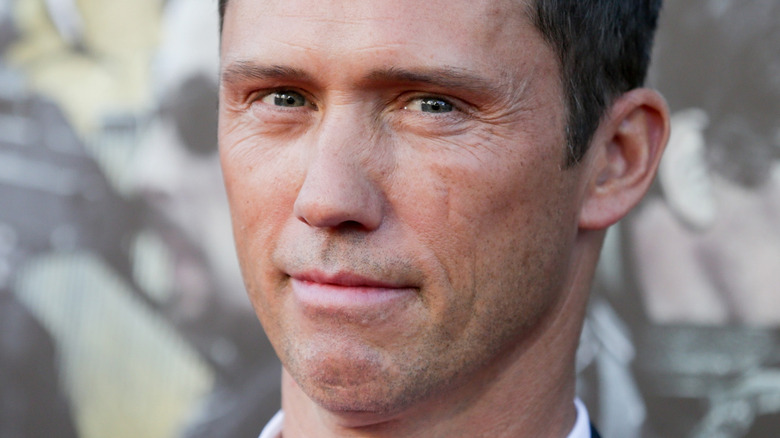 Rich Fury/Getty Images
In a TV event over two decades in the making, fans got what they always dreamed of in Dick Wolf's prolific "Law & Order" universe. An unprecedented three-hour crossover event saw beloved characters Jack McCoy (Sam Waterston), Elliot Stabler (Christopher Meloni), and Olivia Benson (Mariska Hargitay) uniting for a monumental case, spanning all three of the shows currently airing on NBC — "Law & Order," "Law & Order: Organized Crime," and "Law & Order: Special Victims Unit" — as they each premiered a new season.
As "Law & Order" only does so well, the crossover starts with a story ripped straight from the headlines. During a particularly heated debate with his daughter about her natural fears about violence in schools, Detective Frank Cosgrove (Jeffrey Donovan) is pulled away after seeing a girl in need. In a scene that was too real for some fans, it turns out that the girl is a refugee from the war in Ukraine named Ava (Alexandra Avezova) whose troubles have only just begun. Cosgrove does his best to save Ava from a mysterious shooter, but is too late. This failure brings in Organized Crime and SVU units to find out who the shooter was and why he killed her.
This three-episode arc comes right on the tails of the most recent "Law & Order" political heat. With such a pro-police narrative, it's no surprise that "Law & Order" has faced massive criticism, and been labelled "copaganda" by some (via 34th Street). But with this crossover event, the "Law & Order" franchise faces a much more mundane problem.
Crossover events can cause problems during syndication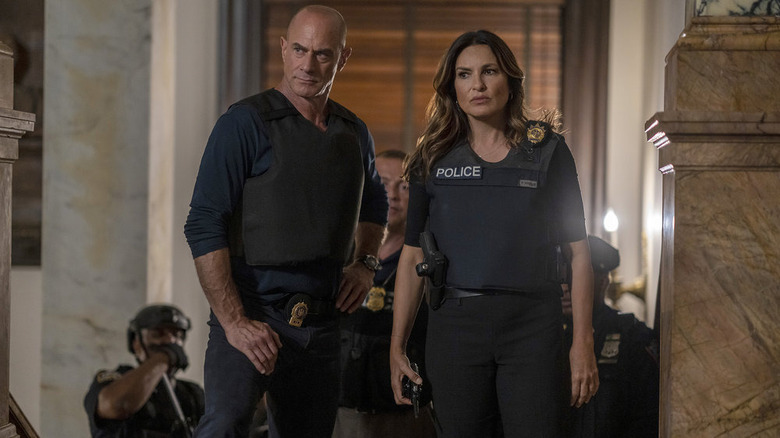 Zach Dilgard/NBC
In this modern world of increasing streaming platforms and IPs, there is a lot to keep up with. As any fan of Marvel will tell you, it is essential to stay on top of every project. You miss one post credit sequence in "Black Widow" and suddenly you don't understand why Yelena (Florence Pugh) was cast in the new "Thunderbolts" movie. Being a superfan is a labor of love, and that is no more clear than in the "Law & Order" crossover event. 
Though the crossover aired in order when it first premiered, things could prove more tricky when the shows go into syndication. The event was spread across all three series, which means that reruns of the individual "Law & Order" shows will only have one third of the story each. "Law & Order: Organized Crime" reruns will only show the first episode, "SVU" reruns will only have the middle chapter, and reruns of the recently-rebooted "Law & Order" will only show the final episode.
Fans on Twitter noted this could get confusing for people who don't keep up with every "Law & Order" spin-off. @cellytron pointed out: "Oh well now I'm laughing at how if these episodes end up in their respective series' syndication packages, they'll be shown individually," going on to say that no one would have any idea what was going on if they didn't watch the first "Organized Crime" episode. 
This is a problem also posed by crossovers such as the "Chicago One" universe and even The CW's DC universe, which is far more ambitious. The confusing "Crisis On Infinite Earths" featured episodes from "Supergirl," "Arrow," "The Flash," "Batwoman," and "Legends of Tomorrow." If you don't keep up with every series, you're out of luck.