Why Parks And Rec's Pawnee City Hall May Look Familiar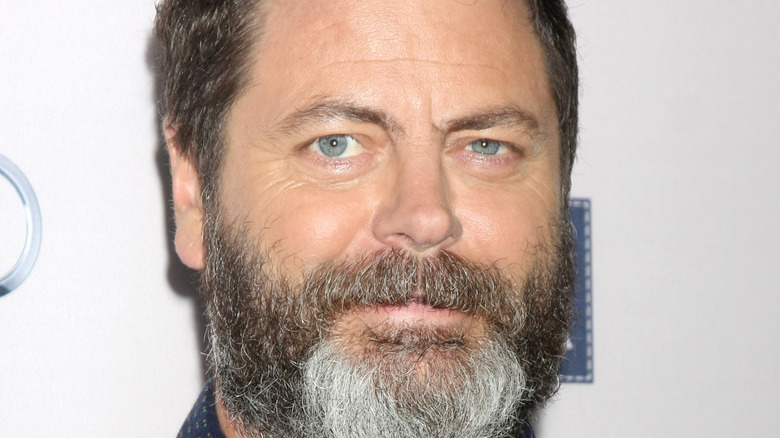 Kathy Hutchins/Shutterstock
When creating a movie or TV show, the world in which your story unfolds must feel realistic in some capacity. Whether it's the fantasy realm of Middle-earth or the police headquarters of "Law & Order," it's important that these locations feel authentic and believable. Sometimes that means using real locations that citizens of the world are familiar with.
For example, throughout the new "Planet of the Apes" trilogy, the Golden Gate Bridge was used to kick off the battle between humans and the attacking primates. "King Kong" famously climbed the Empire State building, and the giants spaceships in "Independence Day" blew up countless global landmarks. But there are also smaller, lesser known locations that link directly to the film or movie it became immortalized in. The firehouse in "Ghostbusters" is an actual station tourists can visit in New York City, as well as Tom's Restaurant, the spot used as Monk's in the show "Seinfeld," near Columbia University.
Usually, when a smaller location (that isn't visited by thousands of tourists daily) is used for one specific production, it's possible for this spot to be used repeatedly as different locations, for various projects. In fact, the Pawnee City Hall that is seen in exterior, establishing shots on NBC's comedy series "Parks and Recreation" may seem familiar, and not just because it's a real building in Pasadena, CA. It turns out this specific location is a veteran setting for TV and films.
The Pasadena City Hall is a Hollywood star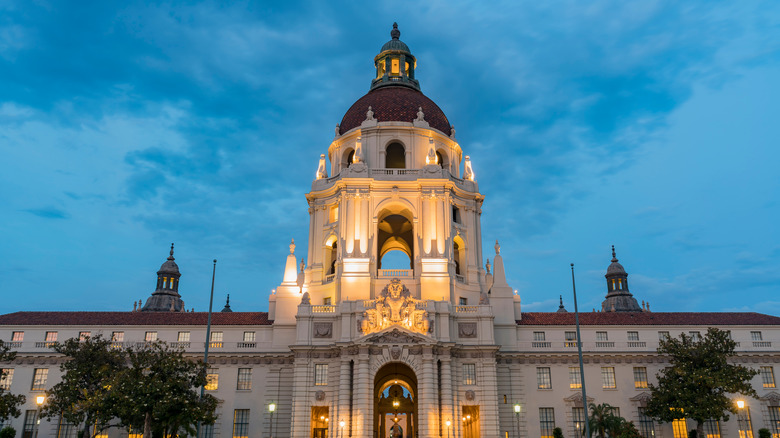 Kit Leong/Shutterstock
Fans of the NBC hit show "Parks and Recreation" would most likely find the images of the Pawnee City Hall to be as familiar as Ron Swanson gulping down a large glass of Lagavulin. That's because this government building, in real life, is the Pasadena City Hall, in Pasadena, California. Like most public locations within an arms reach of Hollywood, it's impressive vintage architecture has been used in multiple films and TV shows.
Built in 1927, The Pasadena City Hall was designed by John Bakewell & Arthur Brown, who were influenced by the early Renaissance style of 16th century Italian architect Andrea Palladio. Looking as if it can be the official governmental structure of just about any American town, the Pasadena City Hall is the perfect filming spot, whether inside its halls or outside on its clean-cut landscape. The reason why this 170,000 square foot building may look so familiar, is that it's been a go-to filming location since it first appeared on screen in Charlie Chaplin's 1940 satire, "The Great Dictator." Since then, besides "Parks and Recreation," the building has grabbed 44 other credits that include "American Pie 2," "A Cinderella Story," and "Beverly Hills Cop 2," not to mention many classic TV shows such as "Mission: Impossible" and "Dynasty."   
With this iconic, 235-room, domed building planted just 10 miles from Hollywood, this Pasadena structure will surely continue to make appearances in films and series, for years to come. However, there's a chance that its frequent appearance on "Parks and Recreation" might make it less desirable, as it might now be cemented in audience minds as Pawnee City Hall. For those who live nearby the actual building, it might not be a big deal, but fans will certainly hear "Parks and Recreations" theme song playing in their head as they drive by.