Where Is Paul MacNeill From My 600-Lb Life Now?
"My 600-lb Life" is a series that introduces viewers to people embarking on intense weight loss journeys, including Paul MacNeill, a 35-year-old from Florida who weighs in at over 750 pounds. When we first meet MacNeill in Season 10 of the series, he's in a dark place. The only thing that motivates him is food, which he uses as a coping mechanism to deal with the trauma he's endured throughout his life. His mother, Teresa, continues to cook MacNeill whatever he wants despite his worsening health. Eating to excess has caused him to develop lymphedema, a condition that causes painful swelling in his legs (via American Cancer Society). MacNeill can only stand for minutes at a time and gets winded performing the simplest tasks.
After taking stock of his current state, MacNeill realizes that his lifestyle is threatening his chance at a future with his girlfriend, Jen. Despite this realization, his story is not without its challenges. He initially struggles to meet the diet and exercise goals laid out by bariatric surgeon Dr. Younan Nowzaradan, known to his patients as Dr. Now, but ultimately MacNeill takes full responsibility for his weight loss. By the end of the episode, he's committed to improving his health, allowing him to lose 116 pounds. When viewers last saw MacNeill, he was approved for weight loss surgery with the support of his loved ones. However, he still had a long way to go. Let's take a look at how Paul MacNeill is faring these days.
Paul MacNeill has had his ups and downs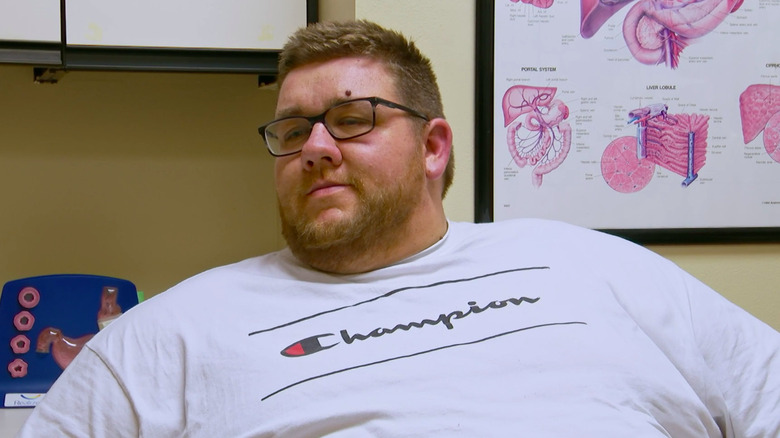 TLC
Although "My 600-lb Life" proves sobering at times, it does have its uplifting moments. Following his appearance on the series, Paul MacNeill has taken great strides to improve his quality of life and he doesn't seem to be slowing down anytime soon. As reported by Distractify, MacNeill has lost over 200 pounds since his first meeting with Dr. Now. Besides his impressive weight loss, MacNeill has another reason to celebrate. He revealed on Instagram that he became engaged to his girlfriend, Jen, and he even refers to her as his wife in a video posted to his account in July 2022, indicating that they've since gotten married. The clip also showed that MacNeill is still close with his friend JJ, who graciously drove him to his first appointment with Dr. Now.
While MacNeill appears to be working hard to build the life he dreamed for himself, he's also faced his fair share of hardship since his episode aired. In November 2021, MacNeill took to social media to lament the loss of his father, Thomas, explaining that he wears a commemorative necklace in his honor (via Instagram). Viewers only got a brief glimpse of Thomas on the show, where he was seen supporting his son by shopping for healthy food options at the grocery store. In light of this tragedy, MacNeill's ability to stick to healthy habits is a testament to his dedication and mental fortitude. For Paul MacNeill, the future's looking bright.