1883's Isabel May Got Very Candid About Elsa Dutton's Underarm Hair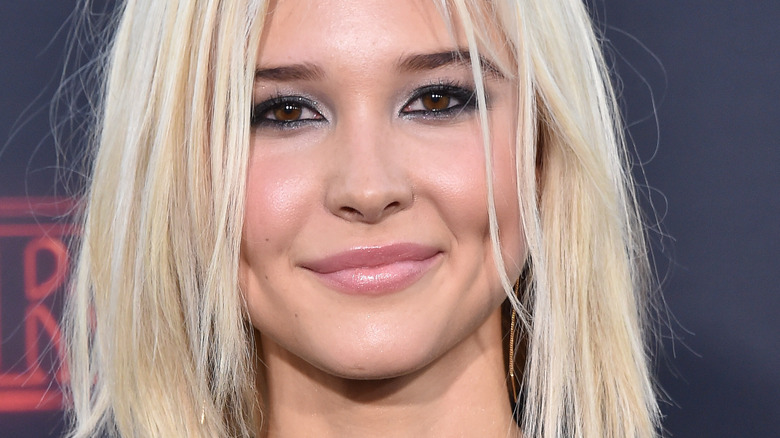 DFree/Shutterstock
In just a few short years, Taylor Sheridan has transformed himself from a second-tier character actor into an Oscar-nominated screenwriter, and a lauded director. After the runaway success of his modern Western saga "Yellowstone," he's also become one of the most prolific television creators in Hollywood. Along the way, Sheridan has earned quite a reputation for pushing his actors out of comfort zones in the name of narrative authenticity. That's perhaps never been more true that it was on the set of his period Western "1883." Indeed, series star Tim McGraw confirmed as much to The Hollywood Reporter, noting, "Taylor is a stickler for authenticity. Even to the way you ride... And down to the set design and the costumes."
During a recent Town & Country interview, McGraw's co-star Isabel May spoke just as candidly about Sheridan's penchant for period specificity on "1883," telling the publication, "Taylor said from the very beginning, 'I want everything to be authentic.'" And yes, that authenticity included asking his female cast members to grow out their underarm hair for the show in lieu of using makeup effects. Here's how "1883" star Isabel May really felt about Elsa Dutton's underarm hair. 
May came to appreciate her period authentic underarm hair while working on 1883
As Isabel May pointed out to Town & Country, Taylor Sheridan's ask made plenty of sense as underarm hair was common for women of the late-1800s, "I mean, women didn't start shaving until the 1920s." She goes on to add she was also very much on board with Sheridan's request, "He really wanted that to be an aspect of the show, and so I was more than happy to oblige." Oblige she did, with May even going so far as to brag about her own underarm fuzz during the interview, "This is my real hair. I'm very proud of it."
Pride aside, it seems not all of her female cast mates were thrilled about the prospect, though May admitted her own thatch of hair grew on her has shooting progressed, "It's not that bad. Everyone was freaking out about it because all the ladies on set had to grow their hair out as well. I think it's rather nice." It seems May did find one drawback to growing out her underarm hair, admitting, "What's not great is the smell, I'm not gonna lie." May further added that shooting in the punishing Texas heat did little to blunt the odorous issues, which she remedied by always having deodorant on hand. 
That small creature comfort clearly didn't jibe with Sheridan's desire for period authenticity, even if it probably helped make the grueling shoot a little easier on everyone involved. As for Sheridan's insistence on period specifics, "1883" fans would likely be quick to confirm it bolstered the series narrative in ways too profound to properly qualify. And the show is undoubtedly all the better for it.