How Aaron Paul Really Feels About Constantly Hearing His Breaking Bad Catchphrase In Real Life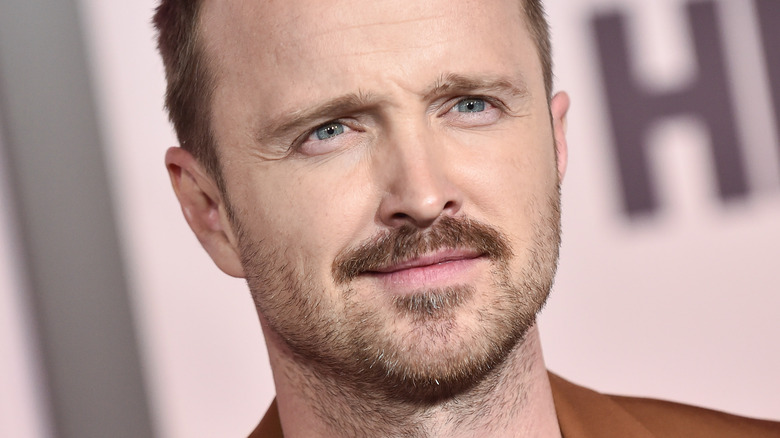 DFree/Shutterstock
Considering how impossible it is to imagine "Breaking Bad" without Aaron Paul as Jesse Pinkman, it's still difficult to believe that the character was originally supposed to be killed off at the end of Season 1. Call it a happy accident of the 2008 writers strike, but Paul's performance is one of a handful of elements that made "Breaking Bad" into one of the most highly praised TV shows of all time.
By now, Paul is synonymous with Jesse Pinkman. And by dint of that association, he will also very likely be forever associated with the word "b****." Jesse drops the b-word an insane amount during the course of "Breaking Bad." Paul even hosted a six minute video where he walks us through some of Jesse's best uses of the word, seeing him at his most cocky, vulnerable, angry, and broken.
Jesse's use of the b-word is so well-known, such an integral part of the whole "Breaking Bad" experience, that Aaron Paul now hears the word called to him randomly in public, years after the end of the series.
Aaron Paul doesn't really mind being called 'b****'
In a 2013 AMA ("Ask Me Anything") with Paul on Reddit, a fan brought up the example of people walking up to Dave Chappelle, apparently even when he was with his daughter, and yelling "I'm Rick James, b****!" directly in his face. The fan, EggyJS, then asked Aaron Paul whether he thought he might be in for the same fate.
"Yes, I get called 'b****' on a daily basis and yes I do think I'll get called 'b****' on a daily basis for years to come," replied Paul. "But to be honest, I don't really mind because I like being called 'b****.'"
Whether Paul was being facetious or not is impossible to tell. Surely, there are some people out there who enjoy having obscenities shouted at them by random strangers on the street, and we're not here to yuck anybody's yum. But if any part of Aaron Paul in 2013 did in fact enjoy that experience, the novelty has long worn off.
Aaron Paul has been called 'b****' more than anyone in the world
Appearing on "Jimmy Kimmel Live!" in 2018 to promote his show "The Path," Aaron Paul reaffirmed what he had said on Reddit in 2013: that he was called "b****" on a daily basis. "I've said this before, but I think I've been called 'b****' more than anyone on the planet," Paul told Kimmel.
Kimmel then brought up that Paul had a kid on the way. Which would mean that, like Dave Chappelle, Paul would have to deal with the reality of being sworn at in front of his child. "People, if you see Aaron on the streets, stop calling him 'b****" ... Don't call him 'b****' when his daughter is around." Paul agreed with the sentiment.
Even after his kid came along though, the man who played Jesse Pinkman seems to have kept his sense of humor about the whole thing. In 2019, when a state representative in Massachusetts floated a bill that would have criminalized the malicious use of the b-word, Paul piped up on Twitter. "Ummmm ... what if it's in a nice way??" he tweeted. "Asking for a friend" (via NME).