Aaron Paul Reaches For The Light In The Path Season 3 Trailer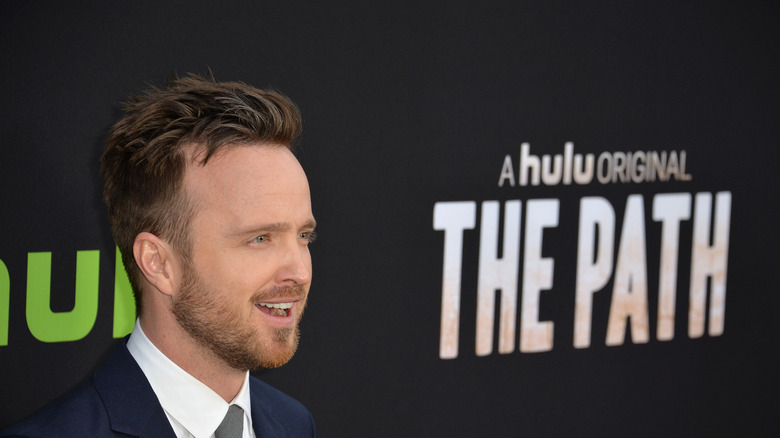 Jaguar PS/Shutterstock
Hulu's drama series about faith and the powers that wield it, The Path, is coming back for a third season on the streaming service next year, and you can watch a first trailer for the upcoming episodes now.
The Path follows the story of a new belief system called Meyerism, a small religious movement with disquieting cultish aspects of the "if you have to ask..." variety. Over the course of its first two seasons, the series has focused on prominent members of the movement as they jockey for control, influence, and spiritual validation, trying to determine if the movement actually means anything—and if it does, what they should do with it.
Aaron Paul stars as Eddie Lane, a once-doubtful convert to Meyerism who helps the movement expand after performing a highly-publicized miracle. Going into the third season as Meyerism's new Guardian of the Light, Eddie must grapple with how to lead the burgeoning movement without turning it into a full-on cult. 
As the trailer shows, the rapid growth of Meyerism could put the religion on a path that may prove unsustainable. At the same time, secrets from seasons past continue to haunt the cast as they grapple with demons and deceptions that may threaten the very survival of the movement.
The Path was created by Jessica Goldberg, a playwright who previously wrote for the series Parenthood and Camp. In addition to Paul, the series stars Michelle Monaghan as Sarah Lane, Eddie's wife, and Hugh Dancy as Cal Roberts, the one-time leader of the movement. Emma Greenwell, Kyle Allen, Rockmond Dunbar, Paul James, and Freida Pinto also star.
The first two episodes of The Path's third season will premiere on Hulu on Wednesday, January 17.