The Sons Of Anarchy Star Who Admits He Isn't Really A Fan Of Motorcycles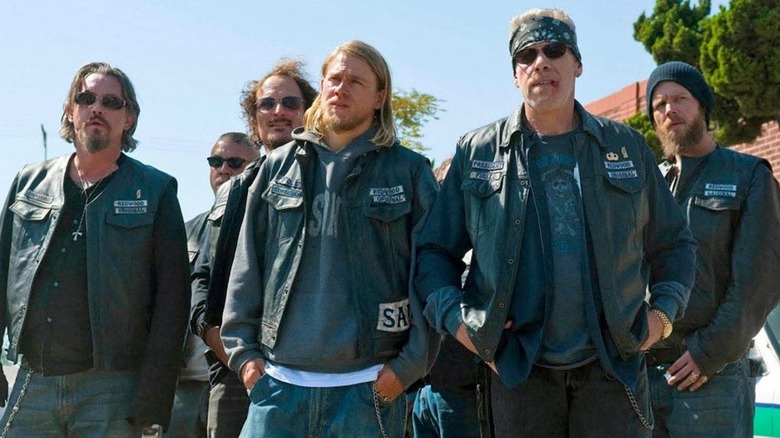 FX
When one looks back on the bruising, seven season run of FX's hit biker drama "Sons of Anarchy," one likely thinks of head-spinning betrayals, shocking outbursts of violence, and an ending that remains the very definition of divisive. Of course, you undoubtedly also think about big burly dudes with beards and tattoos roaring down a California freeway in search of a little trouble. And it's just as certain you see them proudly sporting a jacket brandished with the logo of the SAMCRO brotherhood.
That motley crew of jawbreakers and lawbreakers actually spent quite a lot of screen time riding their various motorbikes all around Northern California during the series's lauded primetime run. And yes, most of the actors who played the SAMCRO brothers on "Sons of Anarchy" actually learned to ride for the show themselves (per USA Today), though that likely involved a lot of being pulled around on camera cars. Even still, for some cast members, the experience led to a deep love affair with motorcycles, with series headliner Charlie Hunnam (who played Jax Teller) once boasting in a Men's Journal interview, "I'll be riding forever."
Seems, however, there was one member of the "Sons of Anarchy" cast who almost certainly did not continue to ride once the series was over. This is the SAMCRO brother who was never much of a fan of motorcycles.  
Ron Perlman was a little scared of motorcycles prior to booking Sons of Anarchy
As most "Sons of Anarchy" fans might argue, for the better part of the series' run on FX, the biggest, baddest, and burliest brother in the SAMCRO fleet was one Clay Morrow. Portrayed by the great Ron Perlman, Morrow proved a brutal, but exacting leader of the pack who was not to be trifled with during his six seasons on the show. That run ended in bloodshed, of course, as it did for most of the main players on "Sons of Anarchy." It seems Perlman may not have been too sad to leave the show behind, however, as he was apparently no particular fan of motorcycles to begin with.
The beloved actor professed as much in a cheeky 2018 Instagram post fronting a "SOA" set photo along with the comment, "I gotta admit, I look pretty bad a— on the bike. Pretty sexy. Pretty gangsta. I also gotta admit... bikes don't like me. And it's mutual." Perlman's longtime series co-star Maggie Siff (who played Tara Knowles) confirmed Perlman's dislike of motorcycles in a 2012 interview with USA Today, offering, "Isn't that funny? The toughest guy in the show, and he's not all about riding." 
According to his 2015 comments on NPRs Fresh Air, Perlman began learning to ride motorcycles for a movie that never happened. The experience was not a pleasant one, with the actor quipping, "let's put it this way — I'd rather be eating Haagen-Dazs." Given the negative experience, it's a little surprising Perlman would saddle up again for "Sons of Anarchy." Knowing what we now know, it's a true testament to Perlman's skill that he still managed to look so cool atop his chopper given how much he clearly disliked it.