The Cobra Kai Scene That Left William Zabka With A Broken Bone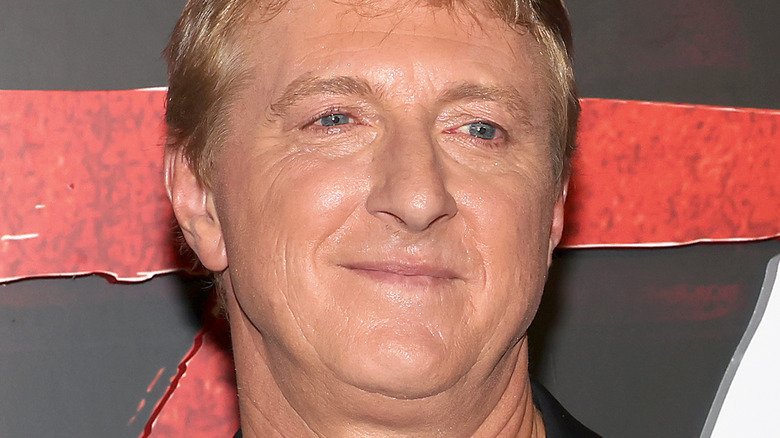 David Livingston/Getty Images
As hard as it might be to believe, Netflix's "The Karate Kid" sequel series "Cobra Kai" has now delivered five full seasons of fist-pumping, crane-kicking action to the streaming masses. Perhaps even harder to believe is that the series remains not only a major hit for Netflix but one of the better-reviewed offerings in the streamer's vast slate of original programs, currently boasting a 95% Fresh rating on Rotten Tomatoes. It's arguably the best thing that's happened to the careers of O.G. "The Karate Kid" stars Ralph Macchio and William Zabka in decades.
As "Cobra Kai" fans can attest, it really has been a ton of fun watching those stars reprise their roles as former martial arts rivals Daniel LaRusso and Johnny Lawrence a few decades after they last battled onscreen. More impressive than the emotional depth they bring to their respective roles this go-round is that both Macchio and Zabka have gotten back in fighting shape for the series, showing off their martial arts prowess on a per-episode basis. Given the age of the central players on "Cobra Kai" and the physical demands inherent to their roles, one might assume on set injuries are a regular occurrence. That thankfully hasn't been the case so far, though it seems one scene from Season 2 did, in fact, leave star William Zabka the worse for wear.
Zabka broke his toe facing off against Martin Kove
William Zabka admitted to badly injuring himself on the set of "Cobra Kai" during a 2020 Paley Center talk with the series' entire cast. He did so during one of the most electrifying fight scenes from the early days of "Cobra Kai." Surprisingly, that scene did not find him fighting Ralph Macchio who, until recently, has been a regular sparring partner in the series. Rather, it found him fighting Martin Kove, who reprised his role as Johnny's nefarious former sensei John Kreese beginning late in Season 1 of "Cobra Kai."
A longtime student of martial arts (according to TV Over Mind), the 76-year-old Kove has more than kept in fighting shape over the years. A major antagonistic presence in the series, the character of Kreese has faced off against both Johnny and Daniel since he stepped back into his old dojo. His first throwdown against Johnny in the Season 2 opener is indeed what led Zabka to break his toe.
As Zabka notes, "That first fight took a lot of time." The actor then casually details that he suffered a couple of injuries during the film, including that broken bone, "I think I pulled my hamstring, I broke my toe ..." According to Zabka, the toe injury occurred when he jammed it on Kove's foot. Rather than let his stunt double step in for the fight, Zabka claims he yanked the broken toe back into place and carried on without telling anyone. Even as one has to admire Zabka's dedication to the show, we're betting the "Cobra Kai" insurance team had a few words for him after hearing that story.