Why His Appearance On The Price Is Right Haunted Aaron Paul For Months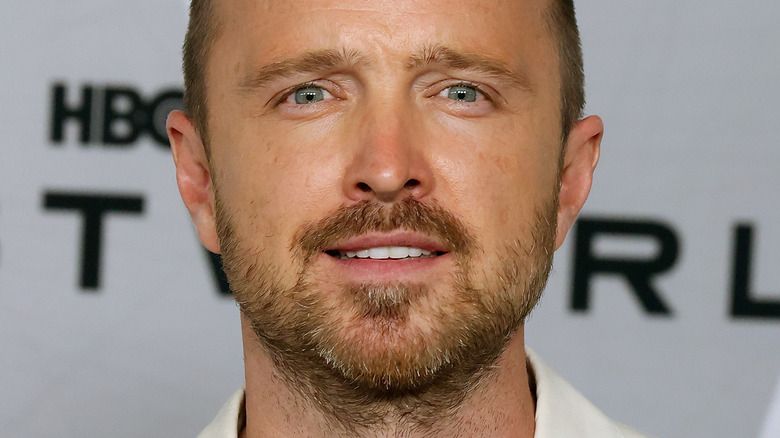 Taylor Hill/Getty Images
For most television fans, Aaron Paul will forever be best known for portraying Jesse Pinkman on the AMC crime series "Breaking Bad." Paul's performance on the Emmy-award-winning series was frequently cited as one of the strongest elements on a show which some rank among the most perfect TV shows ever made. 
Indeed, the small screen legacy of "Breaking Bad" is so massive that it's almost easy to forget the show was only on the air for a total of five seasons. It's even easier to forget that Paul was nominated for outstanding supporting actor at the Emmys in all five seasons, taking home the coveted statue three times over that span. Even still, in a 2019 interview with BUILD Series, Paul claimed his work on another iconic program as the finest of his career.
The show? None other than CBS's long-running daytime game show "The Price is Right." That's right, Paul made an appearance on the show years before he broke out on "Breaking Bad." If you've yet to see the footage of the then-aspiring young actor trading lines with Bob Barker, well, it's not something you'll soon forget as Paul brings some serious fire to the proceedings. It would seem that Paul can't manage to forget it either. Here's why his appearance on "The Price is Right" still haunts him a couple of decades after it happened.  
Aaron Paul will never forget this loss
Aaron Paul's lone stint on "The Price is Right" came back in 2000 when he was still going by his given name, Aaron Sturtevant. And as for the "fire" he brought to the show, his energy is borderline manic from the moment his name is called to the second his "The Price is Right" dreams came tumbling down via a tough loss on the Showcase Showdown segment. 
Paul was clearly a big fan of "The Price is Right" before becoming a contestant, even telling then-host Bob Barker, "You're my idol," after hearing his name called. But the future "Westworld" star hilariously claimed in a 2019 interview with BUILD Series that his energy was at least partially driven by chugging six Red Bulls prior to the show's taping, further stating, "I look like I'm on drugs."
It would seem, however, that Paul's soul-crushing loss in the Showcase Showdown is what continues to torment him to this day. The "Breaking Bad" star has been candid about that fact for years, even telling James Corden during a 2017 Late Late Show spot, "I was so depressed for so long," after the loss. According to Paul, he was struggling to get by at the time and eyed a possible big win on "The Price is Right" as a much-needed source of income. 
To make matters worse, one of the friends he attended the taping with actually went on to win the Showcase Showdown. Things obviously turned out okay for Paul, but his near-miss on "The Price is Right" clearly remains a bit of a sore spot.