Fans Tell Looper What They Think Is Steven Spielberg's Worst Movie Of All Time - Exclusive Survey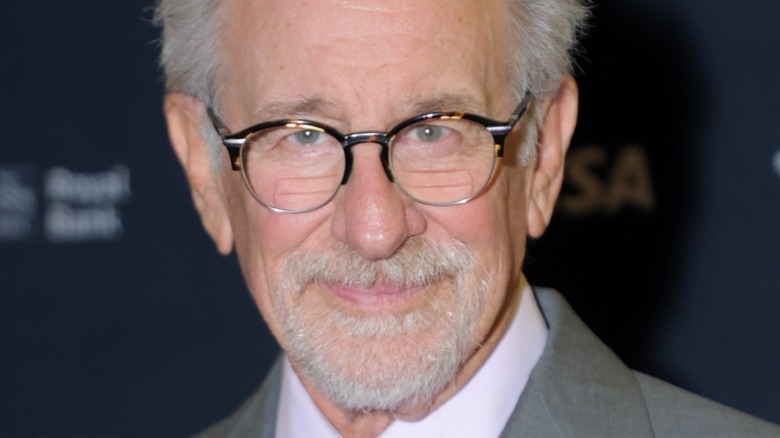 Michael Loccisano/Getty Images
As we all probably know by now, Steven Spielberg is a filmmaker who rarely misses when it comes to making movies for the cinema-loving masses. But we also know that no one in Hollywood is perfect, and even some of the best actors and directors often have duds in their careers — especially when you're someone like Spielberg, who's been on top for so long. 
Since 1971, the three-time Oscar winner has been churning out beloved classics like "Jaws," "Close Encounters of the Third Kind," "Raiders of the Lost Ark," "E.T. the Extra-Terrestrial," "The Color Purple," "Jurassic Park," "Schindler's List," "Saving Private Ryan," "Munich," "Lincoln," and "West Side Story," to name a few. But he's not some untouchable movie deity who is impervious to critics and harsh reviews. Scattered throughout Spielberg's filmography are a number of film credits and projects that stand out for all the wrong reasons. Flicks like the 1979 comedy "1941" and his Peter Pan adaptation "Hook" starring Dustin Hoffman and Robin Williams, along with several others, were actually lambasted by the public following their release and have often been touted as Spielberg's worst movies. But what do people today think?
Looper ran an exclusive survey recently and asked more than 600 people what they thought the worst Spielberg film of all time was, and their answers might actually surprise some. 
Looper readers say Ready Player One is Spielberg's worst movie of all time
According to readers, Steven Spielberg's worst movie of all time is 2018's "Ready Player One" — with more than 20% of the people polled by Looper putting it at the very bottom of their lists. Spielberg's 2016 fantasy adventure flick "The BFG" was declared the director's second worst film by 19.64% of the voters. "Indiana Jones and the Kingdom of the Crystal Skull" tied with "A.I. Artificial Intelligence" as his third worst movies with 17.53% of the vote, followed by "War of the Worlds" with 15.75% and "The Lost World: Jurassic Park" with 8.77%. 
Now, while the list compiled above is geared towards films that Looper readers think are Spielberg's worst, it should in no way imply that these movies are unwatchable. Only one, in fact — "The Lost World" — is certified rotten on Rotten Tomatoes with a 54% Tomatometer rating. The others all have scores higher than 70%. Still, readers weren't far off with their assessments of "Ready Player One" and "The BFG" as they both had the lowest ratings when you don't count "The Lost World." The two films also share similarities related to technology and the role it plays in the way the movies were made. But for a lot of people, the animation and stories ultimately felt lifeless, especially with "Ready Player One," which some have crowned the worst movie of the 2010s. 
"Ready player one really is one of the worst films of the last decade," wrote Twitter user @Comrade_Yui in March 2022. "It's a complete and utter waste of time," they said. User @scottEmovienerd back in August tweeted: "Ready Player One is the worst thing to happen to the 1980s since 1990." @St.Adkison added: "Even in Spielberg's stinkers I can usually see some auteuristic flare. No idea what happened there [with Ready Player One]."