The Fictional Parks And Recreation Book You Can Actually Buy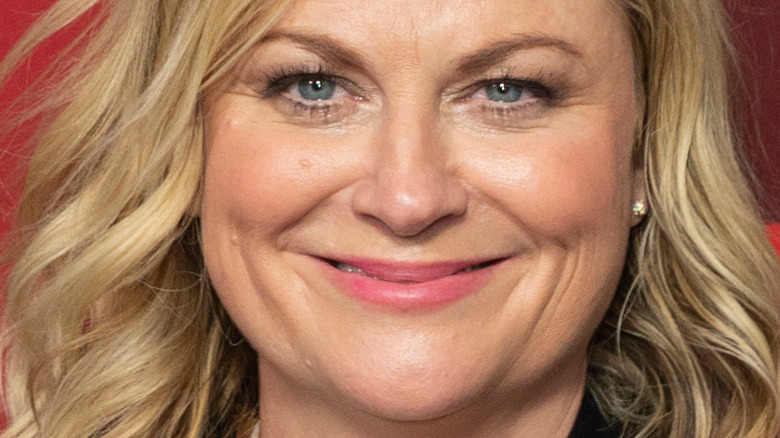 lev radin/Shutterstock
We may receive a commission on purchases made from links.
Don't you wish that "Parks and Recreation" was real? Wouldn't you love to have Ron Swanson teach you woodworking? Or play Cones of Dunshire with Ben? Or maybe you'd just like to be part of Leslie's crackerjack team in the Parks and Rec department. 
Believe it or not, "Parks and Recreation" has crossed over into the real world a number of times. For example, there was the time that Patton Oswalt's filibuster from the show inspired a woman to recite it verbatim at an actual Board of Commissioners meeting in Michigan. But did you know that there are real life Leslie Knopes? Well, sort of.
In 2020, in honor of the show's own holiday Treat Yo'self Day (October 13th), the day when Donna and Tom pamper themselves by buying extravagant gifts, Peacock – where you can watch every season of "Parks and Recreation" – decided to honor five real life Leslie Knopes. Jim O'Heir, who played Jerry/Terry/Larry/Garry Gergich on the show, interviewed five real life parks and recreation employees and presented them with plaques (remotely, as the COVID-19 pandemic was still raging). The five parks employees talked about how they had to keep the parks up and running during the pandemic because so many people wanted to come to them. 
"Everything you just said is what Leslie Knope would have done," O'Heir told the honorees. "You created something out of nothing. And you made people still have the ability to go out and have these experiences." Later on in the video, O'Heir even acknowledged that the show was based on research done with actual parks employees.
However, there's one piece of real life Pawnee memorabilia that you can actually take home, and you're going to want to!
You can buy Leslie's book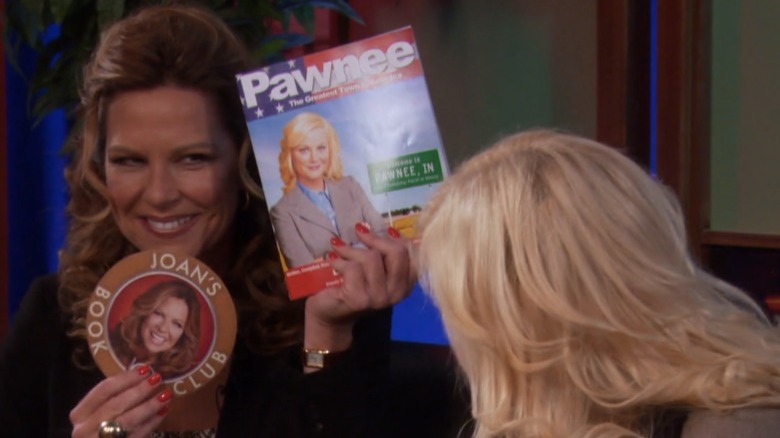 Peacock
In the Season 4 episode "Born and Raised," Leslie Knope is promoting a book she wrote with the hyperbolic title "Pawnee: The Greatest Town in America" when, during an appearance on the talk show of local personality Joan Callamezzo, the host springs a "gotcha" moment on Leslie revealing that she wasn't actually born in the town of Pawnee. Leslie initially denies the accusation, but later discovers (to her horror) that she was actually born in their neighboring, rival town of Eagleton. Not missing the chance to merchandize, the show put together a real version of the book that you can buy.
"Welcome to Pawnee: More Exciting than New York, More Glamorous than Hollywood, Roughly the Same Size as Bismarck, North Dakota..." reads the book's description on the Hachette Books website. Inside the book, which actually lists its author as "Leslie Knope," there's a chapter on what to do if you have only 24 hours to explore the fictional town, a chapter on local media, and even a chapter about the notorious town of Eagleton. The book even includes appendices, including the Swanson Pyramid of Greatness from the Season 3 episode "Go Big or Go Home." Of course, if you aren't interested in Leslie's book but are interested in the Pyramid of Greatness, that's also sold separately as a poster.