10 Hilarious Movies Like Wedding Crashers That Will Keep You Laughing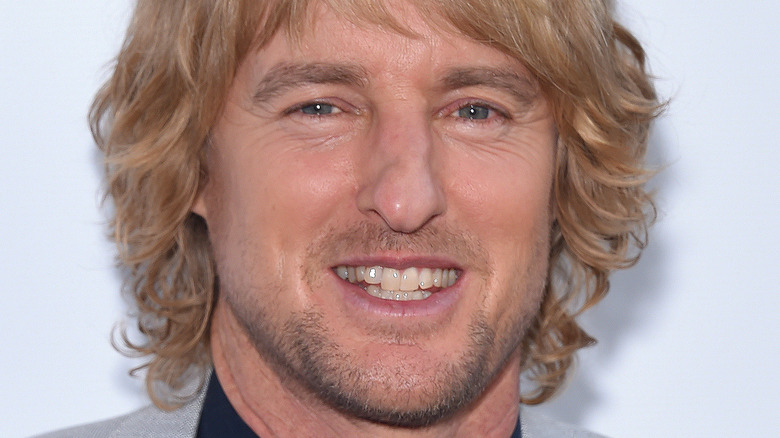 DFree/Shutterstock
We may receive a commission on purchases made from links.
David Dobkin's "Wedding Crashers" is a 2005 raunchy comedy starring Owen Wilson and Vince Vaughn as two divorce lawyers who spend their down time going to weddings and pretending to be guests of the bride or groom's family so they can have sex with desperate bridesmaids. Not the most progressive comedy premise, to be sure.
The film was made at the start of the Judd Apatow era ("The 40-Year-Old Virgin" came out just a month later), and while "Wedding Crashers" is not a Judd Apatow-produced film, it nonetheless carries a lot of the comedic hallmarks from his brand: cringey gross-out humor, long takes of profanity-laden improvisation, and a tidy and conservative moral by the end.
What sets "Wedding Crashers" apart for many is the charisma of Wilson and Vaughn, who are hilarious and affable in ways that elevate the film. It also helps that the movie includes an equally great supporting cast, including Rachel McAdams, Bradley Cooper, Isla Fisher, and, of course, Christopher Walken. All of these factors contributed to the film's success: "Wedding Crashers" grossed nearly $300 million at the box office on a $40 million budget (via Box Office Mojo) and received a certified fresh rating on Rotten Tomatoes.
Despite being a bit dated for modern sensibilities, "Wedding Crashers" still remains quite popular and fondly remembered — so much so that there's even been talk of a possible sequel on the way! So, if you're a fan of "Wedding Crashers," Owen Wilson and Vince Vaughn, raunchy comedies, or weddings in general, here is a list of films you might also enjoy as well.
Bridesmaids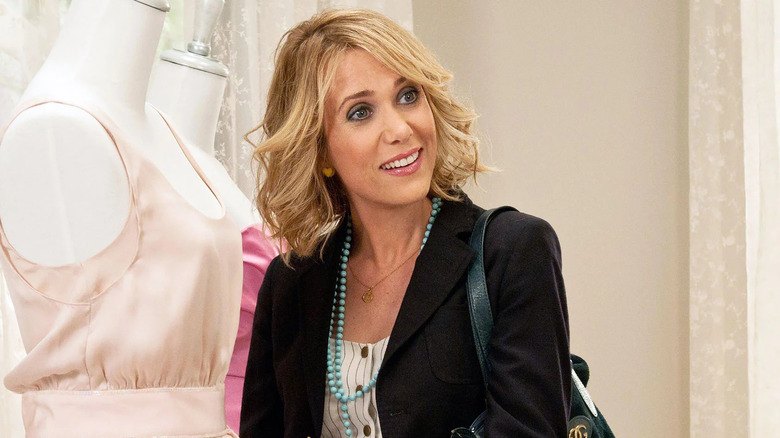 Universal Studios
Director Paul Feig co-created the beloved cult TV series "Freaks and Geeks" with Judd Apatow in 1999 and brought that firsthand experience of Apatow's comedy lineage to his 2011 raunchy female-led comedy "Bridesmaids." 
Co-written by and starring Kristen Wiig, the film features an ensemble cast of Maya Rudolph, Ellie Kemper, Rose Byrne, and Melissa McCarthy in a star-making turn as the brash, confident Megan. The film follows perpetually-single and barely holding it together Annie (Wiig), who is the best friend of the more responsible Lillian (Rudolph). However, much to the chagrin of Annie, Lillian is getting married and wants Annie to be her maid of honor. Annie struggles to handle her bridesmaids duties amidst her growing feelings of alienation from Lillian and the other bridesmaids and her rivalry with Helen (Byrne), Lillian's sophisticated and upper class friend, who's all too eager to step in to save the day.
The similarities between "Bridesmaids" and "Wedding Crashers" are pretty obvious: Both films feature a wedding setting, friendships being tested, and an ultimate vindication of the sanctity of marriage and romance. Beyond that, there's also the crass humor (such as the literally gut-busting and hilarious diarrhea scene), long improvisational takes, and charismatic leads and supporting players, which connect the films.
However, having a female perspective provides an interesting contrast to "Wedding Crashers." "Bridesmaids" focuses on the toxic ways that expectations put upon women — both in their friendships, as well as within wedding culture — can manifest, which gives the film a more (hilariously) realistic and biting edge over the more standard fare of "Wedding Crashers."
Best Friend's Wedding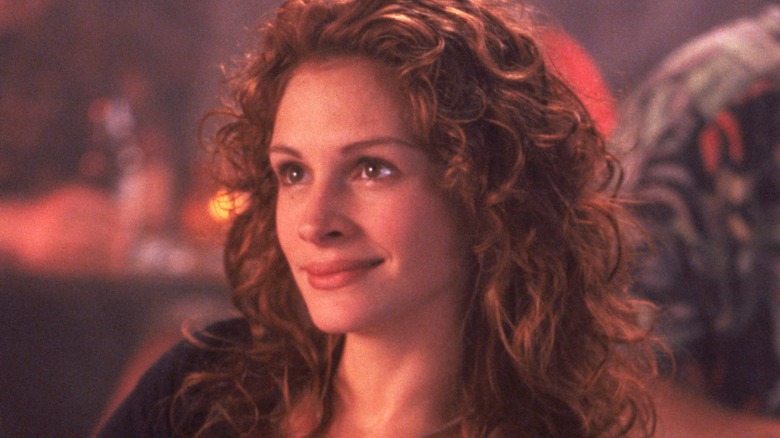 Sony Pictures
In the genre of wedding-themed comedies, there's perhaps nothing more iconic than the classic Julia Roberts rom-com "My Best Friend's Wedding." Released in 1997, the film became an unexpected hit and earned a whopping $298 million on a $40 million budget, which makes it one of Julia Roberts' most successful films to date (via The Numbers).
Jules (Roberts) makes a pact with her best friend Michael (Dermot Mulroney) that if they haven't found anyone to marry by the time they turn 28, they'll marry each other. Unfortunately for Jules, right when she realizes that she is in fact in love with Michael, he reveals that he's engaged to bubbly college student Kimmy (Cameron Diaz). Naturally, Jules goes to Michael's wedding to try to thwart it, but things don't quite go according to plan.
Like "Wedding Crashers," the film is about someone with an ulterior (and nefarious) motive going to a wedding, who then learns the power of love, friendship, and self-realization along the way. Where "My Best Friend's Wedding" differs is in its unexpected ending, as well as its rating: Its PG-13 status means no nudity and much less profanity than "Wedding Crashers," which may make it more palatable for a wider range of viewers looking for a more conventional rom-com. 
The Internship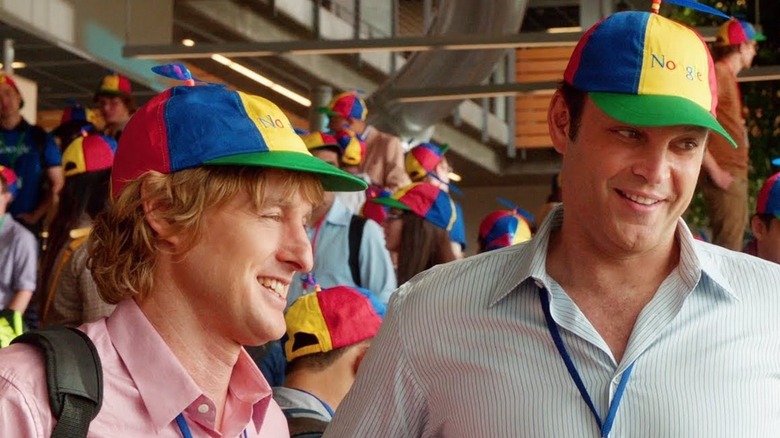 20th Century Fox
Full disclosure: Shawn Levy's 2013 comedy "The Internship" is a pretty on-the-nose commercial for Google — in fact, it's almost just as transparent as "Mac and Me" was for McDonald's. Nonetheless, this film features one of the only other times that Owen Wilson and Vince Vaughn teamed up together to co-lead a comedy.
Nick and Billy (Wilson and Vaughn, respectively) are old school salesmen that lose their jobs and apply to a Google internship program. Afterwards, they are sent to a Google camp, where the two severely stand out due to their age and lack of technical knowledge, especially compared to the other tech-savvy and college-aged interns. Shenanigans soon ensue, as the two opposing groups of people learn from each other.
This is one of the few non-wedding films in this list, but if you're a fan of "Wedding Crashers," chances are you're also a fan of Wilson and Vaughn's undeniable chemistry. Also like "Wedding Crashers," there's a similar type of improvisational humor audiences have come to expect from the duo. It's not as good as "Wedding Crashers" unfortunately, and the blatant Google product placement is more than a little uncomfortable, but if you can look past that, you'll have a decently fun — if not amazing — time.
Swingers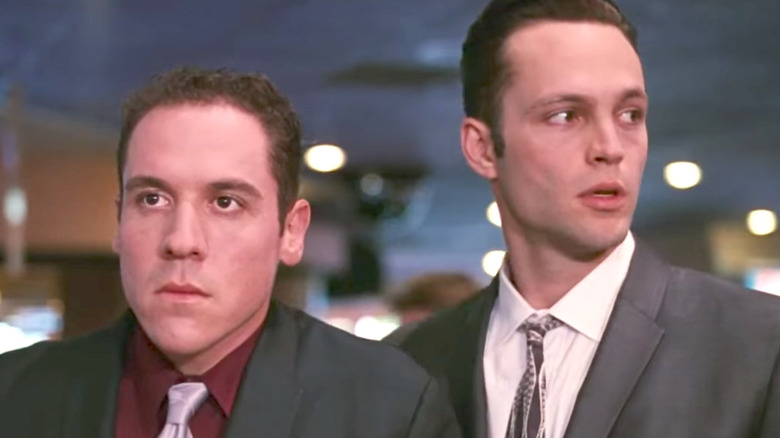 Miramax
Doug Liman made his feature directorial debut in 1996 with "Swingers," starring Vince Vaughn and Jon Favreau, who also wrote the film. "Swingers" was a cultural phenomenon when it came out and became a star-making project for almost all of the principals involved, including Heather Graham and Ron Livingston.
Nebbish protagonist Mike (Favreau) moves from New York to LA following a break-up. Trying to move on from his heartbreak, he embarks on a series of romantic exploits along with his cool friend Trent (Vaughn), and they traverse the nightlife of Los Angeles and Las Vegas. 
"Swingers" is the Ur-text of Vince Vaughn's manic motor-mouthed lothario archetype that he continued to perfect in many films afterwards, including "Wedding Crashers." The similarities don't stop there, as he plays the more outgoing and promiscuous character, while here, Favreau is the more sensitive and romantic one, which parallels Owen Wilson and Vince Vaughn's dynamic in "Wedding Crashers."
Besides all that, "Swingers" is a great and hilarious indie comedy, and it makes sense why it catapulted everyone's careers afterwards. Favreau's answering machine breakdown scene is worth the price of admission alone!
I Love You, Man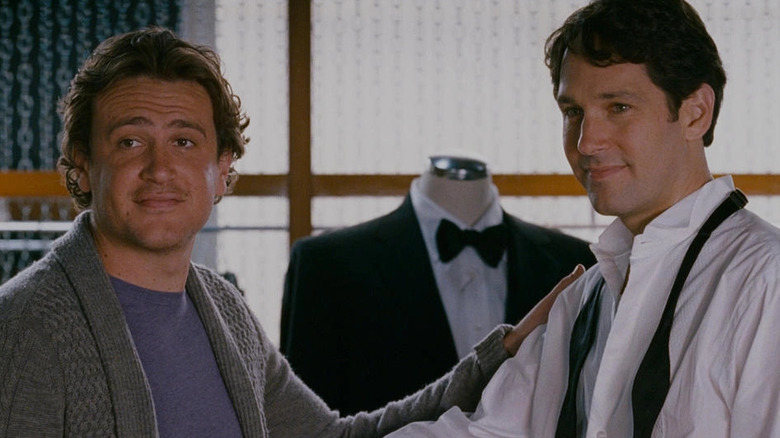 Paramount Pictures
2009's "I Love You, Man" follows Peter (Paul Rudd), an uptight but kind man, who has always been more comfortable being friends with women. When he proposes to his girlfriend Zooey (Rashida Jones), he realizes he has no one to ask to be his best man at the wedding because he has no male friends. This leads to Peter trying — and failing — to connect with other men in his life, until he meets the carefree Sydney (Jason Segel). The two bond over their shared love of the progressive rock band Rush and although they're total opposites, they are able to perfectly complement each other — to the point that their deep connection causes a potential riff with Peter's fiancée.
The film is similar to "Wedding Crashers" in several ways: It features a major plot point of a wedding, as well as a style of comedy that marked the mid to late-2000s. It is raunchy, profanity-laden, and overly improvisational, and it is all buoyed by affable performances from Rudd and Segel, who have amazing chemistry together — the same as Wilson and Vaughn in "Wedding Crashers" — as well as a heartwarming story about friendship.
My Big Fat Greek Wedding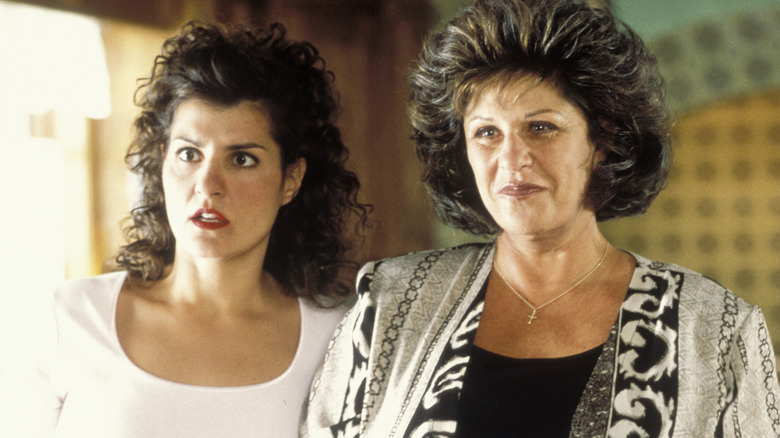 IFC Films
"My Big Fat Greek Wedding" was a smash indie sleeper hit that came out in 2002. In fact, to this day, it is the highest-grossing romantic comedy in history even though it never reached no. 1 at the box office (via The Ringer). Joel Zwick directed the film, which was written by its star Nia Vardalos, who based it off of her one-woman play of the same name.
The film follows a Greek woman named Toula (Vardalos), who gets engaged to the non-Greek Ian (John Corbett). As their wedding approaches, they get caught in a culture clash of their families, as Toula's loud, brash, big, fat, Greek family knows whats best (or so they believe) and wants to take control over the whole event.
Like "Wedding Crashers," this classic comedy revolves around a wedding and includes a large and talented supporting cast. Both films also feature a fish-out-of-water element, as outsider Ian comically has to navigate Toula's eccentric family, much how John and Jeremy struggle to integrate themselves into the Cleary family. Ultimately, if you're in the mood for a fun, light-hearted rom-com with a lot of heart, look no further than "My Big Fat Greek Wedding."
My Big Gay Italian Wedding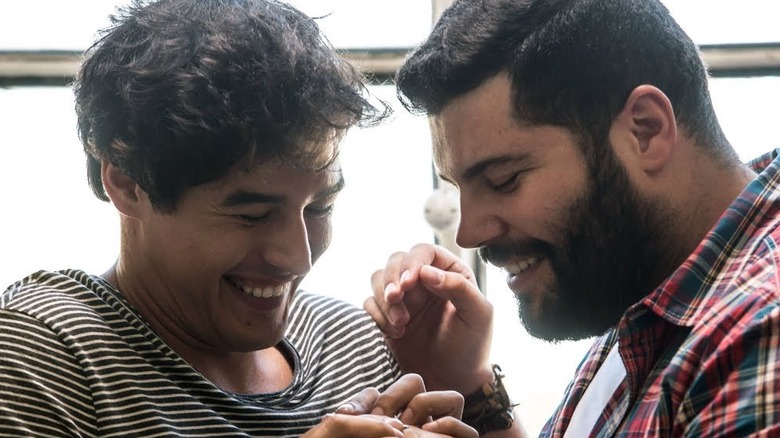 Medusa Film
While they certainly exist, there is still unfortunately a large dearth of LGBTQ+ rom-coms in existence, which is why the 2018 Italian comedy "My Big Gay Italian Wedding" stands out in the genre.
Actor Antonio (Cristiano Caccamo) proposes to his longtime boyfriend Paolo (Salvatore Esposito). Unfortunately, Antonio's parents are not aware he's gay, so he has to now not only come out to his family, but also tell them he's getting married as well. Hilarity, revelations, and even some tear-jerking moments ensue as both men's family's try to come to terms with their sexuality and upcoming wedding.
It's great to have a film with a matter-of-fact and wholesome homosexual relationship shown on screen and seen in an unambiguously positive light. The film's treatment of gay relationships is also way better than the frankly often homophobic humor found in "Wedding Crashers," especially surrounding the character of Todd. For these reasons and more, "My Big Gay Italian Wedding" offers a welcome and fresh take on a genre that has long been dominated by less inclusive perspectives.
The Best Man
Malcom D. Lee's 1999 romantic comedy-drama "The Best Man" follows Harper (Taye Diggs), who's asked to be best man for Lance's (Morris Chestnut) wedding. Harper reunites with his group of old college friends, as they prepare to attend the wedding, but he's hiding a secret: He has written a book that uses slightly fictionalized versions of his real-life friends' relationships and sexual exploits.
"The Best Man" — like "Wedding Crashers" — employs an outstanding supporting cast, including Nia Long, Regina Hall, and Terrence Howard. The similarities don't stop there, as they both center around weddings and mostly one location, as well as include various deceptions and secrets. Much of the comedic tension in "Wedding Crashers" comes from the fact that John and Jeremy have lied about their identities to get into the inner circle of an upper crust New England political family. 
In "The Best Man," the details of Harper's not-yet-released book threaten to come out and expose him and his friends, which helps drive the movie forward. Additionally, having an entirely Black cast changes things up and gives "The Best Man" a different — and very welcome — perspective than "Wedding Crashers."
Crazy Rich Asians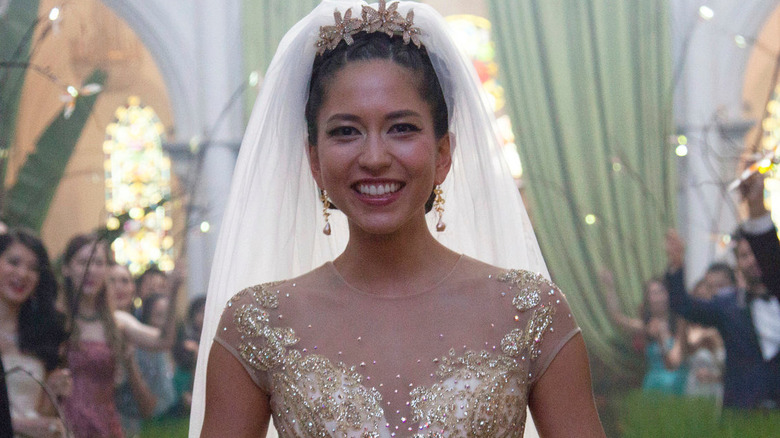 Warner Bros.
"Crazy Rich Asians" is John M. Chu's 2018 smash blockbuster rom-com (via Box Office Mojo) based on the best-selling novel of the same name written by Kevin Kwan. The film follows Rachael (Constance Wu,) a middle-class professor whose fiancé Nick (Henry Golding) turns out to secretly be a rich billionaire from Singapore. After their engagement, Rachael and Nick travel to Singapore for a wedding, where she finally gets to meet Nick's crazy, rich, Asian family. She immediately encounters a huge culture shock, since everyone in Nick's family is suspicious of Rachael's intentions and qualifications — especially his overbearing mother, Eleanor (Michelle Yeoh).
Like many films on this list, a wedding plays a major role in the film; however, another major aspect of "Wedding Crashers" that's not usually discussed is the class dimension at the heart of the film. John and Jeremy, while not poor (though to be fair, neither is Rachael in "Crazy Rich Asians") are nonetheless still out of their depth in terms of the Cleary's private estate they find themselves in. Their different sensibilities and out-of-place behavior even ticks off preppy villain Sack Lodge (Bradley Cooper), in the same way Rachael ruffles the billionaires' feathers in "Crazy Rich Asians."
Perhaps more importantly, "Crazy Rich Asians" is groundbreaking, as it was the first major studio film to feature an all Asian cast since 1993's "Joy Luck Club" 25 years prior (via Time), which makes it necessary viewing for anyone who loves comedies or rom-coms.
Marry Me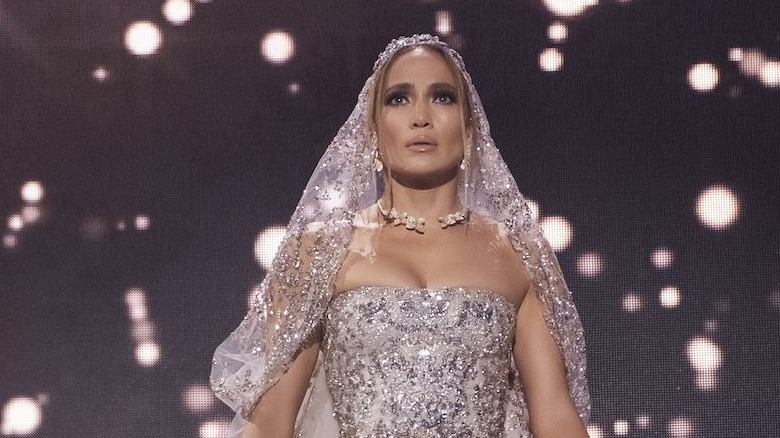 Universal Studios
Kat Coiro's 2022 rom com "Marry Me" marks a comeback to the genre for former rom-com queen Jennifer Lopez. The film is based on a 2012 online graphic novel of the same name by author Bobby Crosby, and it has a pretty out there premise, even by rom-com standards. 
Super famous pop star Kat Valdez (Lopez) calls off her high-profile marriage to pop star Bastian (Maluma) after she finds him cheating on her. Desperate to save face, she agrees to marry everyman Charlie (Owen Wilson), who gets dragged to her concert and winds up holding a sign that says "Marry Me." Initially, their courtship is simply just a publicity stunt for her to stave off the bad press from her disengagement with Bastian — but it becomes something more real over time.
Despite its fantasy logic, Owen Wilson and Jennifer Lopez have great chemistry together in "Marry Me", and the film harkens back to a time when more rom-coms for adults were made more often. It also has some great and catchy J. Lo songs to boot. The film ultimately makes this list because it's fun, fluffy, and funny, and if you liked Wilson in romantic lead mode from films like "Wedding Crashers," it's well worth checking out for that alone.