Chris Evans Had The Best Reaction To Seeing Ana De Armas As Marilyn Monroe In Netflix's Blonde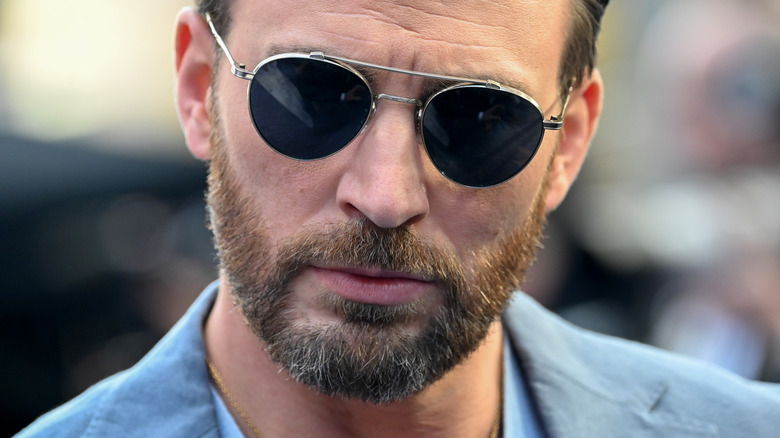 Gareth Cattermole/Getty Images
When "Knives Out" was released in 2019, it had an overwhelmingly positive ripple effect. On the one hand, director Rian Johnson immediately began work on a sequel, ultimately landing a deal with Netflix for two more "Knives Out" projects. At the same time, the murder mystery film launched Ana de Armas to stardom. In the years since, the actress has become nearly ubiquitous, appearing in "No Time to Die," "Deep Water," and "The Gray Man," as well as becoming a tabloid fixation.
Now, Ana de Armas has secured her biggest role yet with "Blonde." The not-quite-biopic from Andrew Dominik offers an intimate, somewhat fictionalized account of Marilyn Monroe as she navigates the heady onslaught of fame. While early "Blonde" reviews have been tepid at best, critics have enthusiastically praised de Armas for her performance as the platinum-haired star.
De Armas' portrayal has left other actors speechless as well. Here's the hilarious reaction from de Armas' "Knives Out" and "The Gray Man" co-star Chris Evans.
Evans couldn't distinguish de Armas from Marilyn Monroe
Of Ana de Armas' performance in "Blonde," Chris Evans only had kind words for his peer. "I think this was one of the first opportunities she had to really sink her teeth into something incredibly demanding," Evans told Variety. "I didn't see one bit of fear; I saw excitement."
Initially, Evans didn't realize he was looking at de Armas at all. Upon seeing a still from her camera test, Evans thought he was looking at a photo of Monroe herself. "I remember looking at it and saying, 'OK, that's Marilyn ... where's your shot? That's you? Holy s***! You're going to win an Oscar for this!'"
De Armas' performance elicited a similar response from Adrien Brody, who co-stars in "Blonde" as Monroe's third husband, playwright Arthur Miller. "I was transported to another time and place," the actor told Variety at the film's premiere. "I really thought she channeled [Marilyn]." If audiences are as rapt as Evans and Brody when "Blonde" hits Netflix on September 28, de Armas will surely earn more Oscar buzz.