How Abbott Elementary Is Helping Real Teachers In Underserved Communities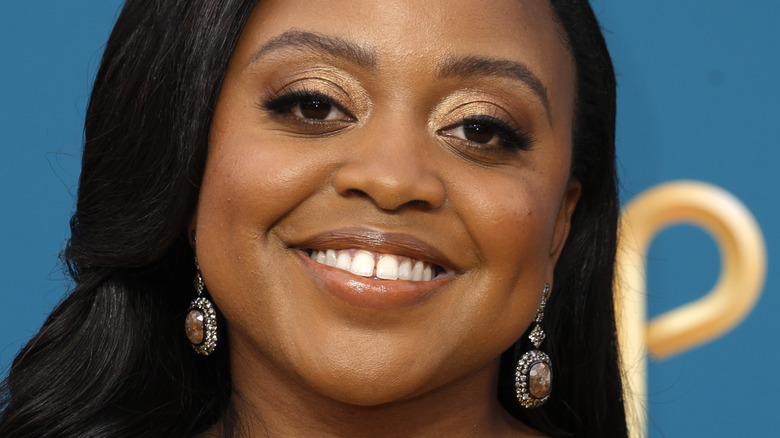 Frazer Harrison/Getty Images
The cast and crew of "Abbott Elementary" made a dazzling debut at their first ever Emmy appearance, giving the well-deserved series a useful platform to help their communities. The outstanding comedy series was awarded with three total Emmys (via IMDb) including some recognition for Sheryl Lee Ralph's extraordinary performance, as well as Quinta Brunson's exceptional writing skills. This sets the series up perfectly for their highly anticipated Season 2 return in September. 
Perhaps more importantly, though, the earnest and authentic depiction of public-school teachers in "Abbott Elementary" struck an emotional chord with educators across the United States. The esteemed comedy deeply resonates with teachers who praise it as "Funny, relatable, and encouraging" (from Education Week). More often than not, the best jokes of the series unfortunately center on the resilient instructors overcoming their underfunded institutions to shape young minds. 
With such an excellent cast at their disposal, it's no surprise "Abbott Elementary" is so successful. According to Variety, the series has over 8 million viewers with a staggering increase for the Season 1 finale. "Abbott Elementary" is universally enjoyed with joyous reviews on Rotten Tomatoes from both critics and fans. The increasingly positive reception lends itself to a wonderful word of mouth — one that leads to a larger and growing audience, which doesn't necessarily need to have the show marketed to them. And with this increased success, some of the show's profits have gone to a heartwarming home, courtesy of the cast and crew.
The cast and crew generously donated supplies to public school teachers
In a truly beautiful conversation with NPR, series creator Quinta Brunson detailed the real-life inspiration behind "Abbott Elementary." That is, her selfless and devoted mother was also a teacher for four decades, who didn't believe in punishing students and instead supported them to do and be their very best. Viewers familiar with the uplifting comedy can see these qualities reflected in "Abbott Elementary" while providing necessary social commentary about the failings in our U.S. school systems. 
Now, Brunson's awareness of these issues propels her to action, and she plans to utilize her larger platform for a good cause. In the same NPR interview, she proudly shared the impact she was able to make on schoolteachers across the United States. "We chose to put the marketing money toward supplies for teachers. It's about being able to make those kinds of decisions that really excite me, things that can really materially help people." 
Brunson's heartfelt redistribution is not only impactful to those directly assisted, but also sends a personal message that those in the industry have the power to enact real change and help those where it truly matters. 
As "Abbott Elementary" continues to evolve with a sure to be hilarious Season 2, the show's influence and optimism will surely reverberate across the nation. Hopefully this will prompt others to follow suit, as "Abbott Elementary" expands the narrative outside the classroom. For now, of you haven't seen it already, you can stream the uproarious first season at your leisure.