How Sidney Poitier's Dad Factored Into A Difficult Guess Who's Coming To Dinner Scene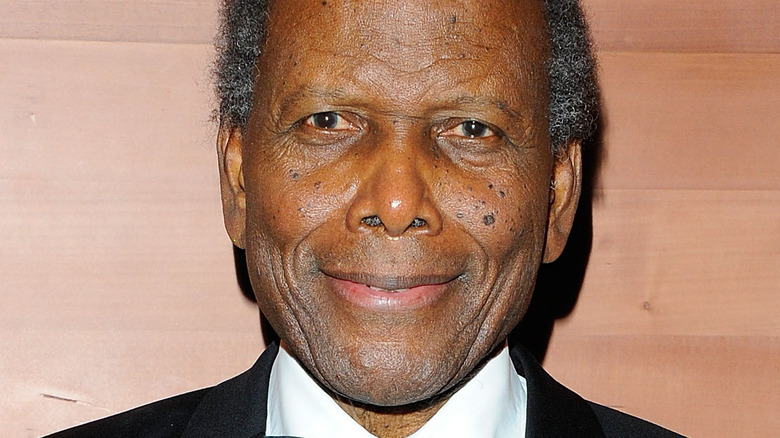 Andrew H. Walker/Getty Images
The contributions made to the entertainment industry by the late great actor and director Sidney Poitier cannot be overstated. Poitier rose in prominence throughout the late 1950s, and 1960s, where his natural charm and charisma helped turn such films as "The Defiant Ones," "Patch Blue," "A Raisin in the Sun," and "In the Heat of the Night" into certified classics. He would go on to win an Academy Award for best actor for his performance in 1963's "Lilies of the Field," making Poitier the first Black man to win a competitive Oscar, and the second Black person to do so since Hattie McDaniel's supporting actress win in 1939's "Gone with the Wind" (via History). He sadly passed away in 2022 at the age of 94, leaving behind a massive legacy for all Black filmmakers and artists to this day (via The Independent).
While all of Poitier's achievements deserve recognition for challenging and opening the floor for Americans to have difficult conversations, it could be said that no single film of his exemplifies this better than "Guess Who's Coming to Dinner." Released in 1967, the film follows the struggles of an interracial couple as their families are thrown into turmoil. Poitier stars alongside Spencer Tracy, Katharine Houghton, and Katharine Hepburn, the latter of which would win one of the film's two Oscars, along with William Rose's original screenplay (via IMDb). To depict the film's difficult subject matter and nuanced conflict, Poitier went to some surprisingly personal places. 
Sidney Poitier's father was a point of emotional reference for a major conflict
One of the key scenes in "Guess Who's Coming to Dinner" involves a major conflict between Sidney Poitier's Dr. John Wade Prentice and his father (Roy E. Glenn). When his father voices his disapproval of his son's choice to marry a white woman, John releases a barrage of statements, asserting that his father can't control his life, and ending his monologue with the iconic line "You think of yourself as a colored man — I think of myself as a man." It's clear in the scene that there is quite a bit of heft on both actors' shoulders. For Poitier, however, what he expressed during the sequence was rooted in something deeper. 
In an interview with the American Film Institute about the landmark film, Poitier explains how his father influenced him emotionally. "I have a dad, you know, a guy I loved a great deal," Poitier says. "And I had to use him as my emotional reference when I was speaking to my movie dad, played by Roy Glenn." After a hefty sigh, the actor continues, a heavier weight in his eyes, "It wasn't easy, but it was a scene that had to be played, so I played it as best I could and it worked out okay." Sidney Poitier's ability to be as emotionally vulnerable as he is strong and dignified is reason enough for his long-lasting legacy within the entertainment industry.