In The Heat Of The Night Actors You May Not Know Passed Away
"In the Heat of the Night" premiered on NBC in the spring of 1988, and was adapted for television (by "Smokey and the Bandit" writer James Lee Barrett) from Norman Jewison's Academy Award-winning 1967 film. The high-tension, hot-blooded series starred Carroll O'Connor and Harold Rollins in the roles made famous by Rod Steiger and Sidney Poitier. 
As bigoted police chief Bill Gillespie and urbane Black detective Virgil Tibbs, O'Connor and Rollins sanded down the original film's antagonism, settling into a more TV-friendly partnership while still grappling with hard-hitting issues each week in fictional Sparta, Mississippi. The conflicts included sexual assault, racial violence, anti-semitism, and political corruption.
The series ran for five seasons on NBC, with three additional (and several standalone TV movies) airing on CBS through 1995. Over the course of 146 episodes, dozens of actors paid a visit to this small Southern town — some for years, others for just an episode or two. 
Many of the talented actors who made "Heat" a mid-'90s hit are no longer with us. Let's take a look back at actors from the "In the Heat of the Night" TV show who you may not know have died.
Burgess Meredith
Stage and screen legend Burgess Meredith made his mark as the irascible Judge Cully in the Season 6 two-parter "Even Nice People" and "Lake Winahatchie," with a cameo in Season 7's "Hatton's Turn: Part 2" as well. It was one of Meredith's final television roles before his death in 1997 at age 89.
Born in 1907, Meredith found success on Broadway as a young man before going Hollywood with the film adaptation of Maxwell Anderson's play "Winterset" in 1936. That began a decades-long career on the big screen, earning acclaim in films such as "Of Mice and Men" and "The Story of G.I. Joe." His most famous film role came later in life, though, playing tough-as-nails boxing trainer Mickey in the "Rocky" series.
As memorable as his film career was, he had arguably even more impact as a television actor, starting in the medium's golden age and working steadily up through his "In the Heat of the Night" appearances in the mid 1990s. Many of his best roles remain popular and well-seen, even decades later; he starred in some of the most famous episodes of "The Twilight Zone," and personified The Penguin in 21 episodes of the 1960s live-action "Batman" series. His "Heat" appearances helped mark a very late-in-life renaissance for Meredith, who became something of a sensation thanks to his foul-mouthed, scene-stealing working in the "Grumpy Old Men" movies.
Dan Biggers
Dan Biggers had an entire career (or two) before turning to professional acting in the early 1980s. Born in Newton County, Georgia in 1931, he served in the armed forces before embarking on a career in education, first at University of Georgia and later at Berry College, where he was appointed Dean of Students in 1971. He also served as director of Oak Hill and the Martha Berry Museum for many years.
During his time as an educator, Biggers appeared in local theatre productions, and in 1982 could be seen in the TV movie "Maid in America." This kicked off a 25-year career on camera, taking supporting work in Georgia productions such as "Glory," "Midnight in the Garden of Good and Evil," and "Elizabethtown," his final role.
When production of "In the Heat of the Night" relocated to Covington, Georgia for Season 2, Biggers joined the cast as medical examiner Dr. Frank Robb, appearing in a total of 43 episodes. He died in 2011 at age 80, following a long illness.
Lois Nettleton
A veteran of stage and screen, Lois Nettleton was a Season 2 regular on "In the Heat of the Night," playing Joanne St. John, owner of the local diner and sometime love interest for Carroll O'Connor's Chief Gillespie. After revealing a scandalous past in the mid-season episode "AKA Kelly Kay," Joanne flees Sparta in shame. Nettleton would make sporadic appearances for the rest of the season, but did not return for Season 3.
Nettleton got her start on stage, first in Chicago and then as a member of the prestigious Actor's Studio in New York City. She made her Broadway debut in 1949 in Dalton Trumbo's play "The Biggest Thief in the World," and soon became a favorite of playwright Tennessee Williams, understudying in the original 1955 production of "Cat on a Hot Tin Roof" and starring in the 1973 revival of "A Streetcar Named Desire."
On television she guest starred on "The Twilight Zone" and "Route 66," among many other golden age series. After her time as Joanne St. John ended, Nettleton made appearances on "Seinfeld" and had a recurring role on "Crossing Jordan." Her final credit was the 2006 Hallmark movie "The Christmas Card."
Nettleton was married to humorist Jean Shepherd (whose 1966 book "In God We Trust: All Others Pay Cash" became the basis for "A Christmas Story," which he helped write and served as the narrator) from 1960 to 1967. She died of lung cancer in 2008 at age 80.
Dennis Lipscomb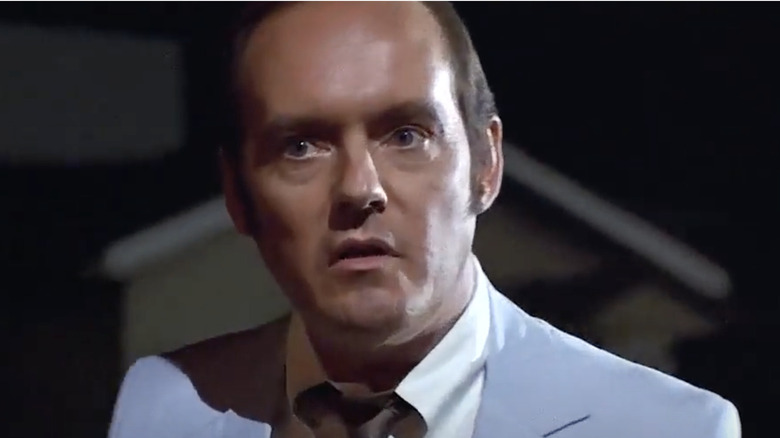 Columbia Pictures/YouTube
Dennis Lipscomb appeared as Sparta mayor Jim Findlay in Season 1 of "In the Heat of the Night." That eight-episode debut season was marked by scripts that star Carroll O'Connor thought were not up to par. The series was retooled for Season 2 and several characters were written out, including the one played by Lipscomb.
After studying acting at the University of Iowa and the London Academy of Music and Dramatic Art, Lipscomb starred in the 1980 neo-noir "Union City" alongside Blondie singer Debbie Harry. He was a reliable character actor throughout the 1980s, appearing in Walter Hill's "Crossroads," "A Soldier's Story" (alongside his future "Heat" castmate Harold Rollins) and the 1987 cult horror classic "Retribution." In the '90s he showed up on episodes of "The X-Files," "Dr. Quinn, Medicine Woman," and the infamous, short-lived musical bomb "Cop Rock."
Lipscomb's final television appearance was on an episode of the CBS legal drama "The Guardian." He passed away in 2014 in Los Angeles at age 72.
Margaret Blye
Margaret "Maggie" Blye appeared in four Season 1 episodes of "In the Head of the Night" as Chief Gillespie's girlfriend. In fact, her character's credited name was "Gillespie's Girlfriend." When the show returned for Season 2, Gillespie was romancing Lois Nettleton's Joanne St. John, and Blye was no longer in the picture (literally).
The Texas-born Blye got her start with a small role in the Tennessee Williams adaptation "Summer and Smoke" in 1960. By the late 1960s, she was a full-fledged international sex symbol, starring with Marcello Mastroianni in "Diamonds for Breakfast," Paul Newman in "Hombre," and Michael Caine in "The Italian Job." As the 1970s and '80s wore on, Blye focused on television work, guest starring on "The Rockford Files" and in TV movies such as "LBJ: The Early Years." She was also something of a scream queen, thanks to her roles in 1982's "The Entity" and the 2005 horror-comedy "The Gingerdead Man."
Blye died of cancer in 2016 at age 73.
Ed Grady
Ed Grady, like his co-star Dan Biggers, came to film acting late in life after a lengthy career in education. Born in North Carolina in 1923, Grady served in World War II and returned home to study Theatre and English at University of North Carolina, Chapel Hill. After a short stint teaching in New York, Grady returned South, teaching in Morganton, North Carolina and Keenan, South Carolina through the 1970s.
In 1979 he made his film debut in the low-budget horror flick "Wolfman." For the next 25 years, Grady appeared in film and TV productions local to the Carolinas and Georgia, including Steve Martin's "Silas Marner" adaptation "A Simple Twist of Fate," "The Young Indiana Jones Chronicles," and 2004's "The Notebook." He appeared on "In the Heat of the Night" four times during the show's run, as Dr. Cameron in Seasons 4 and 7, plus two unrelated characters in Season 2 and 6.
Grady also performed for three years in "Unto These Hills," Mountainside Theatre's outdoor drama depicting the history of the Cherokee people. Grady died in 2012 at the age of 89.
Ted Manson
Columbus, Ohio native Ted Manson began acting in college at Ohio State University in the 1950s. After a career in real estate, he moved his family to Atlanta, Georgia, where he began acting on stage and in local film and television productions. Manson's first of four appearances on "In the Heat of the Night" was the Season 2 episode "Walkout," which also guest starred O.J. Simpson.
Like his castmate Dan Biggers, Manson had bit parts in "Midnight in the Garden of Good and Evil" and "Elizabethtown." After years of working in semi-obscurity as a character actor, Manson's career got a shot in the arm in the 2000s with a pair of memorable parts in hit comedies: First, as the cannon-shooting Civil War reenactor Colonel Murphy in the Reese Witherspoon rom-com "Sweet Home Alabama"; then, as Will Ferrell's creepy father-in-law Chip in the sports satire "Talladega Nights: The Ballad of Ricky Bobby."
Manson died in 2008 from complications from lung cancer; he was 81 years old.
Mel Stewart
Years before his three-episode appearance as Althea Tibbs' father, Calvin Peterson, on Season 4 of "In the Heat of the Night," Milton "Mel" Stewart had already become well-known for his role on a different, beloved Carroll O'Connor series. The actor and musician appeared eight times on "All in the Family" as Henry Jefferson, brother of Archie Bunker's neighbor George.
Stewart's career began in New York City in 1957, starring in the Langston Hughes musical "Simply Heavenly" on Broadway. Soon after, he moved to California, where he performed improv comedy with San Francisco-based troupe The Committee. On film, he appeared in director Hal Ashby's debut feature "The Landlord," the Iceberg Slim adaptation "Trick Baby," and Stuart Gordon's 1990 sequel "Bride of Re-Animator."
But it was television where Stewart had his greatest success. After "All in the Family," he had recurring roles on many network series, including the "Bewitched" spin-off "Tabitha" and the 1980s spy comedy "Scarecrow and Mrs. King."
Stewart's final role was in the 1993 Whoopi Goldberg comedy "Made in America." He died in 2002 at age 72, from complications due to Alzheimer's Disease.
Fran Bennett
Actress Fran Bennett made three appearances as Virgil Tibbs' aunt Ruda on Seasons 4-6 of "In the Heat of the Night." Her career on camera spanned eight decades, from the 1950s to the 2020s, but her greatest impact was as a stage actress and celebrated voice and movement teacher.
As a young performer in New York City, Bennett studied to be a voice teacher under famed Scottish actress Kristin Linklater. After twelve years in Minneapolis as the voice and movement director for the Guthrie Theatre, she took a teaching position at the California Institute for the Arts in 1978, re-starting her on-camera career with appearances on "Diff'rent Strokes" and "Roots: The Next Generation."
For the next four decades Bennett would balance a television career with teaching at CalArts, guest-starring on everything from "The Bold and Beautiful" to "Quantum Leap," even playing Donald Glover's grandmother on a 2010 episode of "Community." After her 2014 retirement from CalArts, she continued to act; her final television role was as Mother Jefferson on ABC's live re-staging of "All in the Family" and "The Jeffersons" in 2019. Bennett passed away on September 11, 2021 at age 84.
Hugh O'Connor
Actor Hugh O'Connor was adopted as a baby by Carroll O'Connor and his wife Nancy. From the age of 16 he struggled with drug addiction, and went through three different drug rehabilitation programs. Other than the 1985 television movie "Brass," his only credit was the role of Lonnie Jamison on "In the Heat of the Night."
Lonnie is one of the few characters to appear in every episode of the series, starting out as a patrolman but ending the show as a lieutenant and acting Chief of Detectives in Sparta. In a way, Lonnie's evolution mirrored that of the actor portraying him, with his role becoming increasingly prominent as the series went on.
O'Connor married his wife Angela in 1992; they had a son, Sean, the following year. But sadly, his addiction struggles continued, and in 1995 O'Connor died by suicide. Carroll O'Connor made headlines by publicly naming his son's drug dealer, blaming the man for Hugh's death. Later, O'Connor would support a California law that would allow the families of drug abuse victims to sue drug dealers for damages.
If you or anyone you know is having suicidal thoughts, please call the National Suicide Prevention Lifeline​ at​ 1-800-273-TALK (8255)​.
Howard Rollins
Howard Rollins may have had the most difficult role in the television adaptation of "In the Heat of the Night," taking over the iconic role of Virgil Tibbs from one of  the most iconic actors (Sidney Poitier) in Hollywood history. Tibbs is a sophisticated Philadelphia detective called in to unofficially desegregate his hometown Mississippi police force. Rollins made the role his own, creating a more open and less angry Tibbs than Poitier, but eventually his health and legal issues stemming from drug addiction led to him exiting the show after Season 6.
Rollins was born in Baltimore, Maryland and studied acting at Towson University before heading to New York in 1974. In 1978 he appeared in the Martin Luther King, Jr. biopic mini-series "King," and won acclaim for his roles in "Ragtime" and the World War II film "A Soldier's Story," directed by "In the Heat of the Night" film helmer Norman Jewison.
Rollins was arrested for cocaine possession in Louisiana in 1988, and was arrested three times in eight months between 1992 and '93 on charges related to driving under the influence. Facing jail time if he returned to Georgia to film Season 7, Rollins was written off the show and replaced by a new character played by Carl Weathers. Rollins made a handful of guest appearances in Season 7, but other than the indie film "Drunks" and a few small television roles, his career was over.
In 1996 Rollins was diagnosed with lymphoma, and died in New York of complications just six weeks later.
If you or anyone you know is struggling with addiction issues, help is available. Visit the Substance Abuse and Mental Health Services Administration website or contact SAMHSA's National Helpline at 1-800-662-HELP (4357).
Carroll O'Connor
For most actors, the lead role on a long-running, Emmy-winning primetime drama based on a beloved film would be the peak of a career. For Carroll O'Connor, it was just business as usual. 
Born in Manhattan in 1924, O'Connor joined the Merchant Marines during World War II and later studied English at the University of Montana. He caught the acting bug during a trip to Ireland in 1950, enrolling at University College Dublin. For most of the 1960s, O'Connor was a Hollywood journeyman, guest-starring on series like "Dr. Kildare" and "Ben Casey" and taking small parts in films like "Cleopatra" and "Point Break." 
Then in 1971, legendary TV trailblazer Norman Lear offered him the role of a lifetime: Surly, bigoted family man Archie Bunker, the lynchpin of "All in the Family." The show and character struck a chord with audiences, even if many of them mistook Archie's reactionary politics for O'Connor's own. He later starred in a sequel series, "Archie Bunker's Place," from 1979 to 1983.
At the beginning of "In the Heat of the Night," O'Connor clashed with producers over the show's scripts. He was more interested in the lives of the people of Sparta, and the social issues they grappled with in the wake of the Civil Rights movement, than Season 1's boilerplate crime show storylines. In Season 2 he became an executive producer on the show, as well as story editor, and crafted the show to be more in line with his interests.
After "Night" ended in 1995, O'Connor made appearances in a few series and films (most notably as Helen Hunt's father on NBC's "Mad About You"), and became a vocal anti-drug advocate in the wake of his son Hugh's death. In 2001, O'Connor died of a heart attack at age 76.
Bob Penny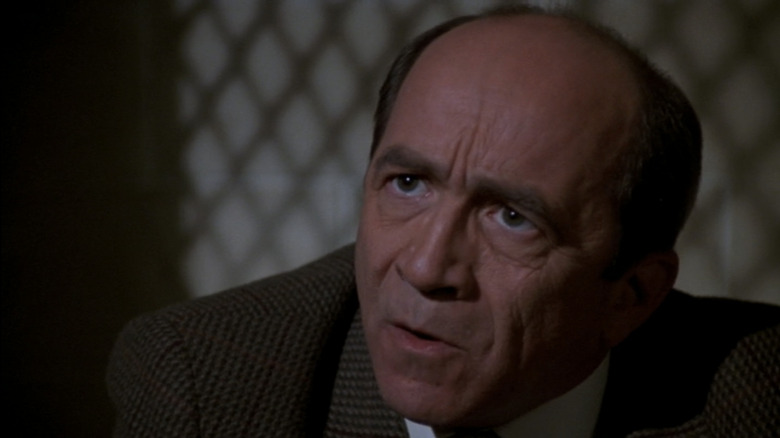 CBS
If something shady was going on in Sparta (which was often), there's a solid chance that sleazy lawyer and real estate agent Alvin P. Epp was involved. First appearing in Season 3's "King's Ransom," Epp was the go-to ambulance chaser for citizens looking to get some extra-legal assistance, from a boxer ("Rocky" actor Tony Burton) trying to blackmail the Detroit mob in his first episode to a shady developer (Rusty Schwimmer) trying to force Gillespie's daughter out of her home. As played by character actor Bob Penny, Epp made seven appearances on the show in both its NBC and CBS incarnations, never hatching the same scheme twice, but always a thorn in the side of the Sparta police department.
Like castmates Dan Bigger and Ed Grady, Penny was also a retired educator-turned-actor. A poet and amateur actor, Penny spent over three decades in education, including 21 years teaching creative writing at the University of Alabama at Birmingham. After his retirement in 1990, Penny focused on acting full-time, notching up small roles in productions that filmed in the Southeast, including "Mississippi Burning," "Fried Green Tomatoes," "Forrest Gump," and "Sweet Home Alabama." His professorial air often led to him getting cast as politicians, doctors, and lawyers. After a busy period during the 1990s, Penny's career slowed in the 2000s and 2010s; two of his last notable appearances were in the Lifetime body-swap comedy series "Drop Dead Diva" and the Billy Ray Cyrus vehicle "Still the King." He died in December 2022 at age 87.