Chicago Med Showrunners Andrew Schneider And Diane Frolov On What Season 8 Has In Store - Exclusive Interview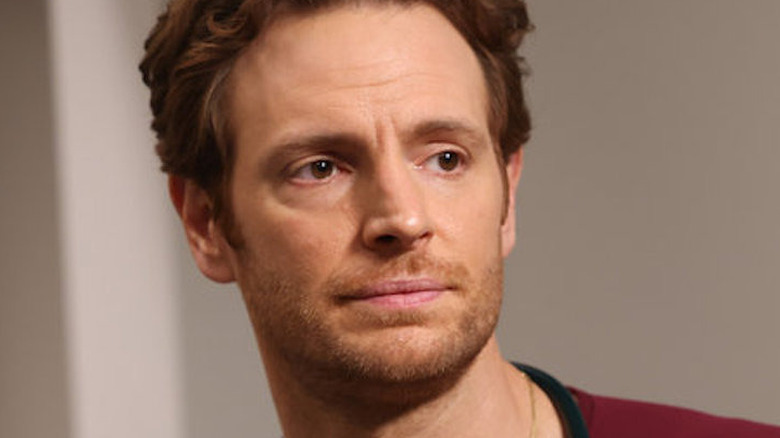 George Burns Jr./NBC
Heading into its 8th season, "Chicago Med" is once again shaking things up, with some familiar faces leaving while new characters are introduced. It's par for the course on the first of the One Chicago shows that air on Wednesday nights on NBC, with the medical drama having seen its fair share of people coming and going in recent years.
During the "Chicago Med" Season 7 finale, the apartment complex owned by Dr. Will Halstead (Nick Gehlfuss) was engulfed in flames with him inside, alongside fellow physicians Dr. Hannah Asher (Jessy Schram) and Dr. Dylan Scott (Guy Lockard), among other recognizable faces. Meanwhile, Crockett (Dominic Rains) was left facing the wrath of transplant surgeon Pamela Blake (Sarah Rafferty), whom he made a difficult life-or-death decision for, and Dr. Dean Archer (Steven Weber) reached out to his estranged son.
With Season 8 sure to be rife with drama, Looper spoke exclusively to "Chicago Med" showrunners Andrew Schneider and Diane Frolov about what to expect from the upcoming season, which premieres tonight.
The premiere picks up 'immediately' after last season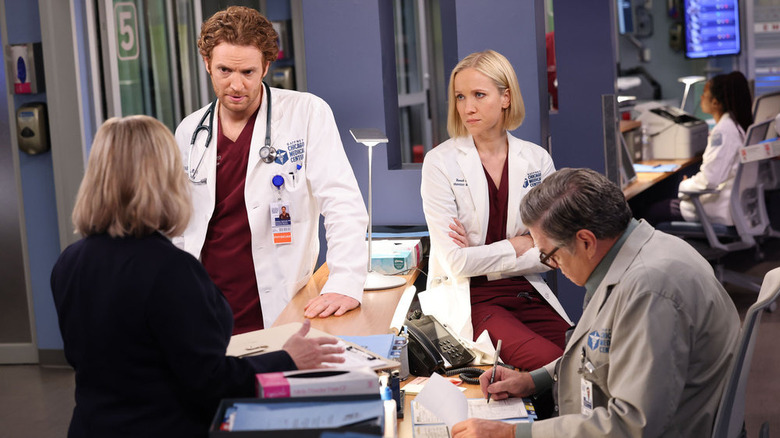 George Burns Jr./NBC
Fans are dying to know what's going to happen in the season premiere. Pictures and images have been released that look like all the main characters made it out of the fire. Not just that — we were also left on Crockett and even Archer cliffhangers, to some extent. What can we expect from the premiere and beyond?
Andrew Schneider: First of all, the premiere takes place immediately following the finale from last season.
Diane Frolov: Yes. Just minutes after, so we have all those characters in that building.
Schneider: And let's just say some don't get out unscathed. And the storyline which we set up with Dean Archer will continue to be a recurring story this season as he tries to reconnect with his son.
Frolov: [As for] Crockett, there's fallout with Blake. It's not a good situation. This will be her last episode for the time being. So Crockett is going to have to continue on, and he's going to struggle with ...
Schneider: "Should I have made the decision I made?"
Frolov: That's going to haunt him.
Now, you're adding two new characters in Season 8, played by Sasha Roiz and Lilah Richcreek Estrada. What can we expect from them?
Schneider: [Lilah] plays a new psych fellow. She's introduced in the premiere and will be an ongoing character for Dr. Charles to interact with, as they will handle some psych cases together.
Frolov: Sasha is playing a very wealthy entrepreneur who Crockett rescues at one point, and that action causes Crockett to become kind of a celebrity character.
Schneider: So he has to deal with a new aspect of his medical career — being the celebrity doctor at Chicago Med.
Chicago P.D.'s Jesse Lee Soffer won't be making a final appearance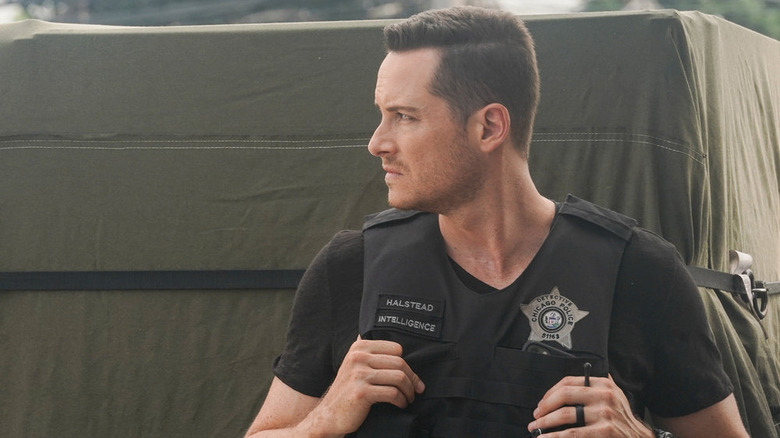 Lori Allen/NBC
Shocking news came out of "Chicago P.D." world that Jesse Lee Soffer will be exiting the show. What ripples will be felt from that departure on "Chicago Med," given that Will and Jay are brothers?
Schneider: There will be emotional fallout for Will. He's very close to his brother, and we will certainly reference that and it will have an effect on him.
Might we see Jesse on "Med" before his exit?
Frolov: No.
Schneider: Not before he exits.
Frolov: No. It's happening in ...
Schneider: [Episode] 4, I think.
Frolov: Or 3, right? [Episode] 3.
Schneider: But no, we don't have plans to have him in "Med" at this point, but it could happen down the line.
Last season, there was a lot of movement going on. We lost Dr. Manning, and Dr. Hammer came and went. Dr. Asher returned, and Dr. Scott was added. What was a season highlight for you, whether it had to do with any of those things or not?
Frolov: We loved the storyline with Stevie [Hammer] and her mother. We thought that came to a really nice resolution, and those actors were great. That was a very satisfying storyline for us.
Schneider: We also loved the storyline where Dylan [Scott] is treating his childhood friend who's been hostile to him and has been unsuccessful in life. What Dylan came to realize is that his friend is dyslexic and was never diagnosed, so he was able to set his old friend on a new path in life.
Frolov: Those two characters opened up storylines to us that we wouldn't have been able to have done in that way [without them], so we were really happy to have them.
Steven Weber is sticking around for another season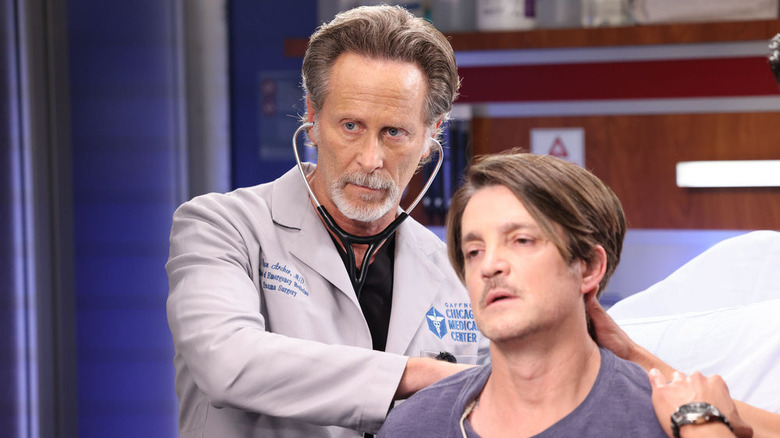 George Burns Jr./NBC
Last season, Steven Weber was still billed as a special guest star. Is he sticking around for the entirety of this season? Will we see some more softening of his character? Dr. Archer is not necessarily liked by viewers, but it seems like you're trying to fix that.
Frolov: Yes, he is going to be a regular, and he is going to be around. And yes, you will see softening and come to more understanding of why he is the way he is.
Schneider: You'll see his vulnerability.
He was a great addition to the show, and that "is he or isn't he a good guy?" dichotomy is intriguing.
Frolov: That's actually what we want. He's complicated, and he's a really interesting character to write for because of that. You don't ever know what he's going to say.
Schneider: He's a great actor. He makes every scene he's in [better]. He does a great job.
I also have a soft spot for Dr. Charles, who's played by the great Oliver Platt. Might there be any new love interests for him this season? Because last season didn't work out so great.
Schneider: Funny you should ask.
Frolov: Yes.
Schneider: There will be.
Frolov: We're also going to see him searching for a new therapist because he lost his, and that's a little bit of a journey. Dr. Charles will be dealing with the state of psychiatry at the moment and the conflicts between the way that he practices and other people practice.
The characters are 'all connected to one another'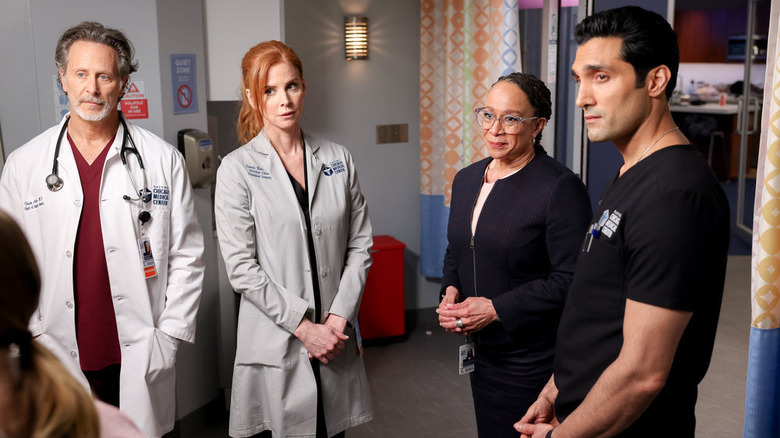 George Burns Jr./NBC
What's it like to work with Oliver Platt?
Schneider: He's the most thoughtful actor.
Frolov: He's so dedicated and professional. He's a great guy.
Schneider: We love Oliver.
Frolov: And he's funny.
Schneider: Very funny.
Frolov: It's too bad you can't see Steven Weber and Oliver Platt: the outtakes.
Do either of you have a personal favorite character you can share?
Schneider: That's like asking a father which of his children he loves the most.
We all know there's a secret favorite.
Schneider: We don't admit it. We feel that we have created such distinct characters that it's a real pleasure to write for all of them. We hear all of their voices. There's nobody that we try to avoid or favor.
Frolov: They're all connected to one another — the way one reacts is because of the way the other one acts. So you need them all for the mix.
Season 8 of "Chicago Med" premieres tonight, September 21, at 8 p.m. ET/PT on NBC.
This interview has been edited for clarity.