How Kit Harington Ended Up With A Black Eye For His Game Of Thrones Audition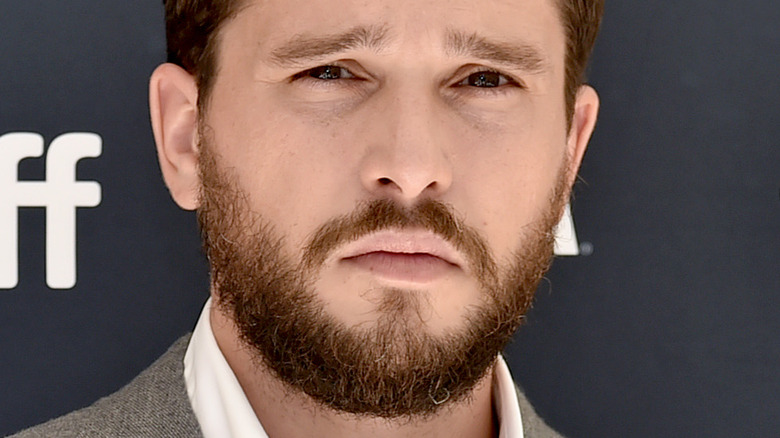 Rodin Eckenroth/Getty Images
It's common knowledge that the world of Hollywood is a tough one to break into, and even when you get there, it's hard to keep your spot on the map. Auditions are one of the critical areas that can make or break stars getting their hands on prominent roles. Tom Holland was doing back flips in front of Chris Evans to get his Spider-Man gig, and it was revealed that a set of intense hoops needed to be jumped through for anyone going for the lead role in the upcoming Madonna biopic. There was a time, though, when unknown talent Kit Harington almost took a severe hit for a part that inevitably made him one of the world's biggest names.
For eight years and the same amount of seasons, Harington took the black and saved the Seven Kingdoms from an undead enemy and a (debatable) tyrannical queen in HBO's "Game of Thrones" as its heroic loner and knower of nothing Jon Snow. However, it could've all ended before it even began. It may surprise longtime fans of the hit fantasy drama that a young Harington showed up to his "Game of Thrones" audition a little worse for wear.
Kit Harington turned up to his Jon Snow audition with a black eye
As revealed in an interview with Vanity Fair, while some may have left the audition with bruised egos, Kit Harington walked in with one already prepped for all the world to see by brandishing a huge black eye. It turns out that the night is indeed dark and full of terrors, as Harington divulged that he'd been involved in a fight shortly before the audition.
Harington explained, "I went into the McDonald's with this girl I was sort of dating at the time, and it was late at night, and there were no seats." Trying to take the polite approach and struggling to find a seat, Harington recalled, "I asked this guy and this girl he was with if we could sit on the same table and they said yes."
Unfortunately, things turned south when the guy of the other couple began calling Harington's then-date names, with the future hidden king squaring up to the stranger, asking if he wanted a fight. Neither party backed down from this chest-beating over Big Macs, and while Harington may have got the first hit in, Snow fell all the same. While it might have been a bit embarrassing at the time, the "Game of Thrones" hero is thankful for the incident. Harington later told Vanity Fair, "I think that man who punched me in the face may have helped me get the job, so thank you."