Tom Holland Kept Doing Backflips During His Spider-Man Audition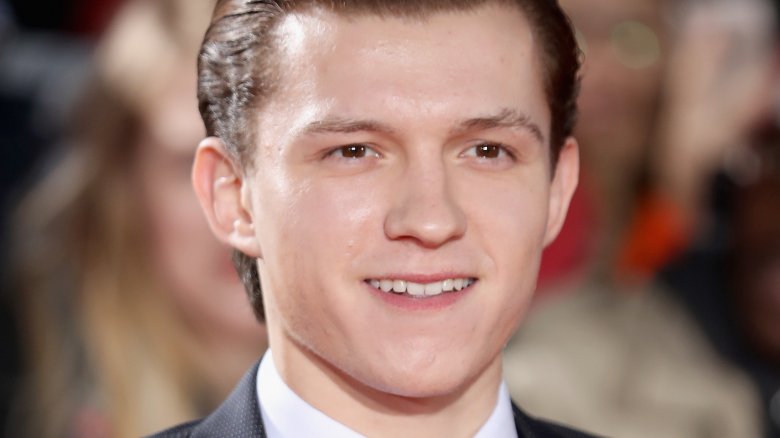 Getty Images
Tom Holland decided to prove he was a real-life Peter Parker while auditioning to be the MCU's new Spider-Man. The star revealed in a recent interview with CNET that he did multiple backflips during his audition and screen test, freaking out his co-star Chris Evans in the process.
Holland has been a fan of Spider-Man since he was a kid, saying he probably had 20 different costumes for the character throughout his childhood. (He even wore one to a fancy dress party a few years ago.) So, when he got the chance to audition for the character, he decided to go all out, using his dance and gymnastics background to make himself stand out from his competitors.
"You say, 'Hi, I'm Tom Holland. I'm 5-foot-7. I'm this, I'm that.' Blah, blah, blah," he said. "And I just did a backflip. I was like, 'Hi, I'm Tom Holland.' Backflip. 'I'm 5-foot-7.' Backflip. 'I'm 20 years old.' Backflip. 'I'm from London.' Backflip. Just to prove to them that I could. Every opportunity I got, I was flipping all over the place."

This ended up working out for him, and he moved onto a screen test with Captain America himself, Chris Evans. The two were taught a fight rehearsal, and Holland decided to ask the coordinator if he could incorporate some of his gymnastics skills. "He said, 'I legally can't ask you to do a backflip because you're not insured. But I'm not going to tell you to not do it, so have at it,'" Holland said.
The actor took full advantage of this, saying that he "basically just flipped all over the place" and didn't even do the planned routine. "Chris Evans had the first line of the scene and I was flipping," he said. "I think he was a little bit taken aback, so completely forgot his line. It was fun. And it worked out, obviously."
Robert Downey Jr., Jon Favreau, Michael Keaton, Marisa Tomei, Jacob Batalon, Zendaya, Donald Glover, Laura Harrier, Tony Revolori, Bokeem Woodbine, Logan Marshall-Green, and Michael Chernus also star in Holland's solo debut Spider-Man: Homecoming, which was directed by Jon Watts based on a script from Watts, John Francis Daley, Jonathan Goldstein, Christopher Ford, Chris McKenna, and Erik Sommers. The movie is due out July 7; for now, see why it will be better than you think.