The Characters You Likely Forgot Anne Hathaway Played On The Simpsons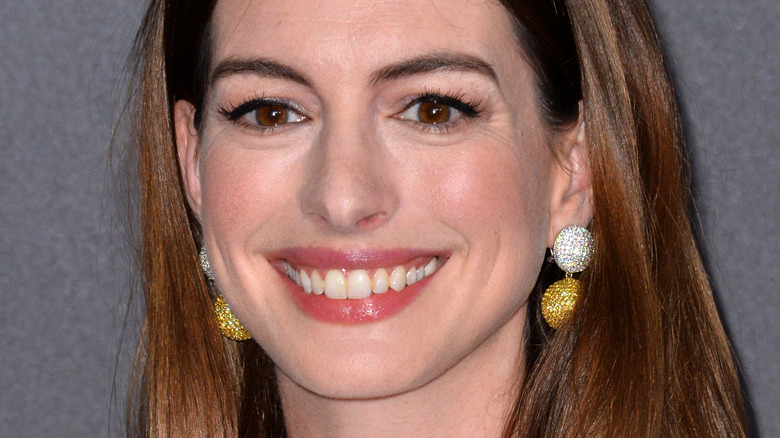 Featureflash Photo Agency/Shutterstock
Anne Hathaway didn't have to wait long for her rise to stardom in Hollywood. After appearing on the short-lived television series "Get Real," Hathaway made her feature film debut as Mia Thermopolis, which is a role she's still recognized for today, in "The Princess Diaries." And while Hathaway would have to wait eight more years before guest starring on "The Simpsons," the star of "Ella Enchanted," "The Devil Wears Prada" and "The Dark Knight Rises" was well aware of Matt Groening's animated series.
"I've actually been a fan of 'The Simpsons' since 'The Tracey Ullman Show,'" Hathaway said in an interview with E! "So, I'm a longtime fan." Hathaway watched the show growing up with her brothers, but "The Simpsons" stuck with her through high school and college.
"When I found out that they wanted me to come and do a voice, I flipped out," Hathaway continued. "It might be one of if not the most exciting thing that's ever happened to me." This is lofty praise indeed considering Hathaway won an Oscar for best supporting actress for her portrayal of Fantine in "Les Misérables." But do you remember the characters Hathaway voiced on "The Simpsons"?
Hathaway portrayed Jenny Cleary and Princess Penelope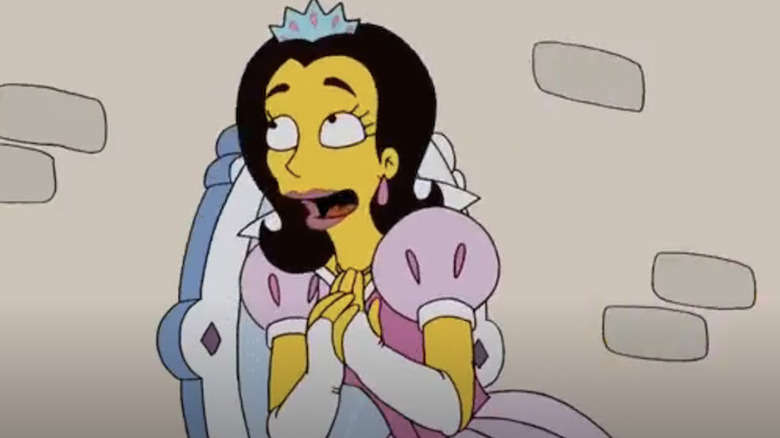 Fox
Hathaway showed up in Springfield a total of three times on "The Simpsons," and she voiced two different characters: Fifth-grader Jenny Cleary and the regal Princess Penelope. Jenny was an older student who took a liking to Bart (Nancy Cartwright) in the Season 20 episode, "The Good, the Sad and the Drugly." Jenny thought Bart was a nice boy, but she soon saw his true colors. "She realizes their entire relationship was based on lies," Hathaway also told E! without giving away any spoilers. "I'm afraid Bart's heart might get broken."
Jenny returns briefly in the Season 24 episode, "Moonshine River," and Bart tries to reconnect with his old flame. Jenny isn't pleased that the boy she once liked hasn't changed, and she still harbors anger over the memory. So, when Bart shows up at her house, Jenny promptly slams the door in his face, but not before she tells him to "eat my shorts!"
In the Season 21 episode, "Once Upon a Time in Springfield," Hathaway does guest star again, but she doesn't play Jenny. Rather, Hathaway portrays a different character: Princess Penelope, a children's entertainer who is added to the "Krusty the Clown Show" to help the program appeal to female viewers. Despite only playing Penelope once, Hathaway's unforgettable theatrics won her the Primetime Emmy for outstanding voice-over performance. "Anne Hathaway was fantastic," Matt Groening said, praising the actress for her work on "The Simpsons" in an interview with TMZ.