Why Herman Maxwell From NCIS' Season 20 Premiere Looks So Familiar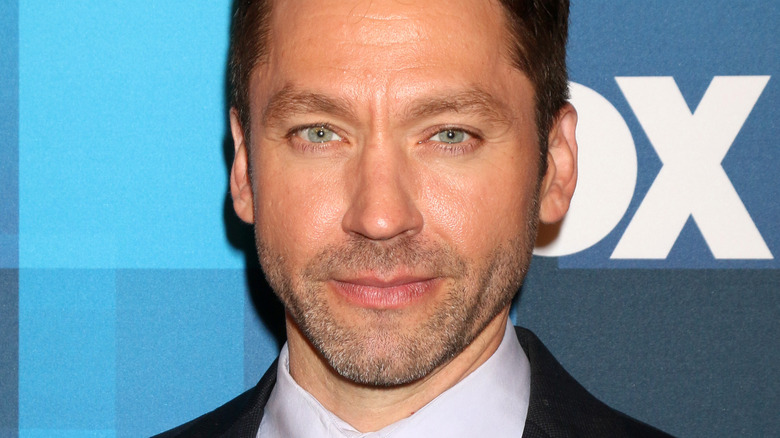 Kathy Hutchins/Shutterstock
Contains spoilers for "NCIS" Season 20, Episode 1 – "A Family Matter"
The first episode of "NCIS" Season 20 has arrived and it has given fans the satisfaction of picking up right where Season 19 left off. Alden Parker (Gary Cole) is still on the run from the FBI after being framed for the murder of his old partner by the Raven, a terrorist that the Major Case Response team knows very little about. However, Episode 1, titled "A Family Matter," really fleshes out all of the information on the Raven. As they slowly put the pieces together, Jessica Knight (Katrina Law), Nick Torres (Wilmer Valderrama), Timothy McGee (Sean Murray), Kasie Hines (Diona Reasonover), and Jimmy Palmer (Brian Dietzen) find a link to a man named Herman Maxwell, who is currently an inmate at a maximum security prison after Parker caught him many years back.
After McGee and Jessica interview Maxwell the first time, it's clear that he is afraid of whoever the Raven is, as he used to work for him, seemingly not per his own desire. Maxwell explains that the Raven is obsessed with biological weaponry and has ties to a Russian mobster. He says that the Raven is coming after Parker to get to him, so he'd be forced to help him with his plans again. While transporting Maxwell to a safer location, the NCIS team is ambushed by followers of the Raven. Maxwell is taken but quickly flashes Parker a smile, leading Parker to the conclusion that Maxwell has been the Raven the entire time.
Maxwell is played by actor Michael Weston, who may be a familiar face to you, even though he's not necessarily a blockbuster movie star. Here's where you might have seen him before.
Michael Weston had roles on multiple popular medical shows of the 2000s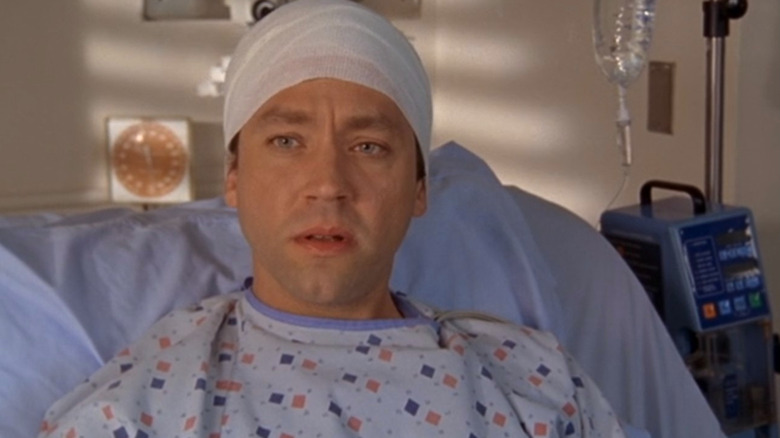 ABC
Michael Weston began his journey in the entertainment industry through multiple independent films in the late '90s and early 2000s. However, he started to gain traction as an actor after landing guest spots on popular shows like "Frasier," "Monk," and "Six Feet Under," the latter of which saw him in a multi-episode arc as Jake, a criminal who kidnaps Michael C. Hall's David Fisher and proceeds to beat him and drug him. 
The '00s also saw Weston nab some notable, multi-episode guest spots on what are arguably some of the most popular medical shows of all time. He appeared on "ER" for two episodes as a violent prisoner in need of treatment before upping the ante with his four-episode stint on the popular comedy "Scrubs." During Season 6, he recurred as a war veteran named Brian Dancer whose stay at Sacred Heart Hospital causes controversy and conversation among the doctors. 
However, Weston's biggest role on a medical show from this time was on "House." During Seasons 5 and 6, Weston recurred as bumbling private investigator Lucas Douglas, who House (Hugh Laurie) hires to help with a variety of underhanded tasks.
Weston is no stranger to the NCIS universe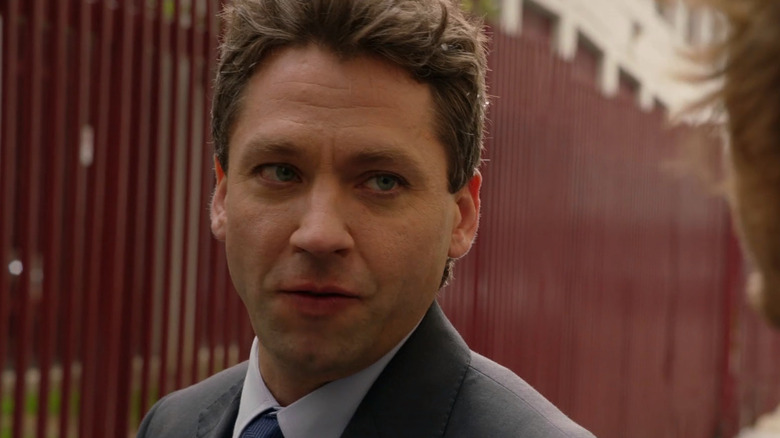 CBS
Along with multiple guest spots on other crime series like "Law & Order: Special Victim's Unit," "CSI," and "CSI: NY" in the late 2000s and early 2010s, Michael Weston had actually already played a separate character in the "NCIS" universe before his current appearances as Herman Maxwell on "NCIS" and "NCIS: Hawai'i." In 2011, during the Season 3 episode of "NCIS: Los Angeles" titled "The Debt," Weston portrayed LAPD Detective John Quinn. 
It's a thrilling and complicated episode that sees Marty Deeks (Eric Christian Olsen) actually get fired, as it appears that he shot an unarmed suspect during a sting. This forces the LAPD to separate themselves from NCIS, although Deeks' fellow team member and love interest Kensi Blye (Daniela Ruah) discovers that there's more to it than meets the eye. They quickly deduce that there is a mole in the LAPD that set Deeks up.
That mole is, of course, none other than Weston's Quinn. It's only fitting that he would then appear as another villain in the "NCIS" universe as Herman Maxwell on "NCIS" and "NCIS Hawai'i." 
Weston played one of the title roles on Houdini & Doyle
After making one-off appearances on many other popular television shows over the years like "White Collar," "The Office," and "Psych," Michael Weston got the chance to star as the iconic magician and historical figure Harry Houdini. It happened during the 2016 show "Houdini and Doyle," a historical fiction series following Weston's Houdini and Stephen Mangan's Arthur Conan Doyle as they assist the police in helping solve very obscure cases. Although critics didn't seem to love the show, viewers responded well, giving it an overall fresh audience score on Rotten Tomatoes.
Weston also revealed to Collider in 2016 that he had very little knowledge of the actual history of the character he was playing, although others around him came out of the woodwork as Houdini fans. "I had a very light working knowledge of Houdini, so I didn't really understand who he was, in terms of the place he held in our history and in our culture. I knew that people say, 'Hey, he pulled a Houdini,' but he held this place in people's hearts. My wife said, 'Oh, my god, I love Houdini!' I've been with her for 10 years, and I had no idea," he said.
He continued that the casting process was also very fast, as he got the part only one week before they started shooting. So, there was a lot to learn.
Weston had two big recent roles with Home Before Dark and A Million Little Things
After "Houdini and Doyle," Michael Weston would land a large supporting role as the character of Lt. Frank Briggs Jr. on the Apple TV+ series "Home Before Dark." The show ran from 2020 to 2021 and follows a young girl named Hilde (Brooklynn Prince) who leads a few detectives, including Weston's Briggs, to solve a reopened cold case in a small lakeside town in Canada. The show received a positive critical and audience response and even won a Primetime Emmy for outstanding motion design. It definitely boosts the resume to be part of another Emmy Award-winning television series.
If you didn't see "Home Before Dark," you may have also caught Weston in the ABC drama "A Million Little Things," which he recurred on in 2021. The show follows a group of friends who gain a new perspective on life after their friend Jonathan (Ron Livingston) ends his own life. Weston plays the character of Christopher Gregory throughout Seasons 3 and 4, the father of Layla (Emily Giannozio), a young girl who commits suicide. Weston's role is very important in the show for Layla and her character arc.
With his meaty guest roles on "NCIS" and "NCIS: Hawai'i," it's clear that Weston's TV career isn't slowing down.
If you or anyone you know is having suicidal thoughts, please call the National Suicide Prevention Lifeline by dialing 988 or by calling 1-800-273-TALK (8255)​.