Keanu Reeves Was Almost Cast In This Divisive Chris Pratt Role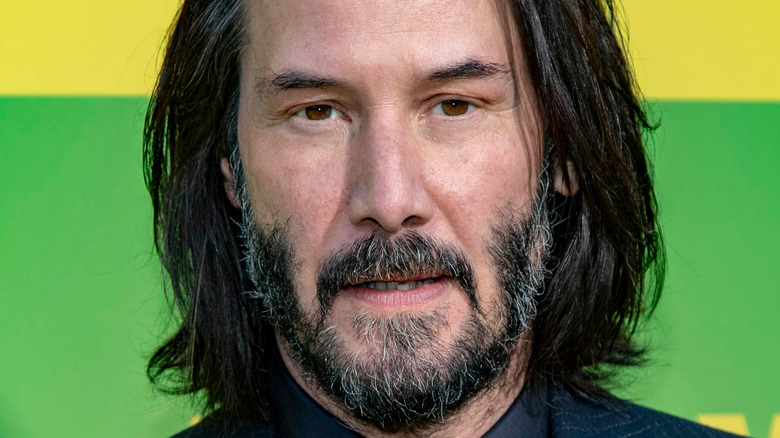 Eugene Powers/Shutterstock
Keanu Reeves's first acting credit dates back to 1984 (per IMDb) — a shockingly long time ago, given that the man doesn't age. Since Reeves found his groove in the late 1980s, the soon-to-be sexagenarian has worked at a nearly constant clip, with nary a lull in his extensive filmography. More impressive still is that he's the face of multiple franchises spanning decades, the main characters of which could not be more different: the dim-witted Ted in "Bill & Ted," The One himself in "The Matrix," and the dog-loving assassin John Wick.
But even Reeves can't do it all. The actor was up for consideration to play Wolverine in "X-Men" in 2000, but the studio went with Hugh Jackman. "I always wanted to play Wolverine," admitted Reeves (via Insider). He passed up the opportunity to act in Oliver Stone's "Platoon." "Keanu turned it down because of the violence," Stone told Entertainment Weekly in 2011. He also opted to do a stage production of "Hamlet" rather than star in "Heat," with the part ultimately going to Val Kilmer (via CheatSheet). Here's the infamous Chris Pratt role that almost starred Reeves.
Keanu Reeves almost starred in Passengers
Following the back-to-back successes of 2014's "Guardians of the Galaxy" and 2015's "Jurassic World," Chris Pratt kept the gravy train going with 2016's "Passengers." A tale of botched hibernation, deception, and intergalactic codependence, the sci-fi film stars Pratt and Jennifer Lawrence as two passengers on a spacecraft heading towards a distant colony planet. What fans may not know, however, is that the film almost starred Keanu Reeves.
The "Passengers" script was penned in 2007 by Jon Spaihts and picked up by Reeves, who planned on starring in and producing the film. In a Reddit AMA from 2013, Reeves wrote, "I've got a project that I've been developing for over six or seven years. It's a role I am looking forward to playing, it's called 'Passengers.'" Unfortunately, Reeves's version of the movie never came to fruition; the project jumped from Wayfare Entertainment to The Weinstein Company until it landed at Sony Pictures, at which point Pratt signed on to star (via Yahoo).
Nice guy that he is, Reeves had nothing but good things to say about the revamped "Passengers" when it was released in 2016. "Everyone worked so hard for so long," the actor told Yahoo Movies. "I'm just happy that beautiful story got told by such wonderful people." He also made sure to shout out his "Matrix" and "John Wick" co-star Laurence Fishburne, who had a supporting role in "Passengers." "He did an amazing turn."