The Patient Uses Its Set To Tell The Story In A Way You Probably Didn't Notice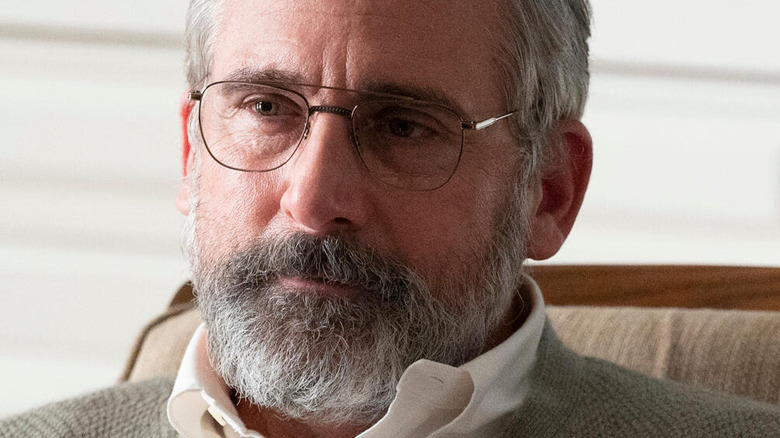 Suzanne Tenner/FX on Hulu
"The Patient" is taking the obsession our society has with serial killers in a bold new direction. Starring a bearded Steve Carell and an unhinged Domnhall Gleason, the FX series sees serial killer Sam Fortner kidnapping his therapist, Dr. Alan Strauss, and proposing a series of isolated, radical sessions while struggling to maintain the upper hand over his captive.
If the response from fans and critics is anything to go by, this latest FX thriller from creators Joe Weisberg and Joel Fields — who also brought us "The Americans" – succeeds in its daring conceit, garnering some incredible performances from its two leads along the way.
"The Patient" is a slow burn that feeds off the tension between its central characters. However, more details are hiding in plain sight than viewers might realize. The entire set has been meticulously decorated with objects which are meant to help expand on the disturbing premise of the show.
There are little stories hidden on the set of The Patient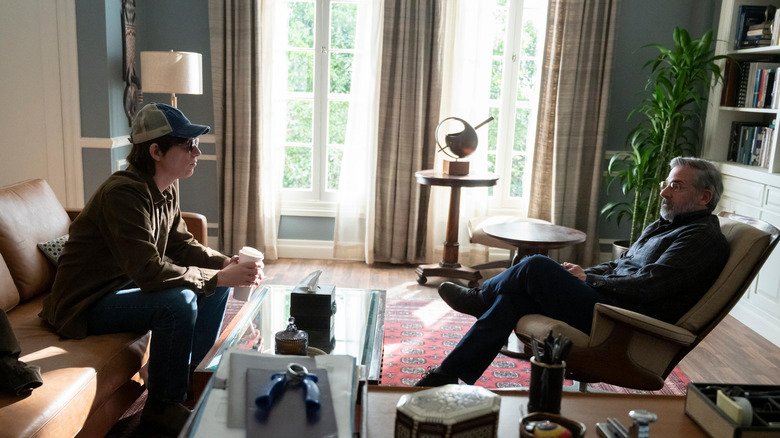 Suzanne Tenner/FX on Hulu
Lisa Son, set decorator for "The Patient," sat down with Decider to talk about how she used the history of the basement where Alan Strauss is held captive to tell a series of tiny stories about Sam Fortner's mother, Candace. Since Candace owns the house and used the basement as an escape from her abusive husband, there are elements of her life in this space.
"It would be a place where she did home workouts like Abs of Steel, so we had videos of Abs of Steel," Son explained. "We had gym equipment down there. We had her favorite rom-com movies, her favorite novels (some of them were smut novels), [and] self-help books," she went on. Son also said that Candace's favorite feel-good rom-com is "Sleepless in Seattle."
Since Sam's troubling past includes an abusive father, it's only natural that he and his mother would hide from his domineering ways in the basement. As such, there are little details that tell viewers what Sam got up to in this underground space as well. "There are board games in there, and there are also little mind games, like a Rubik's Cube," she said. It would seem that Sam has been playing games long before he concocted the chilling chess match he plays with his therapist.
Even the choice of lighting was important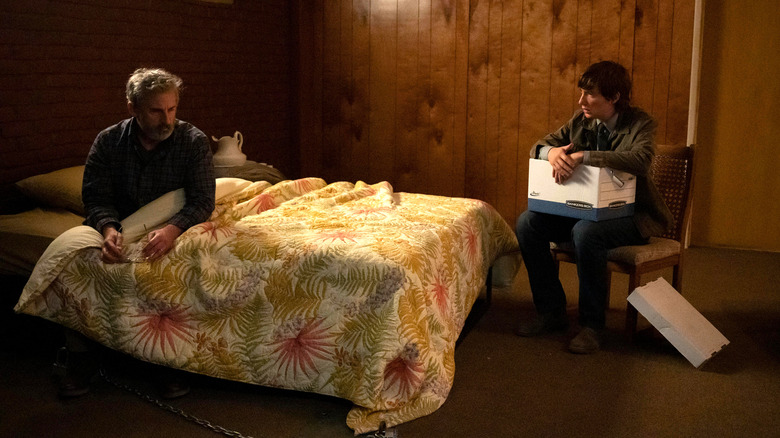 Suzanne Tenner/FX on Hulu
However, some of the elements that Lisa Son selected to weave the necessary backstory for Sam and Candace in "The Patient" are more subtle. The set decorator explained to Decider how she chose the lamps that light many of the scenes in the series.
"I think my buyer and I probably sourced 35 table lamps," Son said. "And from that 35, we took a look at what would work for this space color-wise and character-wise. And so, from there, we narrowed it down to probably 10," she explained. That's certainly a rigorous selection process that speaks to the amount of effort Son put into making the sets as detailed as possible for the series.
However, there is one lamp in "The Patient" that holds more importance than all of the rest. "I think story-wise, the cloud lamp [is] more of a metaphor or something to reflect the juxtapositions that happened throughout the whole show, which is seen in the dialogue and seen in specific scenes," Son said of Alan Strauss' lamp. With these many elements of visual storytelling hidden throughout the series, viewers might find it worthwhile to give "The Patient" a rewatch so that they can look for the Easter eggs along the way.