Why Casting For Abbott Elementary Proved To Be A Battle For Quinta Brunson
Frazer Harrison/Getty Images
Last year's surprise smash-hit TV series, "Abbott Elementary," is gearing up for a 2nd season on the heels of an impressive run at its freshman Emmys. Though the mockumentary sitcom follows in the tradition of television classics like "The Office" and "Parks and Rec," it has arguably already outpaced both shows when it comes to critical acclaim. Where these NBC stalwarts had to wait until their 2nd season for even a nomination, "Abbott Elementary" actually took home awards for outstanding supporting actress in a comedy series and outstanding writing for a comedy series — a feat that saw series creator and star Quinta Brunson overcoming comedy legends like Bill Hader and Steve Martin, as well as a truly remarkable episode of "Ted Lasso" written by Jane Becker.
The fact that 'Abbott Elementary" stood out in such a packed category in its first season should pique anyone's interest. It currently holds a 98% score on the online critical review aggregator Rotten Tomatoes and has been awarded an average of 8.2/10 by IMDb's users. Indeed, the show is nothing short of groundbreaking on all fronts, whether that be the direction, the now award-winning scripting, or — of course — the acting. Brunson herself stars as Janine Teagues, a bright though somewhat hapless teacher trying to get her students (and her co-workers) through the day. Though she likely had herself in mind while writing the series, Brunson still had to figure out who would fill the rest of her cast list — a challenge that proved more difficult than she expected.
How did Brunson cast Abbott Elementary?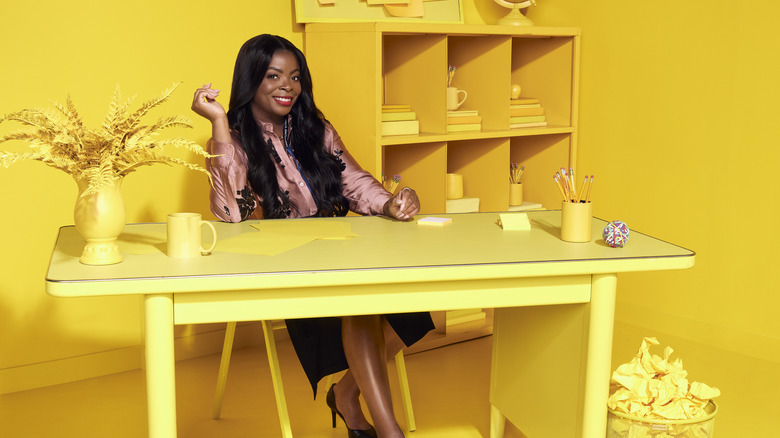 ABC
The characters on "Abbott Elementary" are very carefully written. From Lisa Ann Walter's tough but warm, mafiosa-adjacent Melissa, to the scorned, would-be principal Gregory (Tyler James Williams), the characters are crafted to be as easy to love as they would be hard to work with. It's a delicate balance that could have been helped or hindered depending upon the performance, which makes Quinta Brunson's casting choices all the more impressive. Even Zack Fox's Tariq — another in a long line of useless sitcom boyfriends (see: Roy Anderson, Andy Dwyer, Dennis Duffy, etc) — is played with refreshing heart, making it difficult not to see the potential of his admittedly childish dreams.
According to Brunson, assembling her castmates on the series was no easy assignment, especially when it came to the off-beat, trying-too-hard teacher Jacob (Chris Perfetti) and the glam-principal Ava (Janelle James). According to an interview with Deadline, the studio had hoped to see big names filling those roles, likely hoping the draw of A-list TV actors would help the fledging sitcom achieve the ratings they desired. Brunson pushed back, however, and asserted that Perfetti and James were perfect for their respective characters. 
When speaking about Perfetti as Jacob specifically, she said, "He gets something very special about this character that at the time was very surface level. And I think that we needed someone like him to help bring Jacob to full life." As for Ava, the role was so hotly contested that even Sheryl Lee Ralph — who took home an Emmy for her performance as Barbara — wanted the role. But Brunson was equally adamant that James was right for Ava — a hunch that ultimately allowed James to steal enough scenes to earn an Emmy nomination.