Ryan Murphy Made Sure To Follow This Big Rule For Netflix's Monster: The Jeffrey Dahmer Story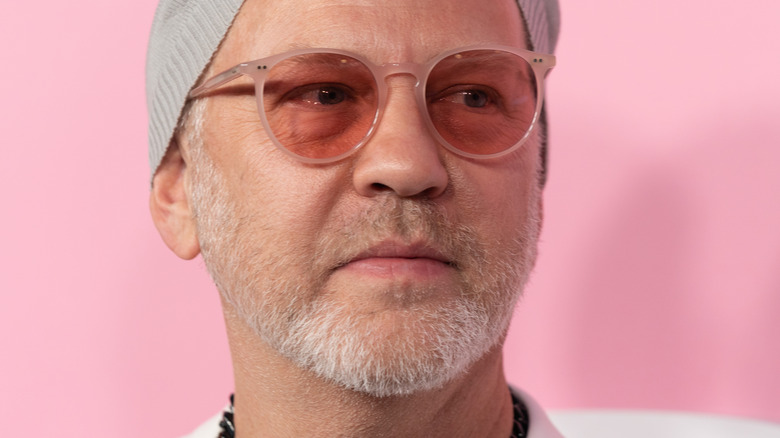 Ron Adar/Shutterstock
Evan Peters has plenty of experience playing killers for producer Ryan Murphy thanks to his work on "American Horror Story," but the latest project to team the two up finds Peters stepping into the role of a real-life serial killer. Peters is the latest actor to take on the role of Jeffrey Dahmer, appearing in Murphy's 10-episode Netflix series "Dahmer- Monster: The Jeffrey Dahmer Story," which was created by Murphy and Ian Brennan.
Peters stressed in an August 2021 interview that he was reading and watching material for background on Dahmer, but the intention of the show was not to go for a documentary approach. 
"You can have all the backstory you want, but at the end of the day we're not making a documentary. It's more about maintaining the idea and the through line of why you're telling the story and always having that as your guiding light. But, there's so much material for Dahmer that I think it's incredibly important to make it really authentic," he told Variety. 
Peters also revealed that the latest dramatization of Dahmer's story was guided by one rule, a rule Murphy used to tell the serial killer's tale in a way that hasn't been done before. 
The story is never told through Dahmer's point of view
The one rule from Ryan Murphy for the Netflix series was that the story would never be told from the point of view of Jeffrey Dahmer himself. The episodes instead show the story from the perspective of the killer's victims and the police trying to catch him. According to Evan Peters, this lack of a Dahmer POV plays into his duplicitous nature and keeps the focus on the repercussions of his horrible actions. 
"We had one rule going into this from Ryan that it would never be told from Dahmer's point of view. As an audience, you're not really sympathizing with him. You're not really getting into his plight. You're more sort of watching it, you know, from the outside. It's called the Jeffrey Dahmer Story, but it's not just him and his backstory. It's the repercussions," Peters said in a video shared by Ryan Murphy Productions. 
Actors to get into the head of Dahmer and actually show that perspective before Peters came along included "Avengers" star Jeremy Renner in 2002's "Dahmer" and Ross Lynch in 2017's "My Friend Dahmer." 
In the same interview promoting the new series, Peters said they were careful to be respectful of Dahmer's victims in this iteration. "It felt important to be respectful to the victims, to the victims' families; to try to tell the story as authentically as we could," the actor said.