The Rock Star You Likely Forgot Played Himself On That '70s Show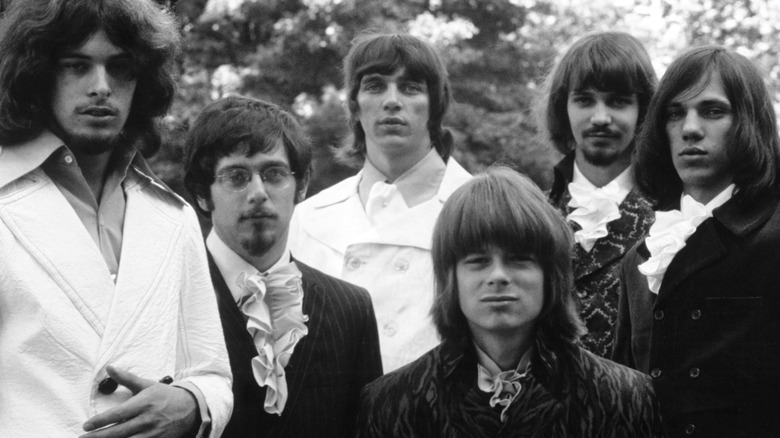 Michael Ochs Archives/Getty Images
"That '70s Show" isn't really over, even though it ended in 2006. By now, many fans of the series know that "That '90s Show" is coming soon, and a good amount of the original cast from "That '70s Show" is making a return (via Variety). However, this time around, it will be Red (Kurtwood Smith) and Kitty Forman (Debra Jo Rupp) that will play a central role as they are grandparents to Eric and Donna's daughter, Leia (via Collider).
"That '70s Show" is pretty hard to beat for some fans (via Reddit), so it will be interesting to see how the sequel series performs. The original series won a Primetime Emmy Award during its run (via Emmys) and still has a fresh audience rating after all this time (via Rotten Tomatoes). Plus, it's easy to tell when a show starts to be popular and well-received based on its guest stars. Crime series like "Law & Order: SVU" and "NCIS" are notorious for this, and "That '70s Show" is no different, with several now well-known names on its roster (via IMDb).
However, you may not have realized that one particular rock star appeared as himself during a notable episode of "That '70s Show."
Ted Nugent appeared as himself on That '70s Show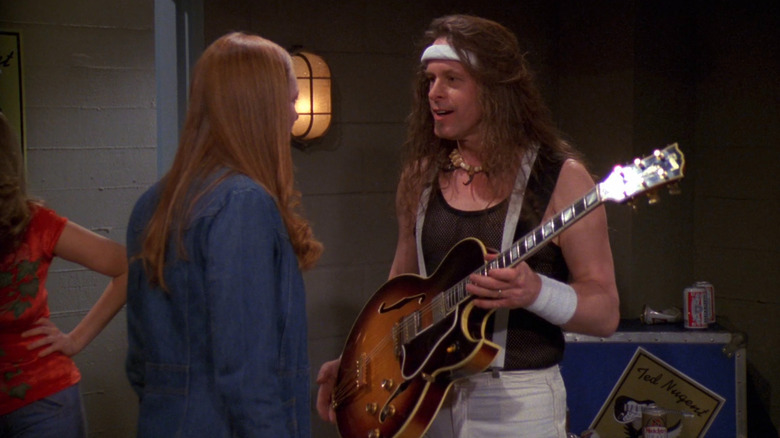 Fox
Season 3, Episode 24 of "That '70s Show" is an adventure for Eric Forman (Topher Grace) and his friends. After Donna Pinciotti (Laura Prepon) gets tickets to a local concert through the radio station she works at, she takes the gang. The show is for none other than Ted Nugent, the famous rock musician who took off in the 1970s and still has over a million monthly listeners on Spotify. During the event, after Fez (Wilmer Valderrama) ruins Kelso's (Ashton Kutcher) t-shirt selling plan by misspelling them as 'Tad' Nugent, Donna gets an opportunity to go backstage, meeting the real Ted Nugent. He plays a few chords for Donna and lets her touch his guitar, but it makes Eric feel like Donna is always 'ditching' him.
Nugent joins a line of many rock stars who have appeared as themselves in television shows or movies. Jon Bon Jovi appears during the "Sex and the City" series, although he had never seen it before his appearance (via Entertainment Weekly). However, iconic rock stars sometimes appear on shows they know and love. "New Girl" star Jake Johnson explained to Vanity Fair that the late and great Prince reached out to the show to cameo. Either way, a rockstar appearing on a television show is usually pretty cool to see.