Kenan Thompson's Biggest SNL Botch Is A Sketch We'll Never See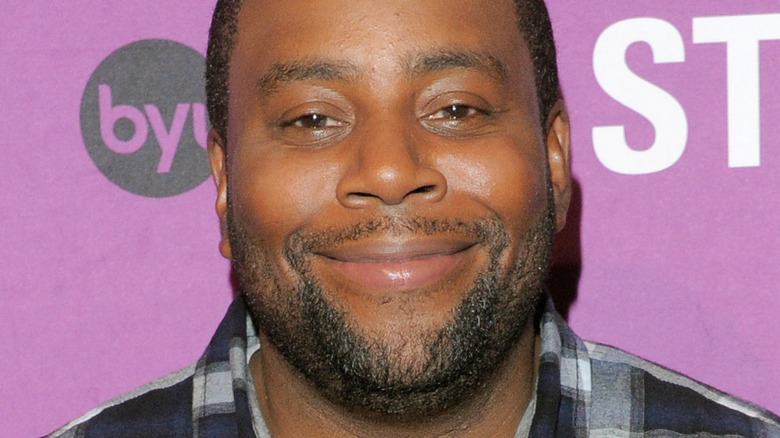 Ron Adar/Shutterstock
Since 2003, Kenan Thompson has gained distinction on "Saturday Night Live" for his character work, playing the likes of talk show host Diondre Cole, PBS presenter Reese De'What, and Def Jam comedian Jean K. Jean. He's proven he can impersonate practically anyone, taking on Steve Harvey, Whoopi Goldberg, and even Reba McEntire. By 2018, he was the show's longest-tenured cast member, with an Emmy Award for outstanding original music and lyrics. By 2021, he'd launched his own show, "Kenan", on NBC, while continuing his work on "SNL."
From his start on Nickelodeon's "All That" back in 1994 through his time on "The Steve Harvey Show" (1996-1998), "Kenan & Kel" (1996-2000), and "Felicity" (2001), straight through to today, Thompson's star has risen steadily. But the truth is everyone hits bumps along the way, and Kenan is no exception. In fact, soon after joining "SNL", he messed up big time. There's no record of it so we'll never witness it, but read on to learn what happened.
Kenan once derailed an SNL sketch
By the time Kenan Thompson joined "SNL," he had decades of experience performing professionally. He got his first acting job at age 10 in a commercial for "Lee's Famous Recipe Chicken." At 14, Thompson landed his first movie role in 1994's "D2: "The Mighty Ducks," the second installment in the "Mighty Ducks" franchise. That led to his role on Nickelodeon's variety show "All That," where he played a wide range of eccentric characters. 
Even so, when he auditioned for "SNL" in his early 20s, it wasn't an easy process and he didn't find instant success. For a few years, he was told he looked too young to even try out. When he finally got his shot at 25, he felt completely out of his depth. "It was terrifying," he told Vanity Fair. "I didn't know how to engage the audience."
Even though Thompson thought his audition was a disaster he wound up getting the job. Clearly, Lorne Michaels thought he was ready to join the "SNL" cast. But when he got there, even his years of experience in entertainment couldn't guarantee a perfect performance every time. Early on, he found himself off his game once again during an embarrassing moment in dress rehearsal for a sketch called "Randy the Bellhop."
There's a reason the sketch never made it on air
According to Vanity Fair, producing weekly live comedy requires operating on a strict schedule: On Mondays, writers pitch their ideas, and by Wednesday morning, scripts are due for table reads. On Thursdays, the cast rehearses the sketches they plan to perform that Saturday night.
It's safe to assume Kenan Thompson intended to deliver a decent — if not fully polished — performance when he showed up to rehearsal. After all, he is a consummate professional. Unfortunately, things didn't go as planned. "I just fumbled this line super hard and it was awkward and silent in the studio, and so quiet you could hear this one lady say, 'Aww,'" he recalled on NPR.
Thompson and the rest of the cast carried on and completed the "Randy the Bellhop" sketch. From that moment forward, however, there was just no saving it. "I dropped the ball on that for real and tanked the sketch pretty much," Thompson said. "Everything I said after that, that I thought was going to get a laugh, was just a mediocre kind of chuckle and just the whole energy got sucked out of it."
Thompson's first failure as an "SNL" cast member had consequences. The sketch was cut from the show and viewers never got to see it. But comedy isn't about perfection; it's about the joy and ease Thompson brings to his performance. Thankfully, one mistake didn't overshadow his genius.