How Sarah Michelle Gellar Really Feels About The Scrapped Cruel Intentions Reboot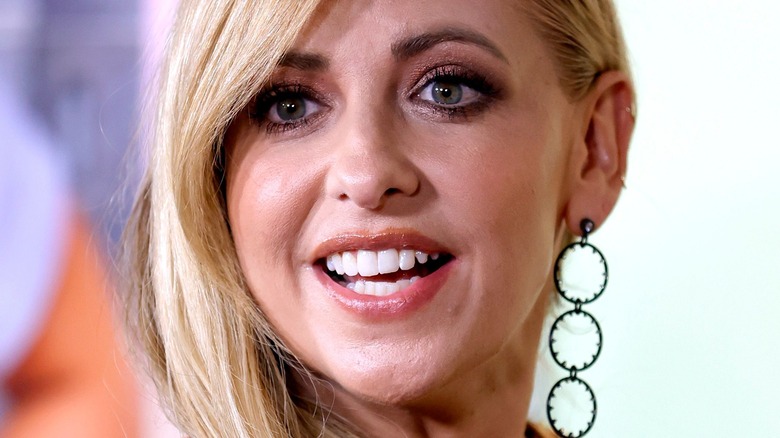 Frazer Harrison/Getty Images
Back in 2016, NBC ordered up a rebooted "Cruel Intentions" series that would have seen the movie's main baddie, Sarah Michelle Gellar, returning as the delightfully devilish Kathryn Merteuil. But the pilot apparently wasn't enough to win over television execs, who put the official kibosh on the TV sequel later that year due to a bloated midseason schedule, per TV Line. Now, Gellar is finally revealing how she really felt about the follow-up.
"That was a whole crazy time," Gellar explains to The New York Times in a new interview. 
According to reports, the "Cruel Intentions" series was supposed to air in the summer of 2017, with it taking place more than 15 years after the 1999 movie (via The Hollywood Reporter). Gellar's Merteuil would've been tasked with attempting to seduce the son of her late step-brother, Sebastian Valmont (Ryan Phillippe) and Annette Hargrove (Reese Witherspoon), in a bid to control his company Valmont International. Negotiations between Sony Pictures Television and NBC were said to have failed in October 2016 and the show was shopped around to other networks — none of which chose to greenlight it.
However, judging from what Gellar tells The Times in her new interview, that was probably a good thing.
Gellar is 'grateful' the Cruel Intentions series never aired
According to the "Cruel Intentions" star, bringing the movie's mature subject matter to the small screen as a network show would've been a TV disaster — so she's "grateful" that it never saw the light of day. 
"Nothing against NBC, but 'Cruel Intentions' is straight streaming," Gellar told The Times. She recalled feeling immediately put off by the project from the start, saying: "On the first day, I was like, 'This isn't working.' It's just not a network show. And if it is a network show, it's not my 'Cruel Intentions.' So, I was actually grateful."
For a long time in Hollywood, Gellar said she and other female actors were typecast in the movie and TV business. But roles like Merteuil in "Cruel Intentions" and Buffy in "Buffy the Vampire Slayer" ultimately helped break that cycle. "It was really hard," she explained. "There weren't great female roles when I came up. It was the girlfriend role, the wife role ... and then there's the other side of being a young girl in the business."
For those who don't know, "Cruel Intentions" is actually an adaptation of the 1782 novel "Les Liaisons dangereuses" by Choderlos de Laclos. Another modern interpretation, this time set in politics, was ordered up by IMDb TV in October 2021 (via Deadline).