Is Netflix's Purple Hearts Based On A True Story?
Netflix's "Purple Hearts" is a modern-day romance with more bite than some might have expected. Starring Sofia Carson and Nicholas Galitzine, the film tells the story of a liberal struggling musician (Carson) and a distressed conservative marine (Galitzine) who marry purely for military benefits. Their differing backgrounds ultimately clash when a tragedy flips their plans upside down. The Elizabeth Allen Rosenbaum-directed venture has been topping the charts across the board on Netflix, even topping the Ryan Gosling action flick "The Gray Man" by amassing over 100 million hours watched (via Variety). 
However, the film itself has seen a good bit of controversy, mainly due to its handling of racial and military topics that many have seen as problematic (via Stylist). No matter how you see the film and its themes, the story itself offers plenty for audiences to chew on. Understandably, fans may wonder if "Purple Hearts" is based on real events.
The film references real-life military practices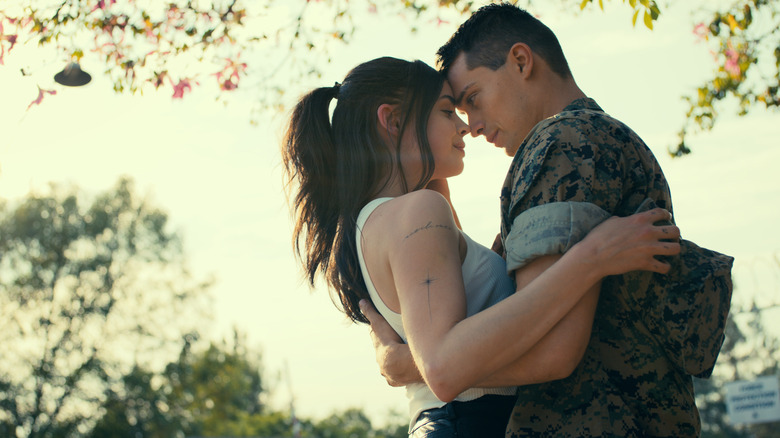 Netflix
While the "Purple Hearts" film was largely based on the fictional novel of the same name by Tess Wakefield, the idea has its origins linked to real-life practices. In a Netflix Tudum interview, one of the film's producers, Leslie Morgenstein, said the idea for the film originated from producer Bob Levy after he heard an NPR story about contract military marriages. 
According to Military.com, a contract military marriage is the act of getting married to a service member for the benefits, and the benefits can be rather significant. Service members can see their housing allowance go up, while civilian partners can get health care and, if not a U.S. citizen, green card benefits. The concept, which the team felt would work as a strong premise for a romance drama, was then turned into a book that would then be adapted into a screenplay.
The title also references a prestigious military award. According to Army History, the Purple Heart is a United States medal given in honor of those who were injured or killed in action. In the film, it also has a symbolic point as explained by the film's lead actress Sofia Carson. "It's about these two people, these two hearts, one red, one blue, who were raised in a divided world, who through the power of love come together to form a purple heart," Carson said. "And it's the message that I think the world needs now more than ever."