The Shocking Way The White Lotus' Murray Bartlett Found Out About The Infamous Suitcase Scene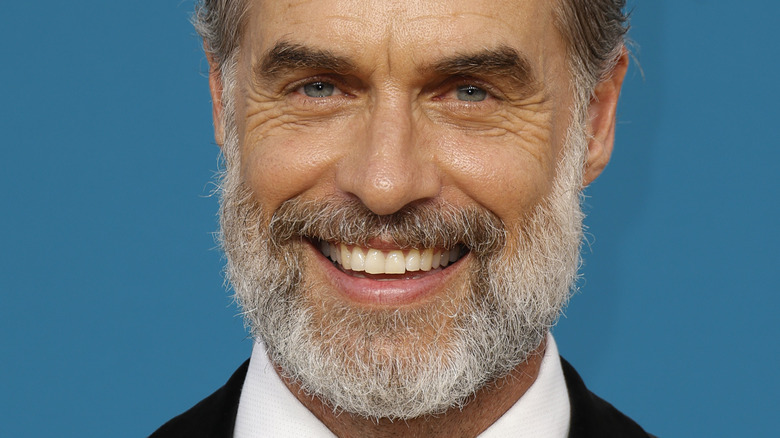 Frazer Harrison/Getty Images
The HBO Max series "The White Lotus" has gained quite a bit of well-deserved attention recently in the wake of a successful Emmys campaign and the announcement of a second season. This bleak class comedy followed the workers and patrons of a beautiful Hawai'ian resort. Over the course of one vacation cycle, the lives of the guests are seemingly changed beyond repair, until — as they board the plan home — it's clear nothing has really changed at all. This is, unfortunately, not true for the hotel staff. 
As the rich and careless parade through a world they don't understand, bettering themselves at the expense of the staff before ending their time at the White Lotus with no real consequences of any kind, the desperate people they left on the island have been permanently scarred — none more than hotel manager Armond, played by Australia's Murray Bartlett. Bartlett played Armond's tragic downward spiral with such gravitas and elasticity that he was awarded an Emmy for his efforts. Yet, as memorable as the performance was, it may never have come to be if Bartlett had known about that scene.
What was the suitcase scene?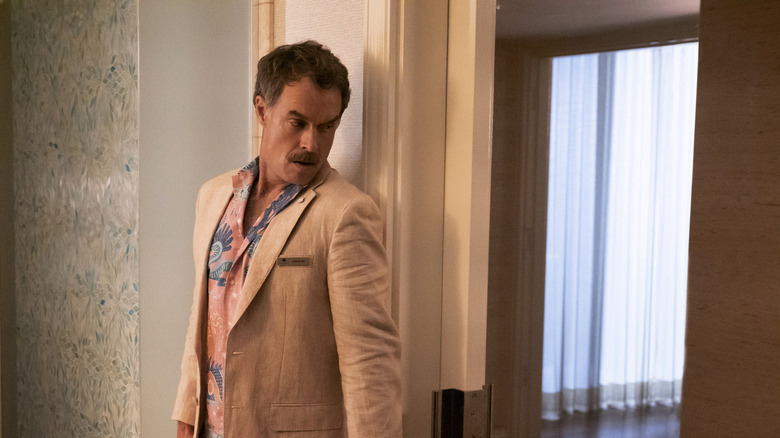 Mario Perez/HBO
In Season 1, Episode 6, "Departures" (originally the show's series finale), the guest and the staff have all reached their breaking point — especially Armond and Shane (played by Jake Lacey of "The Office" fame, in a breakout performance that earned him an Emmy nod). Ever since Shane's outrageous reaction to Armond double-booking his honeymoon suite, the two were locked in a mortal feud. Armond's proclaimed mission to ruin Shane's honeymoon turns self-destructive as he relapses on an old drug habit. After learning Shane has managed to complain enough to cost him his job, Armond gets high on pills left by another guest, breaks into Shane's suite, opens his suitcase and ... defecates inside. 
The act is shown in excruciating detail. Unfortunately for Armond, Shane and his new wife arrive before he can escape, leading to a brief game of cat and mouse in the small hotel room. Shane — paranoid after hearing rumors of a break-in at the resort — arms himself with a knife and searches the room. As Armond rounds a corner, he is fatally stabbed by a shocked Shane before either of them seemingly realize what has happened. Because of their prolific and dramatic feud, as well as the context of the stabbing itself, Shane's kill is essentially justified by Armond's behavior. He gets to travel home entirely unscathed, successfully winning back the affections of his wife. Armond is merely replaced in time for the next batch of guests.
How did Murray Bartlett find out about this scene?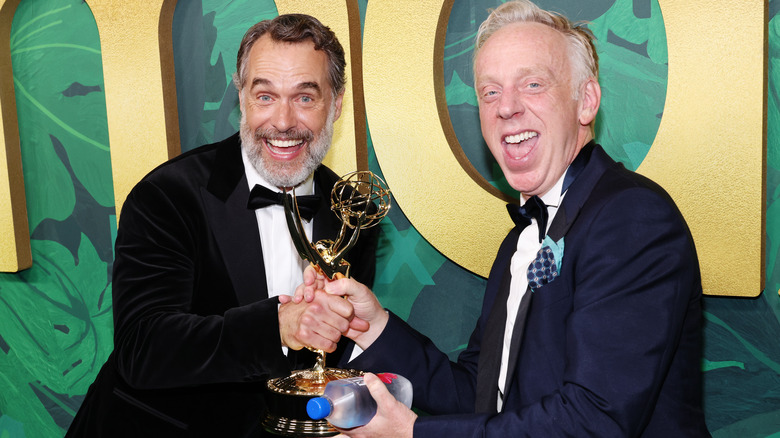 David Livingston/Getty Images
Starting the emotional climax of a major character's arc by having them relieve themselves in a suitcase is bold. Then again, "The White Lotus" is so careful in its plotting that outlandish moments like this are given profound meaning within the story. Despite the bizarre importance of this moment, however, actor Murray Bartlett was unaware of its existence until after signing on. 
In an interview with Jimmy Kimmel, Bartlett describes "self-taping" for the role, auditioning via video call or recorded media. At the time of accepting the role, he had only been given one episode to read, a fact that seemingly surprised series creator and showrunner Mike White. 
White was a cheerleader on the set of "The White Lotus," so it was likely distressing that one of his actors would be arriving without knowing of this potentially embarrassing scene. After telling White he had only seen one script, Bartlett described his new boss' response as "'Oh god, I hope [Bartlett] wants to do this after he's read all the scripts,'" before bursting into a fit of laughter on Kimmel's couch. Bartlett goes on to say that he read the rest of the series on the plane to Hawai'i, though he joked that at that point it was past the point of no return. 
Though he may have been initially apprehensive about the fittingly shocking scene, it seems as though it paid off greatly. As he thanked White on the Emmy's stage — award in hand — Bartlett described "The White Lotus" as one of his top life experiences (via the Television Academy on YouTube).