Vanna White Once Got Herself Stuck To A Prop On Wheel Of Fortune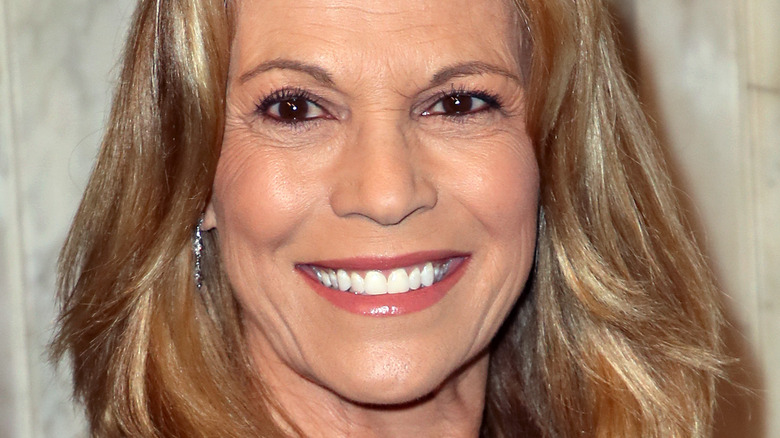 David Livingston/Getty Images
"Wheel of Fortune," which debuted in 1975, has long been a popular program for those who love game shows, but in recent years it has become even more of a phenomenon. An article in Esquire from 2021, observing its increased ratings, called it "the perfect balm for an exhausted nation caught between the Before and After" — a show that doesn't challenge or upset anyone, yet is amusing and forgettable enough to be easily consumed by an audience that is dealing with so many other things. 
With more than four decades behind it, the game show has experienced its share of unscheduled bloopers, fails, and other mistakes; it's inevitable. After all, "Wheel of Fortune" is filmed with a television audience, though it isn't aired live (via CBS). And yes, longtime hosts Pat Sajak and Vanna White have been involved with some of these. Recently, White revealed some of her favorite moments on the show, and one happened when she got stuck to a prop.
A Christmas present became attached to White's gown
Vanna White discussed the moment in question during an interview with "Good Morning America" earlier this month. "[It happened] during Christmas and we had presents at the end of both — the puzzle board, and one of the presents got stuck on my gown," she said. "And I'm going back and forth and back and forth."
The incident happened in 2015. In a segment addressing the circumstance that was posted to "Wheel of Fortune"'s YouTube page after it took place, Sajak is clearly amused by the whole thing as he explained what happened. Then, the screen cuts to a clip of White walking across the stage with a red-wrapped Christmas present coming along for the ride. "And the funny thing is, I didn't even feel it," White noted.
"I didn't — and the players didn't notice because they're focused on the board. Everybody's laughing. Can we see that again? I really like this," Sajak said. "It's really adorable, it's like you're walking your dog. Could I see that one more time? Just one more time."
Wheel of Fortune begins its 40th season this week
The interview about Vanna White's favorite moments happened during promotion for the 40th season of "Wheel of Fortune." This time around, the show features a new puzzle board that is powered by NASA technology that is used by rovers to explore the surface of Mars and in self-driving cars. Where White has always had to manually turn letters or touch the edges of a monitor (the previous setup featured 52 individual monitors), she now only has to gesture at the LED screen for the motion-activated letters to appear. This is the first time the board has been updated in more than 20 years. "There's a laser, and I can run my hand over it," White told ABC News. "I don't even have to touch it!"
The screen is apparently designed so that the show's producers can add fun graphics. New executive producer Bellamie Blackstone, in a Paramount press release, promised that in coming episodes, the game show will also give away more money and incorporate a few other changes. "We are all looking forward to this being our biggest season ever!" she added. The season will start with an "XL Week," featuring the roman numerals for "40," offering more chances to win and more prizes. 
So far, some fans don't appear to love the way the screen looks. However, many are reserving judgment until they see it in action. The 40th season of the syndicated game show begins Monday, September 12; check local stations for airtimes.