How CSI: Vegas Star Matt Lauria Prepared For His Role As Josh Folsom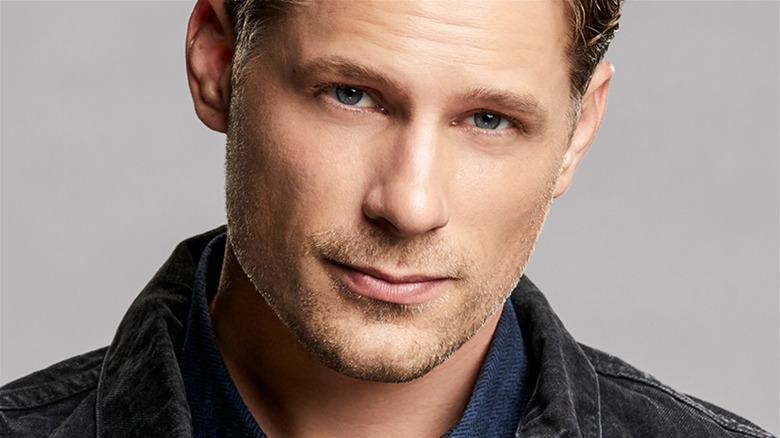 Sonja Flemming/CBS
Actor Matt Lauria has had a steady progression in his acting career thus far after entering the industry back in the early 2000s. Like many before him who have started with appearances in the "Law & Order" franchise (via Insider), Lauria made his start as a one-episode guest star on shows like "Law & Order: Criminal Intent" and also even "30 Rock" (via IMDb). He'd then get a pretty big supporting role on "Lipstick Jungle" from 2008 to 2009. However, it's arguable to say that his big break would come at the end of "Lipstick Jungle" and the beginning of "Friday Night Lights," which won three Primetime Emmy Awards and became a historic show with actors like Kyle Chandler, Connie Britton, and Michael B. Jordan.
Lauria notably played Luke Cafferty, an important character in the show's later seasons. After starring in emotional roles during a few other critically-acclaimed shows like "Parenthood" and "Kingdom," one of Lauria's most recent projects is "CSI: Vegas," the newest reboot in the "CSI" universe. He plays the role of Josh Folsom, a key member of the newest Crime Lab unit in Las Vegas. Throughout Season 1 of the series, which premiered in October of 2021, Folsom has shown his skills and his growing crush for fellow team member Allie Rajan (Mandeep Dhillon).
As Season 2 fast approaches on September 29 (via CBS), Lauria has talked about how he prepared for the role of Folsom, giving insight into what we may see from the character in the future.
Matt Lauria read real CSI Handbooks to prepare for his role in CSI: Vegas
During a recent interview with Geek Girl Authority, Matt Lauria revealed the details of his preparation for the role of Josh Folsom on "CSI: Vegas." For him, the first place he starts is the handbook for actual crime scene investigation professionals. "Most of [the prep] is CSI Handbooks, an older version, and a newer version. Usually, I would've spent time with CSIs and gone on a ride-along, but with COVID, that wasn't an option," Lauria explained. However, he also continued that his usual process always includes an emphasis on the core qualities and beliefs of the character he's playing. "Everyone has a different process, and for me, it's about nailing down and exploring core values," he said.
In that, Lauria said, he can get an understanding of Folsom because every person in real life always views things that happen to them through a lens of their own experiences. "In life, it's not all about what's happening objectively in front of us. Every interaction we have, everything we witness, and everything we experience is filtered through the context of what has made us who we are," Lauria noted.
Now, after the first season has concluded, Lauria explained that he would go back and analyze what Folsom ended up being like on-screen and build off of his story from there. It's certainly an in-depth procedure, and Lauria's care for his craft is evident, which makes the approach of Season 2 even more exciting.