CSI Fans Weren't Afraid To Voice Their Opinions On This Forced Romance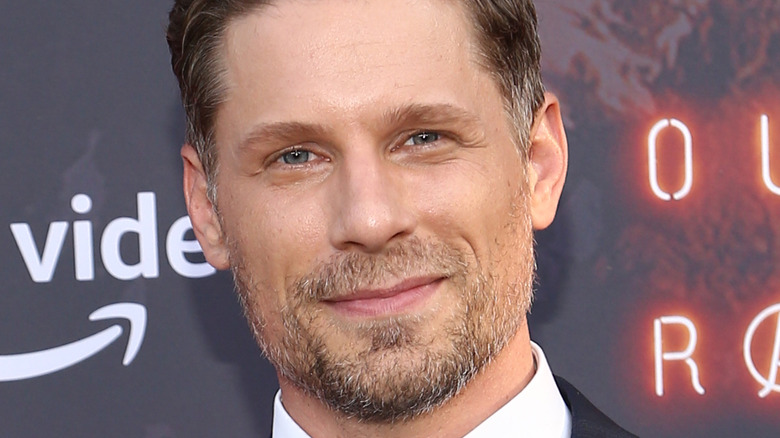 Tommaso Boddi/Getty Images
Premiering in 2000 with the original "CSI: Crime Scene Investigation," the newest law enforcement series at the time that focused specifically on crime scene analysts in Las Vegas was a pretty big hit with audiences (via Rotten Tomatoes). The series lasted 15 seasons and spawned multiple spin-offs that were well-known in their own right. "CSI: Miami" arguably became more popular than the original at a certain point before falling off, and there were also "CSI: NY" and "CSI: Cyber." The recent attempt of "CSI: Cyber" was short-lived, only lasting from 2015-2016, and received notable disapproval from critics and fans. However, 2021 would revamp the entire "CSI" series with a return to the show's roots during "CSI: Vegas."
The cast features fresh faces along with returning characters. The main team consists of Maxine Roby (Paula Newsome), Joshua Folsom (Matt Lauria), Allie Rajan (Mandeep Dhillon), Chris Park (Jay Lee), Hugo Ramirez (Mel Rodriguez), and more (via IMDb). Although we've only been given one season thus far, we've come to know the cast of the show fairly well, at least well enough to see romances start to blossom. It's a common theme in any great crime series: at least one romantic relationship develops between members of the team. From the original "CSI: Crime Scene Investigation" and now into "CSI: Vegas," Gil Grissom (William Petersen) and Sara Sidle (Jorja Fox) have been together for a long time.
However, there's a new budding romance in "CSI: Vegas" that isn't so popular with fans.
Fans feel the romance between Folsom and Allie isn't working
According to a recent thread on Reddit, fans of "CSI: Vegas" don't like the romance between Josh Folsom and Allie Rajan. U/grapefruit31 initiated the conversation by explaining that they don't think the sparks are there. "What is with the FolsomxAllie? I don't think it's working much. Especially knowing Allie already has a partner," they said. Other fans agreed, including u/whereverthereislight who wrote, "It feels very forced, these two have no chemistry." User u/countoamillion was angry that the show is trying to "push" this romance given that Grissom and Sara are already a great pair for the show, not to mention that Allie does have a boyfriend.
It will be interesting to see what the writers do with Folsom and Allie during Season 2, which was announced a while back (via Deadline). However, when Matt Lauria has spoken about his character in-depth before, he has noted that although Folsom may have a crush on Allie, his strong core values would likely prevent him from making any big moves with her given that she is already taken. "Through Josh's behavior and the way he interacts, even in dealing with his crush on Allie Rajan, he places a premium on respect and decency. He has a code about that. Also, Josh doesn't lay his cards on the table immediately; he's a little more withheld," Lauria explained (via Geek Girl Authority).
Season 2 of "CSI: Vegas" premieres on September 29 on CBS.