Why Amilyn Holdo From The Last Jedi Looks So Familiar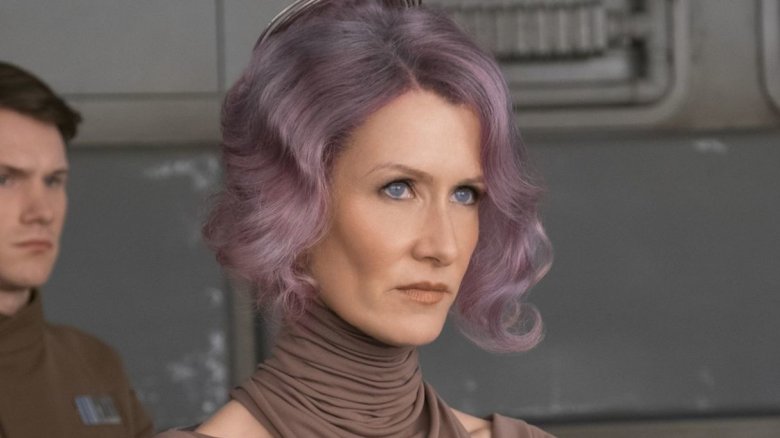 The Resistance got a badass, purple-haired new leader in Star Wars: The Last Jedi, with Laura Dern joining the series as Vice Admiral Amilyn Holdo. We're not going to spoil her role for you here, but anyone who's seen the film knows how important the character is to the central arc—and how stellar Dern was in the part. For those wondering where you've seen her before, here's why Vice Admiral Holdo looks so familiar.
Rambling Rose (1991)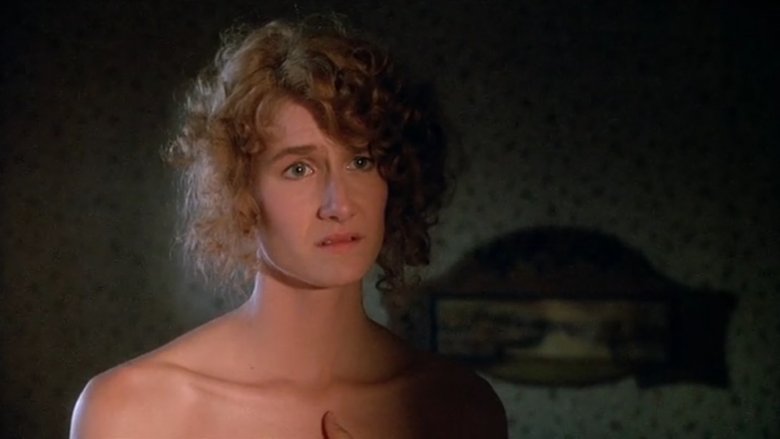 Dern got her start in acting with an uncredited role in 1973's White Lightning. The daughter of screen veterans Diane Ladd and Bruce Dern, she was able to accrue some impressive credits throughout the 1980s in movies like Mask, Smooth Talk, Wild at Heart, and Blue Velvet. 
Dern really entered the spotlight, though, with her starring role as the title character in 1991's Rambling Rose. Starring opposite her mother Ladd, she earned widespread critical admiration—in fact, both ended up earning Oscar nominations. Dern also earned a few other nods for her work in the role, including a nomination at the Golden Globes and some major film festivals.
Jurassic Park (1993)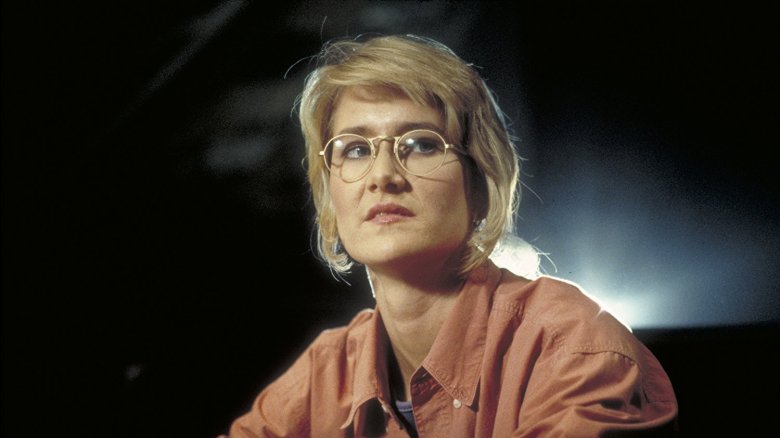 After Rambling Rose, Dern has said she was offered a lot of "really interesting" films, many of which were "more traditionally independent." However, she ultimately decided to go the blockbuster route, signing on star as Dr. Ellie Sattler in Steven Spielberg's Jurassic Park. As it turns out, she has Nicolas Cage to thank for the breakout role, with her Wild at Heart co-star encouraging her to take the part because she'd get to play opposite dinosaurs.
Jurassic Park ended up being a huge box office success, earning $402.4 million domestic and over $1 billion worldwide. It was also a hit with critics, winning three Oscars for best sound, best sound effects editing, and best visual effects. Dern was also nominated for a Saturn Award for her performance.
Jurassic Park spawned two sequels and the rebooted Jurassic World franchise, with Dern having a brief cameo in Jurassic Park III. (Although she has yet to appear in the rebooted franchise as of this writing, she has said she's interesting in returning in the sequels.) The movie continues to be a favorite today, and is likely Dern's most recognizable part for many people.
Citizen Ruth (1996)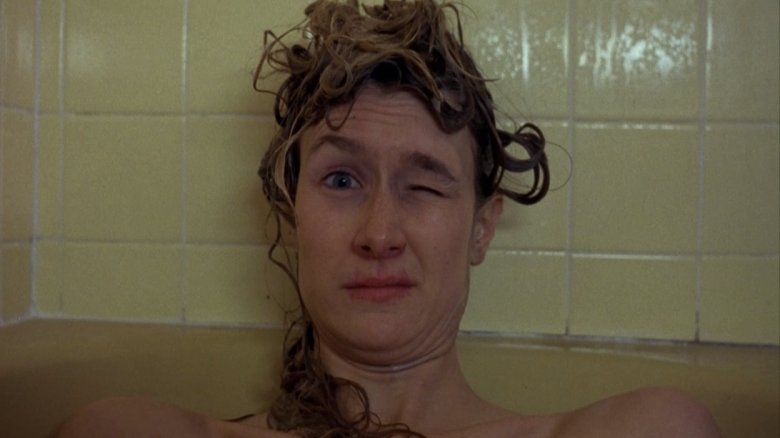 Today, Alexander Payne is an acclaimed Oscar-winning filmmaker. However, when he first worked with Laura Dern, he was far less established, having only directed a few shorts and the 1991 comedy The Passion of Martin.
Dern starred in Payne's first notable feature, 1996's Citizen Ruth, as the title character, a poor pregnant woman who becomes a central figure in the national debate about abortion. The movie was nominated for the Grand Jury Prize at the Sundance Film Festival and Dern earned a win for Best Actress from the Montreal Film Festival.
Dern said she suspected that Payne would be the next big thing when she signed on to Citizen Ruth, saying he was "on fire" then and is "equally on fire today." Her respect for the director may be part of why she decided to work with him again in his 2017 feature Downsizing, which arrived in theaters just a week after The Last Jedi.
The Baby Dance (1998)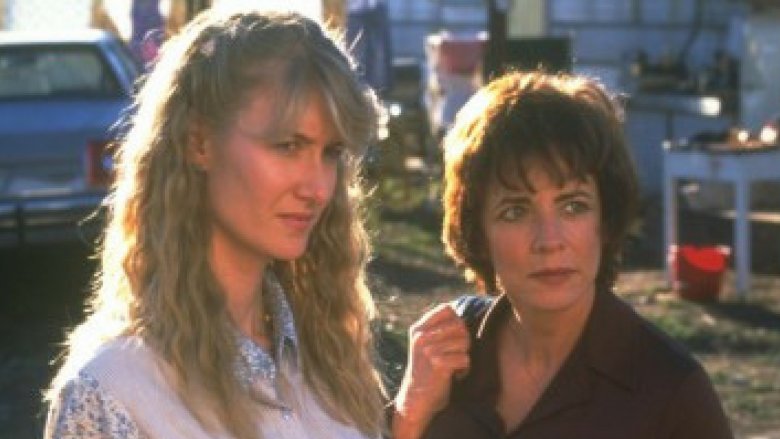 Dern continued her run of acclaim with the Showtime TV movie The Baby Dance. The film, an adaptation of the play of the same name, dealt with the issue of adoption, featuring Dern as a poor mother of four who considers giving her next baby up to a wealthy couple when she gets pregnant again. 
The movie earned Dern her third Golden Globe nomination, after Rambling Rose and the 1992 HBO drama Afterburn. The movie also earned a Golden Globe nod for Best Miniseries or Motion Picture Made for Television as well as a nomination for Dern's costar, Stockard Channing.
October Sky (1999)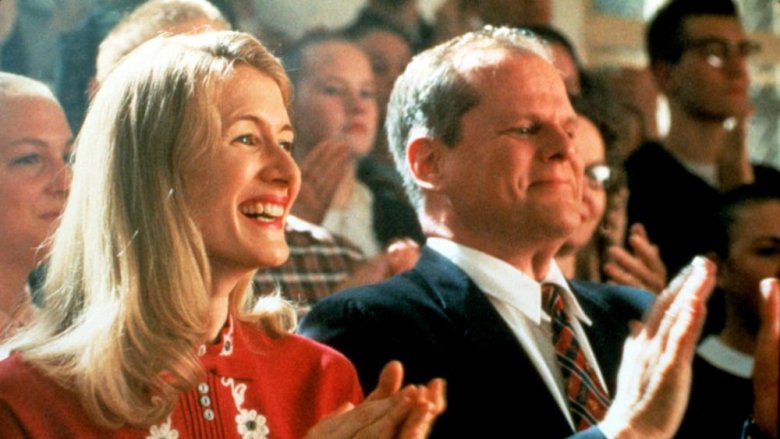 Dern's last role of the 20th century came in 1999's October Sky, a biopic in which she played Miss Freida J. Riley, the inspirational science teacher to a group of children who took to rocketry as a way of escaping their mining town. Riley inspired the boys throughout the film, and they ended up naming their final rocket after her as she was in the hospital, dying of cancer. 
The film received a positive reception from critics and earned a few awards, including three Teen Choice Award nominations and a nomination for Best Action/Adventure/Thriller Film from the Saturn Awards. The movie earned $34.6 million at the worldwide box office; however, it was recently brought back into the conversation for less positive reasons, with the biopic's subject, Homer Hickam, suing Universal over their attempts to stop his planned October Sky musical.
I Am Sam (2001)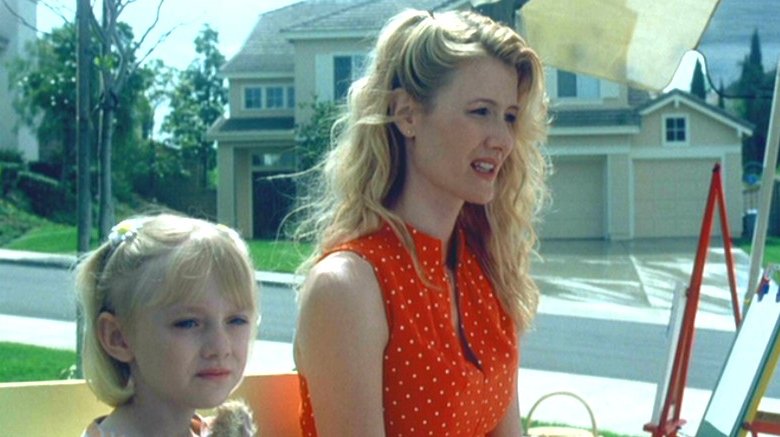 Dern's next big role came in the 2001 drama film I Am Sam, starring Sean Penn as a father with a developmental disability. The film, which launched the career of Dakota Fanning as Penn's daughter, featured Dern as the foster mother to Fanning's Lucy, who steps in when Sam is forced to give her up late in the film. 
Although I Am Sam received a mixed reception from critics, sitting at just a 35 percent on Rotten Tomatoes, Penn earned an Academy Award nomination and the movie was a box office success, earning $97.8 million worldwide. Dern's performance was also praised by some critics, with Variety's Robert Koehler describing her as an "energetic" standout.
Recount (2008)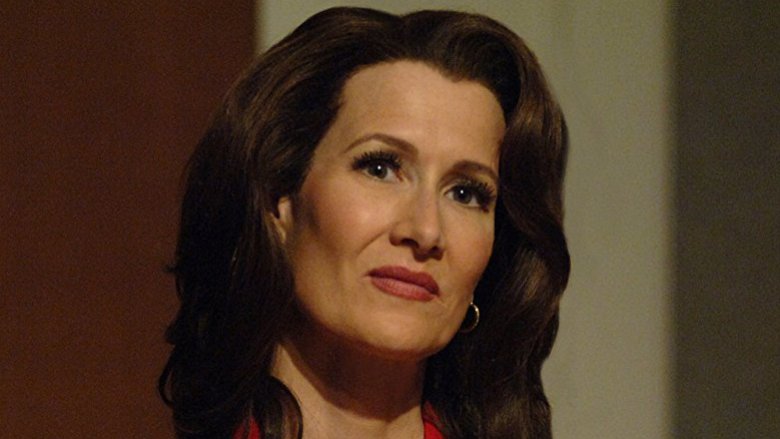 In 2008, Dern helped HBO rehash a political scandal in the TV movie Recount, which followed the controversy surrounding the 2000 presidential election. In the film, Dern played Katherine Harris, then Secretary of State of Florida, where a recount controversy erupted between candidates George W. Bush and Al Gore.
Dern earned her second Golden Globe win for the part and was also nominated for an Emmy, a Satellite Award, a Screen Actors Guild Award, and more. The film was also nominated for Best Mini-Series or Motion Picture Made for Television at the Golden Globes and won the award for best television movie at the Emmys. 
Dern said she learned a great deal from the experience of playing such a controversial real-life figure. "Recount taught me a lot because my dad told me you can never hate the characters you play and you have to love your characters," she told The Washington Post. "I had to just figure out how to give some humanity and depth of passion to a person that had become a huge stereotype in this country." 
Enlightened (2011-2013)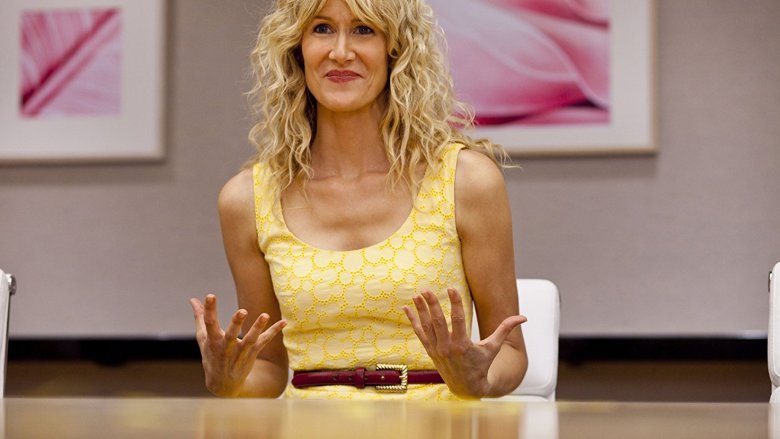 Dern has also said that her role in Recount planted the "seed" for her next notable part, a starring role in HBO's critically acclaimed dramedy Enlightened. On the show, Dern played Amy Jellicoe, a woman who, after a nervous breakdown, comes back to work with a new outlook on life. 
The show earned the love of awards season voters, with Dern earning an Emmy nomination and a Golden Globe win for her role. (She also co-created the series and served as an executive producer.) However, like many critically acclaimed dramas in the era of peak TV, Enlightened never found a big audience, and the show was canceled after just two seasons. 
The Master (2012)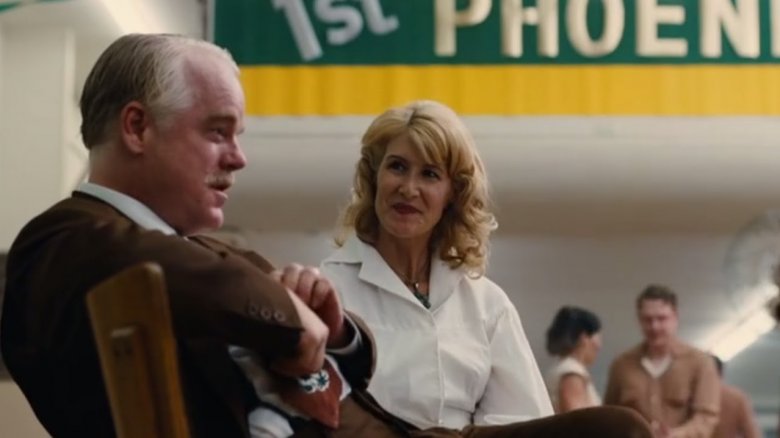 Dern joined up with legendary writer-director Paul Thomas Anderson for 2012's The Master, a World War I drama about the spread of a philosophical cult called "The Cause." In the film, which was thought by many to be inspired by Scientology, Dern played Helen Sullivan, one of the movement's many loyal followers. 
Like many of Anderson's movies, the film was a favorite with critics, although it was divisive for some. The movie netted three Oscar nominations for Dern's co-stars Joaquin Phoenix, Philip Seymour Hoffman, and Amy Adams, and also earned nods from the Golden Globes, the Gotham Awards, the Satellite Awards, the Screen Actors Guild Awards, and many others.
The Fault in Our Stars (2014)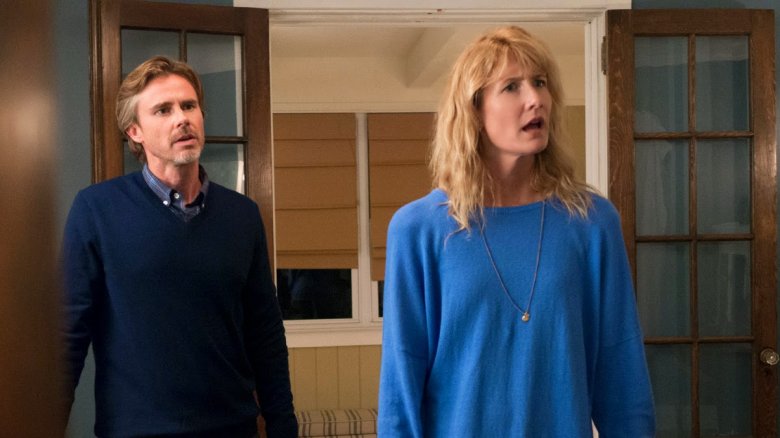 In 2014, Dern went back to the mainstream for the teen-oriented romantic comedy The Fault in Our Stars. The movie, based on the John Green novel of the same name, featured Dern as the mother of Shailene Woodley's Hazel Grace Lancaster, a teenager who falls in love while she deals with terminal thyroid cancer. 
The film was a critical success, falling at an 80 percent on Rotten Tomatoes, but even more impressive was its impact with its young fans. The movie was a box office smash, earning the number one spot in its opening weekend and going on to bring in $307.1 million total. It was also showered with awards at shows aimed at younger audiences, including the MTV Movie Awards, the Kids' Choice Awards, the Teen Choice Awards, and the People's Choice Awards.
Wild (2014)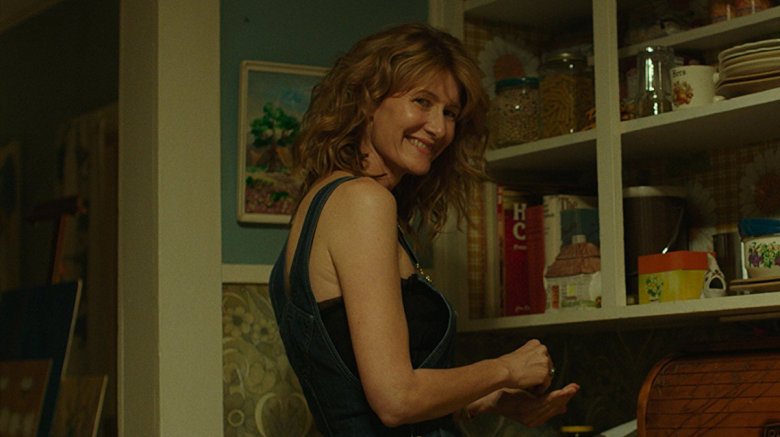 It took Dern over 20 years to earn another Academy Award nomination after Rambling Rose, but her nod for 2014's Wild was certainly well-deserved. Dern starred in the film as the mother of Reese Witherspoon's Cheryl Strayed, who flashes back to her childhood as she hikes up the Pacific Crest Trail trying to discover her true self. 
Dern's casting was the subject of some controversy due to the fact that she's only nine years older than Witherspoon, who was playing her daughter. However, when the film was released and it was revealed that Dern would appear through flashbacks, it made more sense. The film was highly praised by critics, earning a 90 percent on Rotten Tomatoes, and brought in $52.5 million at the global box office.   
Guest roles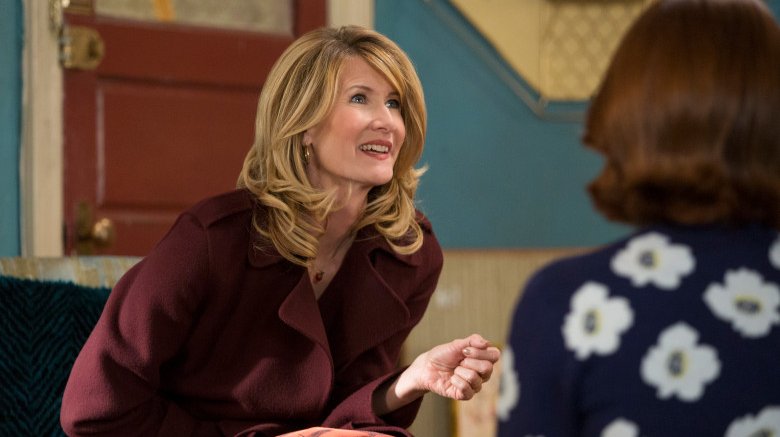 Although Dern has had a long career in film, she's also taken time to play on the small screen as well, guest starring on shows like The West Wing, Drunk History, The Mindy Project, The Kroll Show, Frasier, Nightmare Classics, Shannon, and The Last Man on Earth. She's earned quite a few awards nominations for her appearances over the years as well, including Emmy nods for Ellen and Fallen Angels and Online Film and Television Association nominations for Unbreakable Kimmy Schmidt and The Larry Sanders Show.
Collaborations with David Lynch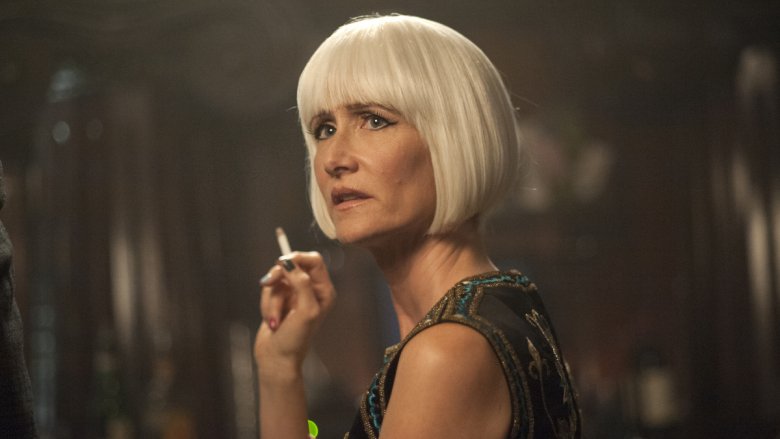 Throughout her career, Dern has worked repeatedly with legendary director David Lynch. The pair's partnership kicked off with Dern's starring role in 1986's Blue Velvet, in which she played Sandy Williams, the daughter of a local detective who gets dangerously involved with one of his cases.
The pair's next collaboration came with 1990's Wild at Heart, in which she played Lula Fortune, one half of a couple who goes on the run from gangsters. (The movie marked another collaboration between Dern and her mother, Diane Ladd.) That same year, Dern starred in Lynch's concert film Industrial Symphony No. 1.
In 2006, Dern joined up with Lynch again for Inland Empire, which she also co-produced. Dern played a dual role in the twisty film, starring an actress who starts to adopt the personality traits of her characters. In 2017, she played a part in Lynch's Showtime reboot of his cult series Twin Peaks. 
Dern has said that working with Lynch actually helped to prepare her for joining Star Wars, telling the Film Society of Lincoln Center that when she first did press with him, "he said, 'Your job is to tell them NOTHING!' So it was a seamless transition to Star Wars." Definitely good practice in preparing for the secrecy of the infamously tight-lipped franchise.
Big Little Lies (2017)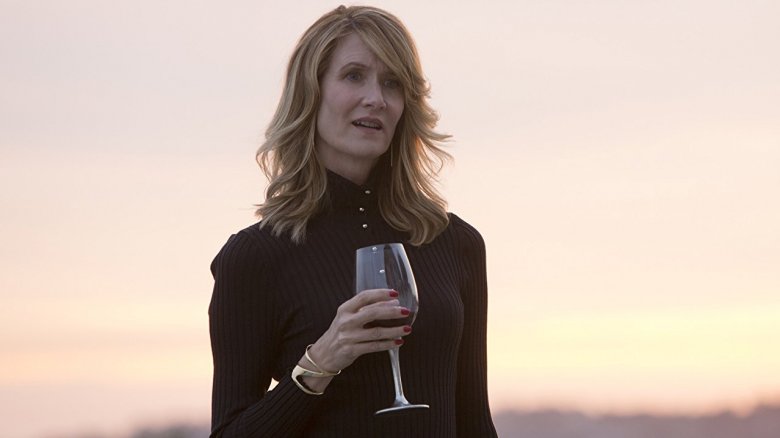 Big Little Lies was an awards season darling, earning nods for all of its main stars at the Emmys, the Golden Globes, and more. Dern played Renata Klein, the uptight nemesis of Reese Witherspoon's Madeline Martha McKenzie, and walked away with a Golden Globe nomination and an Emmy win, beating out her co-star Shailene Woodley for the latter award. 
Although Big Little Lies was initially billed as a limited series, it was eventually renewed for a second season following overwhelming fan demand. Although Witherspoon and Nicole Kidman are the only cast members confirmed for season two at the time of this writing, it seems safe to assume Renata will be back for more passive-aggressive conflict when the show returns.