Lauren Graham Had To Quit This Dangerous Habit For Her Gilmore Girls Role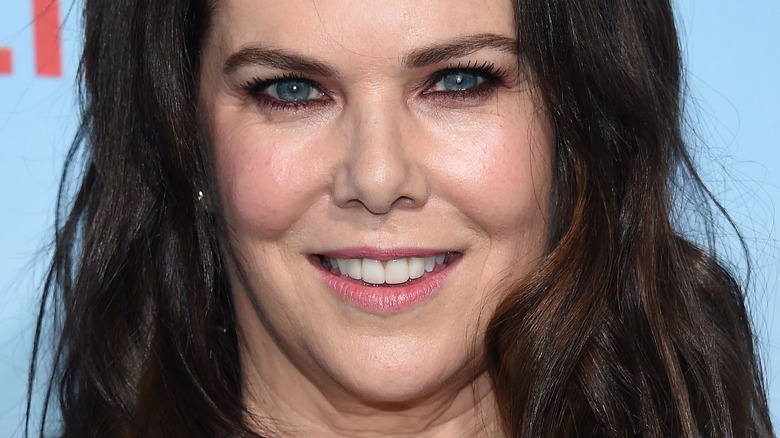 DFree/Shutterstock
It is rare to find such a career-defining role that still resonates with audiences. But for Lauren Graham, her portrayal of fast-talking single mother Lorelai Gilmore remains relevant. First premiering over two decades ago, "Gilmore Girls" became a flagship show for the since merged network The WB. After getting pregnant at 16 years old, Lorelai decides to cut ties with her affluent parents and raise her daughter Rory (Alexis Bledel) in the quirky Connecticut town of Stars Hollow. Between the realistic and wholesome portrayal of family dynamics and the zingy pop culture dialogue, there has truly not been a series of its kind since. Graham has been adamant that Lorelai was the role of a lifetime, and there was no turning it down. 
"I remember reading somewhere that Christopher Reeve said he knew a part was right for him when he just couldn't stand the idea of anybody else doing it. And that's how I felt about Lorelai," Graham told Variety in a sit-down interview. So significant is the character and Lauren Graham's heartwarming contractual commitment that there are even rumors of a follow-up season to the Netflix revival "Gilmore Girls: A Year In the Life" (via Us Weekly). But her role of a lifetime did not come without sacrifices. The "Parenthood" actor had to make a serious decision after being cast as Lorelai.
Both Lauren Graham and Scott Patterson had to quit smoking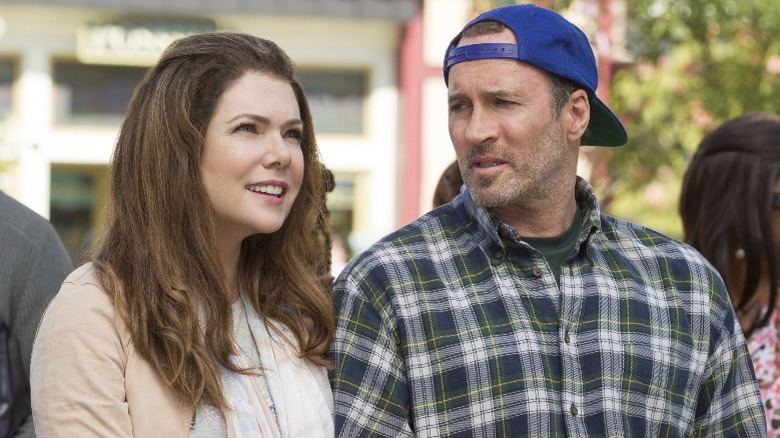 Saeed Adyani/Netflix
For the role of Lorelai Gilmore, sacrifices had to be made. As part of the "Gilmore Girls" collective, Lauren Graham had to talk a mile a minute to get all the excessive dialogue out of the way. Scott Patterson confessed to The New York Times the anxiety the actors felt when they would get additional pages of dialogue on the day they would perform scenes.
"Lauren and I were sitting in the makeup chair," recalled the actor who played curmudgeonly diner-owner Luke Danes. "We looked at each other with this abject terror, and then we got to work." These types of scenes were a hallmark of the series but also came with consequences. Very quickly, it was clear what both Patterson and Graham had to stop doing. The co-stars were cigarette smokers, and the amount of dialogue made it impossible to continue the lifestyle.
"She needed her wind, and I needed my wind," Patterson reported. Though Lorelai has certainly cornered the territory on being the quippiest, Luke has his share of heavy dialogue. Luke continues to be the best "Gilmore Girls" boyfriend by a long stretch, and you don't get that way without keeping up with Lorelai. But as iconic as the duo is, their history is not without its drama.
Lauren Graham refutes any feud rumors between her and Scott Patterson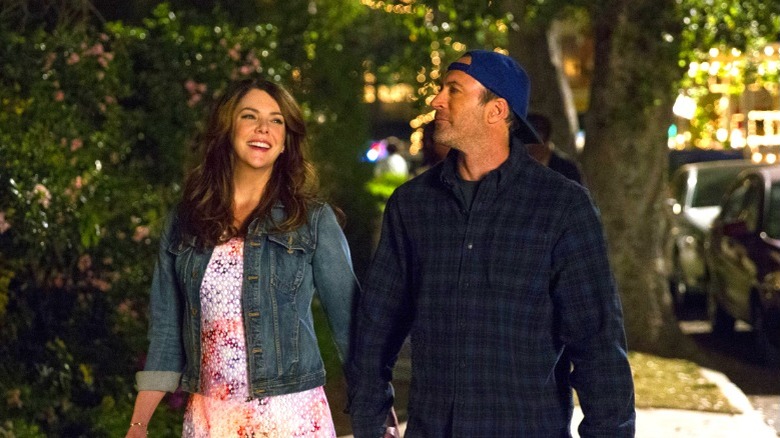 Saeed Adyani/Netflix
When characters have chemistry on screen, there are always those looking for conspiracies. This situation occurred during Season 7 when Lorelai and Luke were broken up, and she impulsively married Rory's father, Christopher (David Sutcliffe). Many could not comprehend how "Gilmore Girls" could break up such a beloved couple and reasoned it had to do with onset tensions between Lauren Graham and Scott Patterson. After the conclusion of the series, Graham set the record straight about her relationship with her co-star. Though she was admittedly closer friends with Sutcliffe, she assured TV Guide that there was no truth to these rumors, stating that her dynamic with Patterson was quite functional.
"It's a working relationship, like most of them are," Graham elaborated to TV Guide's Michael Ausiello. "But he was so great in that part. I really loved my scenes with him and the chemistry we had. Our banter was among the most fun stuff to do." Thankfully for viewers of the show, Luke and Lorelai weren't broken up forever. Though they certainly have their rough patches, which extended to "Gilmore Girls: A Year In the Life," fans can look back on Luke and Lorelai's wedding as a return to form.