Netflix's Do Revenge Went To Great Lengths To Secure Sarah Michelle Gellar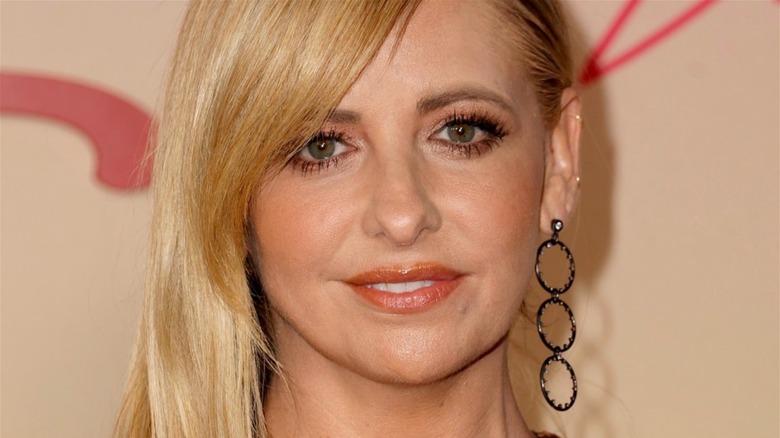 Tinseltown/Shutterstock
In the 1990s, teen movies were all the rage. From "Clueless" to "Scream" to "Jawbreaker" to "Cruel Intentions," it didn't matter what the teens were doing, as long as they were entertaining. In an interview with The Ringer, Harry Elfont, co-writer and director of 1998 teen rom-com "Can't Hardly Wait," explained that, after the success of "Scream," all the studios wanted to do teen movies. "Suddenly every place was open for business for teen movies," Elfont told The Ringer. "It didn't even need to be a horror movie. [Studios] just realized that there was a huge teen audience that was being underserved, so everybody was looking for teen scripts."
In another article for The Ringer, writer Andrew Gruttadaro argued that 1999's "Cruel Intentions," a teen drama adaptation of the 1782 French novel "Les Liaisons Dangereuses" (or "Dangerous Liaisons" in English), was both the quintessential teen movie and the one that burst the bubble of the popular genre. "It was really sexy and it was really provocative, and people weren't making stuff like that in those days," Amy Pasqual, the then-chair of Sony, told The Ringer. "It was a really sophisticated teen movie, an R-rated, sexy teen movie that was the first of its kind. And that's what I always wanted to be doing."
Netflix's new teen dramedy "Do Revenge" is meant to be an homage to the great teen movies of the 1990s, which — as the film's writer-slash-director Jennifer Kaytin Robinson told the New York Times — have long since died out. "I'm obsessed with high school movies," Robinson said. "But, very specifically, this type of film that I just feel like doesn't get made anymore." And to make her movie, she went out of her way to cast a '90s teen film icon.
They wrote the role for Sarah Michelle Gellar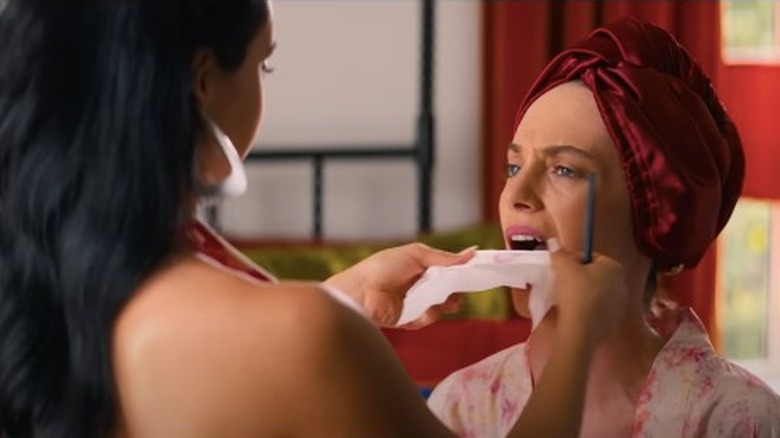 Netflix/YouTube
Sarah Michelle Gellar may be remembered most fondly for her depiction of the chosen one, Buffy Summers, in the '90s teen horror-comedy-action series "Buffy the Vampire Slayer," but she was also a frequent star in the '90s teen movie genre. She starred in "Cruel Intentions" and "I Know What You Did Last Summer" and had minor roles and cameos in "Scream 2" and "She's All That." So, according to an article on TUDUM, when Robinson cast the movie, she knew she wanted Gellar to be in it.
However, the TUDUM article goes on to say, even though Robinson knew that she wanted Gellar and she loved the script, the early draft didn't have a part for the actress to play. Robinson pitched the idea of Gellar playing The Headmaster, and the two of them built the new character from scratch. "These are the best characters as an actor to play," Gellar told TUDUM "They are absolutely delicious but carry none of the pressure." Gellar signed on, and the movie had its '90s star.
Robinson was very particular about who she wanted to cast in the movie. In an interview with IndieWire, the director explained that she had a hard time keeping the film's two stars, Maya Hawke and Camila Mendes, who play two bullied teenagers who team up to get revenge on each other's bullies. Since Hawke was filming "Stranger Things" and Mendes would have had to drop out of the movie if it was pushed back, the production moved to Atlanta, so Hawke could film "Do Revenge" and "Stranger Things" simultaneously, allowing Robinson to keep all the cast members she really wanted in the film.