Kevin Smith Shares The 'Absolute Bliss' Of Reuniting With The Clerks Gang For Clerks III - Exclusive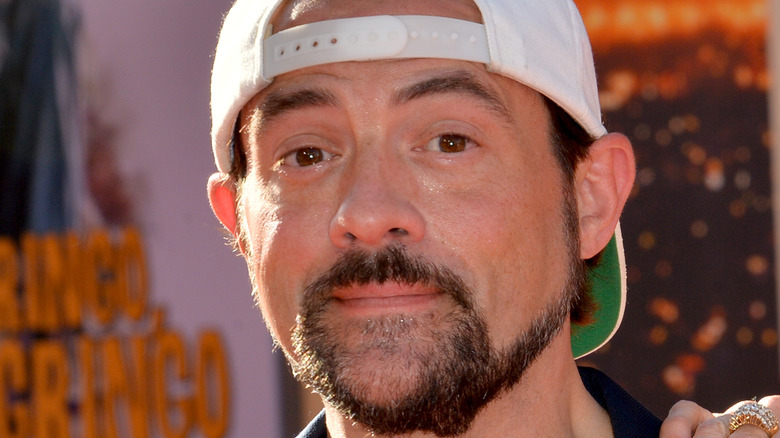 Featureflash Photo Agency/Shutterstock
In the first "Clerks," Quick Stop convenience store worker Dante (Brian O'Halloran) lamented, "I'm not even supposed to be here today!" He may have resented having to give up his day off, but his plight gained legions of fans, and almost three decades later, it's exciting to catch up with Dante and the rest of the Quick Stop crew in "Clerks III." Fans have been given another opportunity to see where life has led the characters, which include Dante, his co-worker Randal (Jeff Anderson), and their perpetually high hangers-on Jay (Jason Mewes) and Silent Bob (Kevin Smith). This time, their story is equal parts amusing and moving.
"Clerks III" finds Dante and Randal grappling with their own mortality after Randal suffers a massive heart attack. Randal deals with the situation in a very familiar way: He decides to make a black-and-white movie about his life at the Quick Stop, which enables "Clerks III" to revisit scenes and scenarios from the first "Clerks," resulting in a film full humor as well as plenty of nostalgia. 
As with the first two "Clerks" films, the third was written and directed by Kevin Smith, whose real-life experiences and attitudes feature heavily in the trilogy. It's rewarding for fans to return to the Quick Stop, but how did Smith feel about it? In an exclusive interview with Looper, Smith gushed about reuniting with the crew for "Clerks III."
A literal 'dream come true'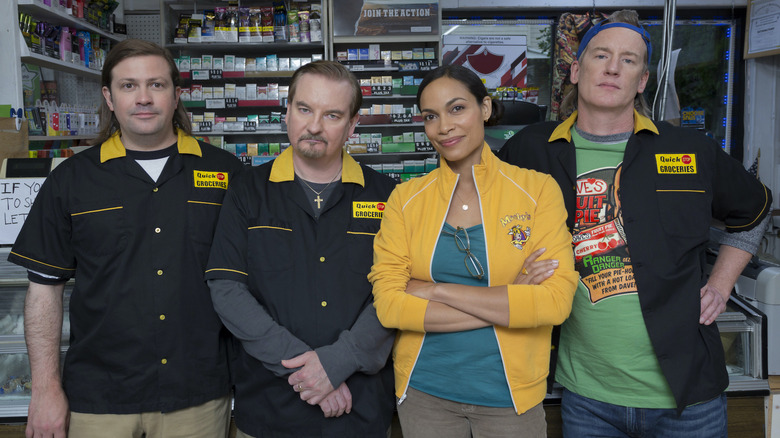 Lionsgate
Smith shared that the experience of making "Clerks III" was "absolutely blissful" and said he enjoyed working with O'Halloran and Mewes, both of whom he sees "all the time." He was especially thrilled to reunite with Anderson, who was key to the film getting made. 
"I haven't gotten to work with Jeff since 'Zack and Miri Make a Porno' and I've been trying to make 'Clerks III' for the better part of 10 years," Smith revealed. "At one point, we had a falling out, so we didn't talk at all. Then, I never thought 'Clerks III' was ever going to happen, so getting to that set and having Jeff be actively involved and loving the movie and stuff and bringing his absolute A-game, that was literally dream come true stuff."
"I dreamed about doing a movie where we dive deep into Randal and pick him apart and see what makes him tick and see the secret optimist hidden beneath the cynical exterior," Smith continued. "I couldn't have done it without him, literally. My through line has always been, 'Next time, it's Randal. Next time, I've got to go deeper into Randal' — which sounds dirtier than I meant it. I needed Jeff, absolutely, or else I never could have done it.'"
The joy of reuniting with the Quick Stop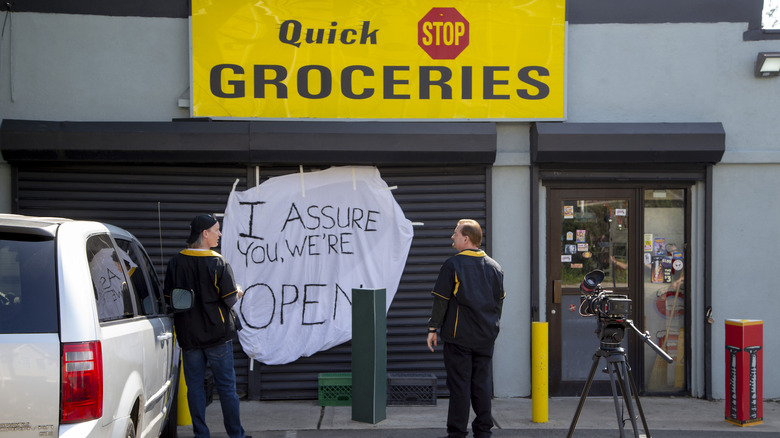 Lionsgate
It wasn't just the people Smith enjoyed working with again, however. "It was beautiful to reunite with the location, because I have not shot a movie entirely in New Jersey since 'Clerks,'" Smith noted. "Even movies that were set in New Jersey weren't always shot in New Jersey. 'Clerks II' was shot out here in California. That was awesome getting to go back to work at Quick Stop but not having to work at Quick Stop the way I used to, where I was selling cigarettes and watching the clock."
Smith confessed that, ultimately, making "Clerks III" was both fun and fulfilling. "I got more than I bargained for," Smith reflected. "I knew it was going to be fun to get the old gang back together, but there were moments where we were literally doing the exact same things in the exact same places where we had been 29 years prior, saying the exact same words. It was a lot of meta-fun for a bunch of middle-aged kids."
Lionsgate, in partnership with Fathom Events, is showing "Clerks III" exclusively in theaters from September 13 through 18.