Jimmy Kimmel Breaks His Silence On Offensive Quinta Brunson Emmys Bit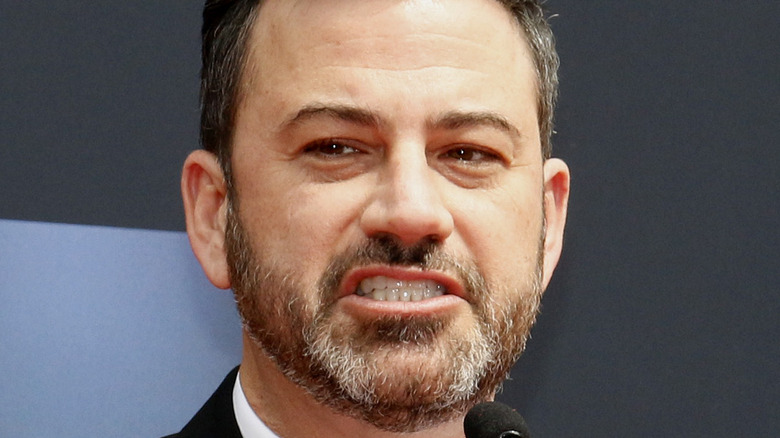 Tinseltown/Shutterstock
If there is one thing people can count on these days, it is that even the slightest gaffe at a long-running award event will dominate the airwaves for a certain amount of time. How long people talk about it really depends on the severity of the supposed transgression, with the infamous "slap heard 'round the world" still fresh in our collective memories. However, these media firestorms surrounding award ceremonies are not new, as Vanity Fair points out the frenzy regarding Marlon Brando's 1973 Oscar win that is still being discussed today.
However, the most recent talking point to arise from an award ceremony has been Quinta Brunson's win for best comedy writing at the 74th Primetime Emmy Awards. This particular controversy involved Jimmy Kimmel feigning being passed out on stage, which started before the comedy award was presented when Will Arnett dragged Kimmel on stage. Apparently, this low-maintenance comedy bit involved Kimmel being supposedly drunk and sad because he has never won an Emmy, and he remained motionless even after Brunson won the award and refused to move, save for a brief thumbs up when Brunson asked if he was okay. Predictably, everybody wanted to know Brunson's feelings on the matter, and after last night's "Jimmy Kimmel Live!," we now know how Kimmel feels.
Kimmel apologized directly to Brunson on his show
Appearing on "Jimmy Kimmel Live!," available on YouTube, Quinta Brunson had already been set to appear as a guest on the September 14 episode, but she popped in early at end of Kimmel's monologue and said, "You know how, when you win an Emmy, you only have 45 seconds to do an acceptance speech, which is not that much time. And then you get less time because someone does a dumb comedy bit that goes on a bit too long." Considering Brunson's comments and the fact that she still appeared on Kimmel's show means that there isn't any bad blood between the two and that they are both capable of laughing at the absurdity.
Later in the episode, Kimmel took a more direct approach and said to Brunson, "I'm sorry I did do that, actually. And also, the last thing I would ever want to do was upset you because I think so much of you. And I think you know that. I hope you know that." Brunson thanked him for apologizing, and added that she was so happy with her first Emmy win and that she had a great night, despite Kimmel's antics. In other words, it seems like there is zero animosity between Brunson and Kimmel, and even Kimmel himself knows the comedy bit didn't exactly land. Still, it is always good to bury the metaphorical hatchet, and to directly apologize is the best way of going about it.