Disney Fans Are Losing Their Minds Over Halle Bailey In The First Teaser For The Little Mermaid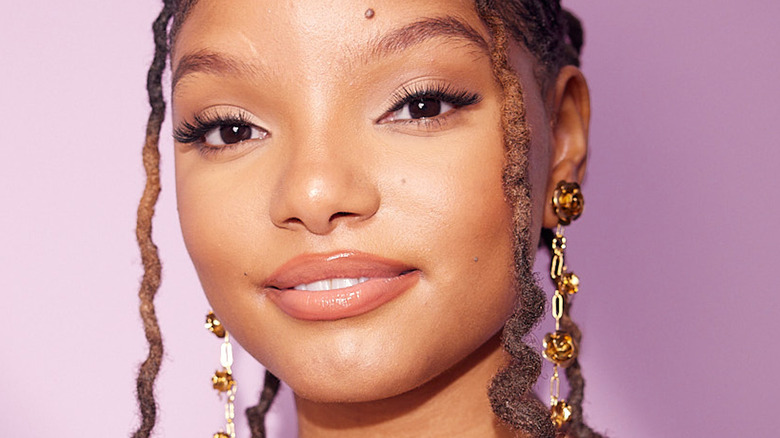 Corey Nickols/Getty Images
It's time to meet a new live-action Disney princess. The initial teaser for the live-action adaptation of "The Little Mermaid" dropped at D23 today, featuring our first glimpse of Halle Bailey in the titular role.
Based on the 1989 animated film of the same name, which itself is loosely based on the Hans Christian Andersen fairy tale, "The Little Mermaid" entered initial discussions way back in 2016 with development moving forward when Deadline announced that Lin-Manuel Miranda would co-produce alongside Marc Platt and write songs with returning composer and Disney legend Alan Menken. Later in 2019, we would see casting rev up with Variety revealing that Melissa McCarthy was cast as sea witch Ursula, Awkwafina as Scuttle, and Jacob Tremblay playing Ariel's bestie Flounder. And of course, later that year, Bailey was announced to play Ariel.
The first teaser, shared via Twitter, provides an enchanting look under the sea before revealing Bailey as Ariel exploring a shipwreck with Flounder. Seemingly knowing exactly what fans wanted, Disney ended the clip with Bailey's breathtaking rendition of "Part of Your World," serenading the surface above. Not surprisingly, fans soon came pouring in with their thoughts.
Fans are loving Halle Bailey's Ariel
So far, the response to the teaser appears to be overwhelmingly positive. Based on their all-caps replies to Disney's tweet, several fans seemed unable to coherently put their excitement into words, while others confirmed their attendance in theaters when the movie is released. Praising the potential greatness of the upcoming flick, Twitter user @algerian wrote, "I feel a #RENAISSANCE emerging," referencing Beyoncé's most recent studio album and likely also alluding to the original animated feature launching the Disney Renaissance of the '90s.
And rightfully so, most of the praise has been directed toward Halle Bailey, with several users remarking on her beauty and voice. Many got very emotional over hearing Bailey sing the original movie's flagship tune, "Part of Your World." One user @lochdesmonster admitted to getting glassy-eyed: "THIS I legit had tears in my eyes when she started singing part of your world, her voice is angelic." On YouTube, the most-liked comment comes from user Mikey, who extolled Bailey's voice, feeling that she encapsulates the titular character. "Without a single doubt, Halle's voice is absolutely PHENOMENAL and matches Ariel's spirit perfectly," they wrote. 
With such a captivating teaser and justified hype surrounding it, we'll hopefully get a worthy live-action version of the original animated flick. "The Little Mermaid" hits theaters on May 23, 2023.