Lucille Ball's Daughter Almost Played An Important Role In Grease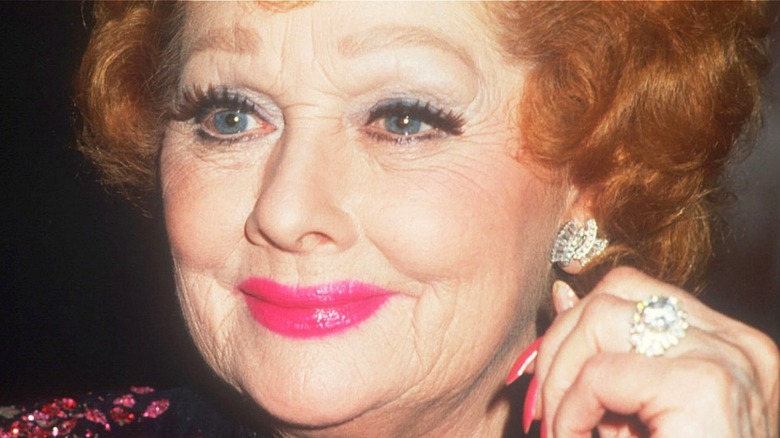 Michael Kovac/Getty Images
Lucie Arnaz and her brother, Desi, were quite literally born into show business. The children of entertainment royalty Lucille Ball and Desi Arnaz, Lucie and Desi co-starred with their mother on the 1968 sitcom "Here's Lucy." Then, teenagers, the siblings were crucial to the show, as they gave input to the writing staff on how adolescents actually behaved (via Emmys). Arnaz told The Austin Chronicle in 2011 that despite the family's fame, Ball wasn't especially gaudy: "My mother was very frugal, she wasn't celebrity oriented, we didn't have big Hollywood parties. She worked really, really, really, really hard, and she was normal."
After "Here's Lucy" ended in 1974, Arnaz carved out her own path in television and musical theater. Her IMDb credits include "Billy Jack Goes to Washington" and "Fantasy Island," but she also appeared on Broadway and the East End in London (via Broadway World). Arnaz's musical background nearly led to the actress co-starring in the 1978 smash hit "Grease," but alas, it wasn't meant to be.
Lucie Arnaz nearly played Rizzo in the Grease film adaptation
Lucie Arnaz wanted to emphasize to The Austin Chronicle that contrary to an old Wikipedia error, mother Lucille Ball had nothing to do with Arnaz not starring as Rizzo in "Grease." "She would never step in front of my career like that, ever. Ever!" Arnaz said. Lucie Arnaz was indeed up for the part of Rizzo, and she even nailed the audition. But Arnaz believed the real reason she's not in the movie was "actually a stupider story, and they should put that one in, but I'm glad they didn't." 
Arnaz explained that the "Grease" director and the co-producer had guaranteed her the Rizzo role. However, Michael Eisner, then an executive at Paramount, insisted on auditioning other actors first. Arnaz was already booked to star in a "Bye, Bye Birdie" production in Milwaukee and alleged that if she pulled out from the play as it neared production, she would have had to pay $5,000 to the show's producers. The clock kept ticking, but the "Grease" producers still weren't willing to sign a contract.
Arnaz only went to her mother for advice
According to Lucie Arnaz's Austin Chronicle interview, even as the dates for "Bye, Bye Birdie" came closer and closer, the "Grease" producers were still unwilling to confirm her casting as Rizzo. Lucille Ball got involved only when the young actress sought her mother's advice. Ultimately, the former "I Love Lucy" star suggested Arnaz stick with her theater commitment.
Fed up with the process, Arnaz finally called the "Grease" team's bluff. "They wouldn't go against Michael Eisner," she explained. "They wouldn't write it on the dotted line, and they said, 'Well then, I guess you have to go do the play, but you would have had the part.'" Instead, Stockard Channing got the role, while Arnaz headed to Milwaukee for "Bye, Bye, Birdie."
It's hard to say what would have happened if Arnaz had played Rizzo instead of Channing, but the actress sees this as part of life in show business. Sounding not far from her hard-working mother, she told the Austin newspaper, "you take the good with the bad."