Tom Cruise Fans Won't Have To Wait Long To Watch Top Gun: Maverick On Paramount+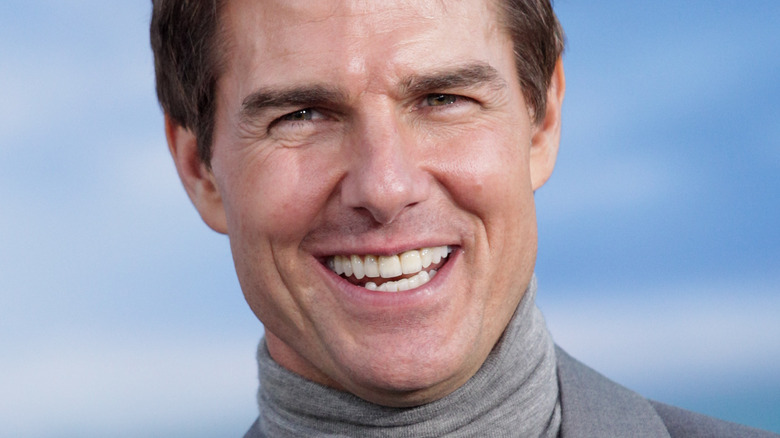 DFree/Shutterstock
The response to "Top Gun: Maverick," the sequel to the original 1986 classic "Top Gun" featuring Tom Cruise, has been immensely positive. Not only does the movie still maintain a 96% critic score and 99% audience score on Rotten Tomatoes, but it's also been setting records. It recently passed 2018's "Black Panther" as the fifth-highest grossing film ever in North America (via Variety) and it currently sits as the 11th highest-grossing movie of all time at just over $1.4 billion globally (via Box Office Mojo). Not to mention, "Top Gun: Maverick" has gone viral in other ways, with its beach football montage featuring Miles Teller's Bradley 'Rooster' Bradshaw gathering tons of viewership on TikTok (via Extra TV).
Either way, it's the legacy and the story that arguably won over the hearts and minds of audiences and critics. Like Jake 'Hangman' Seresin actor Glen Powell has explained, the original "Top Gun" was massively popular at the time of its release and serves as a sort of "rite of passage" for the younger generation (via Jimmy Kimmel Live). This means at least two generations of fans are coming to see a sequel they had been long waiting for — 36 years to be exact.
Not to mention, the COVID-19 pandemic amongst other reasons had delayed the film for over two years after its initial planned release (via Deadline). Now, fans won't have to wait long to watch "Top Gun: Maverick" on Paramount+ either.
Top Gun: Maverick will be on Paramount+ before the end of 2022
According to statements from Paramount CEO Bob Bakish in a recent interview with The Hollywood Reporter, "Top: Gun Maverick" will be arriving on the streaming service sometime before the end of the year. Bakish didn't give a specific date as to when yet, but given that the film has continued to make more money at the box office, they will likely wait a little longer. Given that Bakish noted it would be before the year ends, it's likely that it could arrive well before Christmas. 
If you don't feel like waiting that long to have access to "Top Gun: Maverick" on Paramount+, the movie was released on digital and DVD for purchase on August 23rd (via Billboard). It's available for $19.99 through platforms like Apple TV, Amazon Prime, and YouTube.
It will be interesting to see how "Top Gun: Maverick" performs on Paramount+. It could possibly play a role in the future of the "Top Gun" franchise as talks of a third movie have been circulating, according to Miles Teller (via ET).