The NCIS Character You Forgot Michelle Obama Played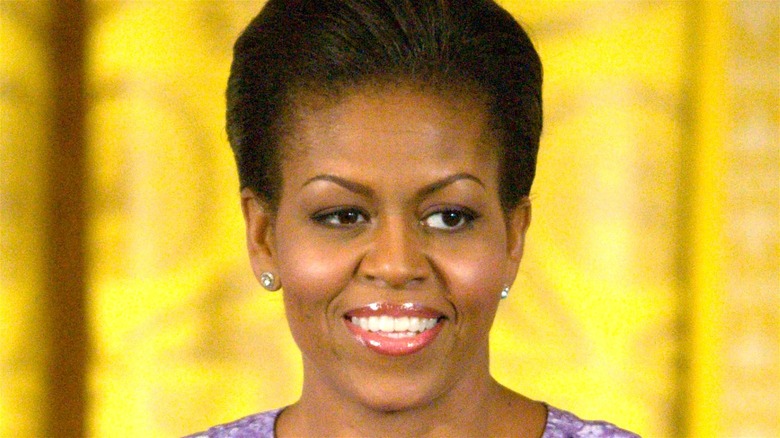 Everett Collection/Shutterstock
Michelle Obama is one of the most famous women in the world. The former first lady, married to former president Barack Obama, has proven she's more than just the wife of the Commander-in-Chief. Michelle Obama has used her position of power to focus on important issues like children's health and wellness, LBGTQ equality, girls' education, and voting rights, just to name a few.
During her husband's presidency, she also put a great deal of effort into supporting military families. In 2011, Obama and then-second lady Dr. Jill Biden founded Joining Forces, a White House initiative to support military and veteran families (per The White House). The worthy cause caught many people's attention, including "NCIS" showrunner Gary Glasburg, who decided to incorporate Joining Forces into an "NCIS" storyline to spotlight the initiative's important work. The show had a big idea, too — get Michelle Obama herself to guest star on the show. Much to their delight, she said yes. How was the popular drama able to snag a guest spot from one of the most powerful women on the planet? 
Michelle Obama personally invited the NCIS team to the White House
Michelle Obama appears in Season 13, Episode 22 of "NCIS." The 2016 episode, titled "Homefront," features Obama playing herself, as she invites Special Agent Leroy Jethro Gibbs (Mark Harmon) and a Marine's distraught wife to the White House. The episode features a roundtable discussion about how the administration can help military families, a cause important not only to "NCIS" but real-life America, too. "Whenever we can do a story that supports and explains the difficulties that our military families [face], we embrace it and we want people to understand. This was natural for us," Gary Glasberg tells E! News. 
The "NCIS" team was even invited to film the episode inside the White House, a rare honor for any film or television production. Michelle Obama "was just wonderful and welcoming and I can't thank her enough for what she did for our crew," Glasberg reveals. Getting a personal invite to the White House from the first lady is a high honor for any American, and doing it to support military families made it even more special. "...At the end the day it's all about this organization and the support of this organization and we're happy to do it," Glasberg says (via E! News).
"NCIS" fans can catch this very special episode along with the rest of the series, which is streaming on Paramount+.