A. J. Cook Dishes On Her Decision To Direct An Episode Of Criminal Minds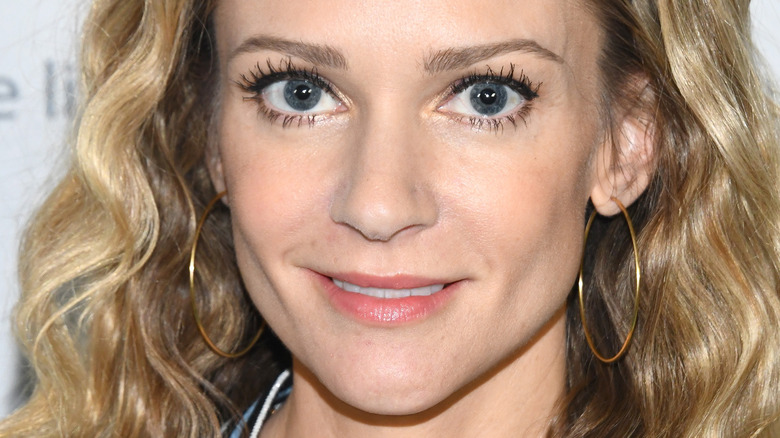 Araya Doheny/Getty Images
"Criminal Minds" is officially making a revival (via Deadline), and production is seemingly underway, given Instagram posts from Joe Mantegna. The show has arguably been one of the most popular crime series of the 2000s, akin to shows like "Law & Order: SVU" and "NCIS" for some fans (via Reddit). Fans have watched the Behavioral Analysis Unit within the FBI take on some of the most dangerous serial killers in the world. Like with any popular series, the talented cast makes the show great, allowing fans to create a connection with their characters. Longtime members like Dr. Spencer Reid (Matthew Gray Gubler) and Jennifer 'J.J.' Jareau (A.J. Cook) likely mean a lot to many viewers, especially given their special connection throughout the series.
Both actors are arguably known most for their roles in "Criminal Minds," and they also share the experience of directing in the series. Gubler has directed 12 episodes of "Criminal Minds" since 2010, including iconic episodes like "Mr. Scratch" from 2015 and 2013's "Alchemy" (via IMDb). However, Cook would have the chance to direct an episode of "Criminal Minds" in 2019 during Season 14 for a particularly emotional episode.
It remains Cook's first and only directorial credit on her resume. So, why did she decide to direct an episode of "Criminal Minds" after being a longtime cast member?
A.J. Cook directed an episode of Criminal Minds because it was a lifetime goal
In an interview with Carter Matt in 2019, A.J. Cook explained that she decided to direct an episode of "Criminal Minds" because she had always wanted to direct. She would realize that dream for the thirteenth episode of Season 14, titled "Chameleon."  
"This has been a lifelong goal for me — I knew from the moment I wanted to be an actor that I wanted to be a director. It's been a lifetime of waiting and studying and preparing for this moment," Cook explained. She continued that there had been opportunities to do it before, but circumstances prevented it from happening, and she felt as though everything came together for "Chameleon."
Cook also noted that directing appeals to her desire to prepare. "I'm kind of a nerd over-preparer, so directing is right up my nerd alley. It was great! I'm lucky in that I've spent a lot of time on-set, and I know this show like the back of my hand — I've been watching and shadowing directors forever," she said. The episode follows the BAU as they seek out Everett Lynch (Michael Mosley), a serial killer who goes by "The Chameleon," after he escapes their grasp and nearly kills David Rossi (Joe Mantegna) in the process, leaving him doubting his effectiveness on the team.
Mantegna and Cook are returning for the revival, officially titled "Criminal Minds: Evolution" (via TV Line). It will be interesting to see if Cook will direct again.