Sig Hansen Has A Message To Fans As Deadliest Catch: The Viking Returns Kicks Off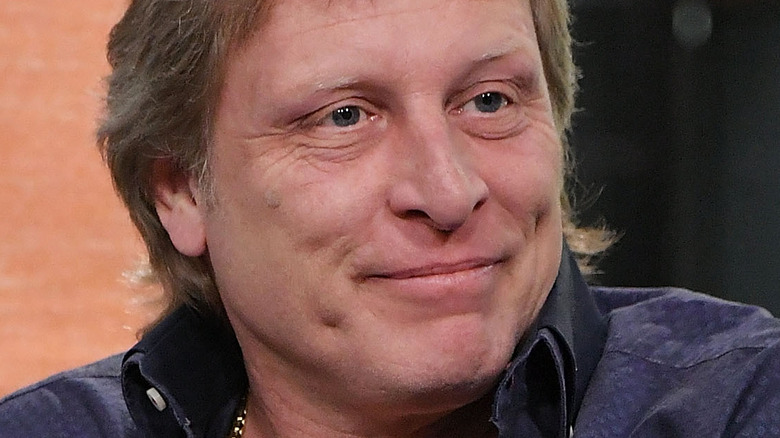 Mike Coppola/Getty Images
For the better part of the past two decades, Discovery Channel's pulse-pounding crab fishing saga "Deadliest Catch" has been one of the most riveting reality shows on the airwaves. While fans continue to tune in to the Alaska-set series hoping for death-defying high-seas adventure, picturesque vistas, and thrilling tales of fortunes made and lost, they also continue to be wholly invested in the colorful cast of characters who bring the "Deadliest Catch" drama to life from one season to the next. 
Most of those characters call Dutch Harbor, Alaska their port-of-call during the King Crab fishing season. But many of them faced a rude awakening in the last year as over-fishing and low stocks forced the 2021-2022 King Crab season to be canceled outright (per The Washington Post). That move understandably changed the game for "Deadliest Catch," too, with captains and crews scuffling to adapt to the new reality. That includes fan-favorite Captain Sig Hansen, who spent parts of the most recent season of "Deadliest Catch" far from the Bering Sea, instead trolling the icy Norwegian waters for fresh stores of Russian King Crab.
It seems those adventures have led Hansen and his family to set up a new crabbing operation in their ancestral homeland. That Norwegian venture has indeed spawned a spin-off show called "Deadliest Catch: The Viking Returns." And Hansen himself has a clear message for fans regarding the new series.
The Vikings Return won't be your typical Deadliest Catch experience
Sig Hansen's message about "Deadliest Catch: The Viking Returns" is quite simple, with the thrill-seeking captain recently telling Entertainment Weekly, "You have to expect the unexpected!" Hansen continued, "This is international, so fans can expect something new and exciting." Those boastful words came along with fresh new footage from the debut episode of "The Viking Returns." And from looks alone, it seems he's not lying, with the clip delivering icy sites to behold as Hansen, and his daughter Mandy charge their new vessel through crisp waters and jaw-dropping vistas rarely glimpsed by U.S. viewers.
Unlike "Deadliest Catch" (which typically follows several fishing crews throughout a season), "The Viking Returns" will also be a far more insulated affair, focusing entirely on the Hansen family as they struggle to get their new operation off the ground. Given Hansen's ongoing health issues (per TV Insider), and the recent birth of Mandy's daughter Sailor, "The Viking Returns" will boast a fair amount of built-in drama outside of fishing escapades. And as Mandy notes in the footage, legacy is indeed very much on their minds, "We didn't come here to trade one location for another. We came here to build something bigger."
Given the family's Norwegian background, legacy may become the series' central theme. "Returning to Norway was a blast from the past. I've fished in Norway as a teenager and I enjoyed every minute of it," Hansen told EW, adding "It was very exciting and rewarding to go back." Fans can now join the Hansen clan on their journey as "Deadliest Catch: The Viking Returns" made its Discovery Channel debut this week, with new episodes airing Tuesday nights at 9pm EST (per Discovery).