The Staggering Number Of Hours Netflix Subscribers Spent Watching Cobra Kai Season 5's Debut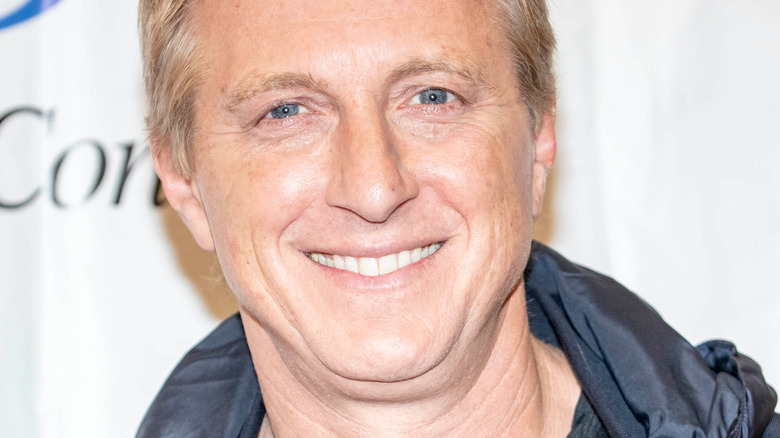 Eugene Powers/Shutterstock
"Cobra Kai" is back, and so are Danny (Ralph Macchio), Johnny (William Zabka), and the growing array of heroes, villains, anti-heroes-turned-villains, and uneasy alliances from the first three "Karate Kid" movies. Season 5 is putting fans on the edge of their seats regarding the fates of the show's protagonists, their various dojos, and even their own kids.
The news comes not a moment too soon for Netflix. The streaming king's crown has been tottering lately, with its loss of subscribers (per Variety) and a forthcoming ad-tier for certain Netflix viewers feeling emblematic of the chaos around streaming generally. As Forbes pointed out, "Netflix needed a win, and Cobra Kai was happy to provide it, arriving this weekend with its best-reviewed season so far, and in fact, it's the best reviewed season of any show on Netflix since Heartstopper's release last April."
That piece also showed that Season 5 of "Cobra Kai" is the best-reviewed installment of the series by both critics and audiences since the show's premiere in 2018. As of the time of writing, the 5th season boasts 100% among critics and 95% among the audience on Rotten Tomatoes. And there's a similarly impressive stat when it comes to the number of hours that Netflix viewers have spent watching the series thus far. 
Cobra Kai Season 5 was watched for over 100 million hours in its debut week
According to the Netflix Global Top 10 rankings, "Cobra Kai" Season 5 was watched for 106.7 million hours from September 5 to September 11 (the series premiered on September 9). Coming in a distant second is the limited thriller series "Devil in Ohio," which racked up 70.8 million hours in its second week on the Top 10.
True, it doesn't come anywhere close to Netflix's absolute dominator of this year. That, of course, is Season 4 of "Stranger Things," which was viewed for 286.79 million hours during its first week before climbing to 335 million hours in its second. Still, only five Netflix original series have managed to top 100 million hours viewed in their first week during 2022, which puts "Cobra Kai" up there with not just "Stranger Things," but also the 2nd season of "Bridgerton," the 4th season of "Virgin River," and the 3rd season of "Umbrella Academy."
Interestingly, "Cobra Kai" Season 4 also managed to top 100 million hours viewed during the first week of 2022 after premiering on December 31, 2021. In fact, at 120 million hours viewed, it even bested Season 5's first-week record.